24th April 1976
Gainsborough Model Railway Society
London & North Western & Midland Railways Joint Tour
| | |
| --- | --- |
| Locos Used | Steam : 790 'Hardwicke', 1000 & 4472 'Flying Scotsman' |
Route :
| | |
| --- | --- |
| Loco(s) | Route |
| 790 + 1000 | York - Knaresborough - Leeds |
| 790 + 1000 | Leeds - Keighley - Skipton - Settle Jn - Long Preston - Carnforth |
| 4472 | Carnforth - Long Preston - Settle Jn - Hellifield - Keighley - Leeds - York |
Notes :
(1) Route & loco confirmation required. John Cowlishaw comments: I have a dim recollection of a special DMU from ?Lincoln? to York (I definitely remember the view on the front on the ECML at a low speed of 70 mph. The permissible load from York to Leeds was less than Leeds to Carnforth and so some of us were not able to have a steam ride past Harrogate. We travelled on a DMU service train and rejoined the main train at Leeds when it had more coaches. There was an option on this of getting off at ?Weeton? and getting the service an hour later to catch up with it at Leeds.
(2) Mike Powell comments: I was on the tour. Flying Scotsman really struggled on the return trip, having to work really hard all the way to Leeds, where a brake fault was found - I believe on the support coach, which was detached at Leeds. The tour was then very late, and the Gainsborough crowd had to jump ship and take a BR train home. Us lucky few were treated to a spectacular journey back to York. The sound as Scotsman left Leeds through the retaining wall cutting has never been forgotten!
Sources : David Clark & John Cowlishaw



Photo Review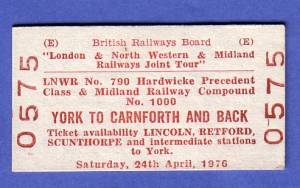 From Andrew Fairholm's ticket collection.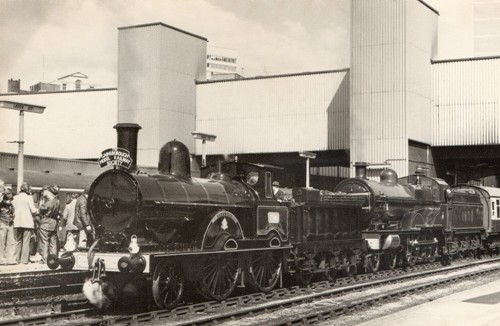 The tour, paused at Leeds (photo: The John Debens Collection)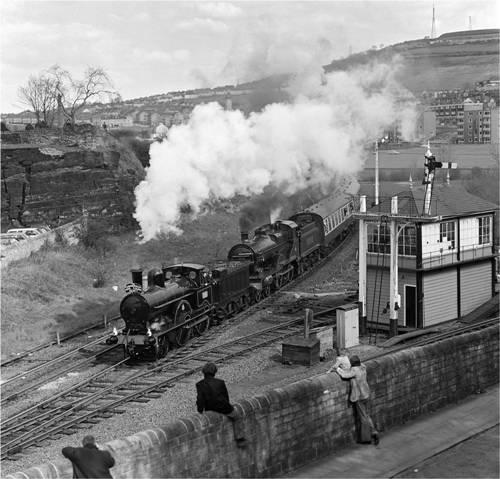 790 & 1000 passing Shipley (photo: Bill Jamieson)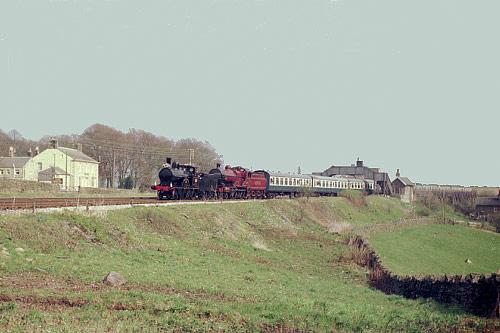 790 & 1000 at Clapham (photo: John Green)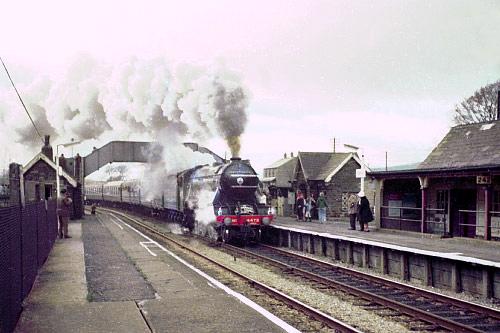 4472 storms through Clapham station on the return leg (photo: John Green)


Timings (Booked Only)
(from David Clark)
| | |
| --- | --- |
| Location | Booked |
| York | 11.23d |
| Skelton | 11/28 |
| Poppleton | 11/32 |
| Knaresborough | 11/57 |
| Harrogate | 12/06 |
| Wortley Jn | 12/34 |
| Leeds | 12.39a ~ 14.39d |
| Bingley | 14/58 |
| Keighley | 15/07 |
| Skipton | 15*20 ~ 15*22 |
| Hellifield | 15/38 |
| Settle Jn | 16/05 |
| Clapham | 16/16 |
| Wennington | 16/27 |
| Carnforth | 16L46a ~ 18L00d |
| Wennington | 18/18 |
| Clapham | 18/31 |
| Settle Jn | 18/43 |
| Hellifield | 18/48 |
| Skipton | 19*04 ~ 19*06 |
| Keighley | 19/20 |
| Bingley (Leeds Jn) | 19/30 |
| Leeds | 19.49a ~ 20.14d |
| York | 20.53a |