27th March 1976
British Rail
(Day Excursion)
| | |
| --- | --- |
| Locos Used | 47038, 47356 & 47487 |
| Stock Used | 4806+4367+4808+4477+4802+324+34543+4787+4801+4475+4366 |
Route :
| | |
| --- | --- |
| Loco | Route |
| 47038? | Burton-on-Trent - Stenson Jn - Derby |
| 47038 | Derby - Derby Power Box |
| 47038 (1) | Derby Power Box - Derby |
| 47356 | Derby - Long Eaton - Sheet Stores Jn - Trent South Jn - (via MML) - Brent Curve Jn - Brent Sidings |
| 47487 | Brent Sidings - Dudding Hill Jn - Acton Wells Jn - South Acton Jn - Kew East Jn - Old Kew Jn - Hounslow - Feltham - Staines - Virginia Water - Addlestone Jn - Byfleet & New Haw - Woking - Pirbright Jn - Winchfield -Basingstoke - Worting Jn - Winchester - Eastleigh - Southampton Central - Brockenhurst - Bournemouth |
| 47487 | Bournemouth - (reverse of outward route) - Derby |
| 47487? | Derby - Stenson Jn - Burton-on-Trent |
Notes :
(1) 47038 propelling train. Was failed on return to Derby station.
(2) Howard Parker comments: Another excursion ran to Bournemouth, from Ramsgate, formed of Southern units 7119+7013+7139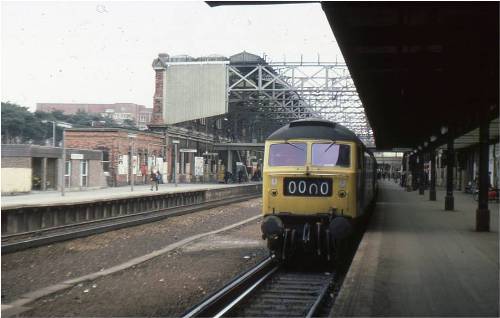 47487 on arrival into Bournemouth (photo: Howard Parker)
Sources : David Hills (joined/left the train at Derby) & Howard Parker (joined/left the train at Leicester)



Tour Review
(by David Hills)
After the adventure at the beginning of March to Edinburgh it was left for Bournemouth to be the destination for the last excursion in March. Anticipation of the route to be taken was high as it became known that it was via London, more mileage this way with more running over SR metals, and therefore more numbers 'in the book'. As the stock backed into platform six it was a surprise to find 47038 on the front, this was no Toton wreck but some fine workmanship out of Immingham, this would be a splendid machine to take our buckets, spades & bathchairs to the coast. An on time right-away revealed all was not well with 47038, staggering to the environs of Derby Power box, where a brief halt was made and then a reversal back to the platform. All eyes looked over to the fuelling point, where a solitary Class 47 was sitting. Out came the binoculars revealing it was still green, after awhile it made the short journey to the head of our train, it was certainly a dirty green, being 47356, one of those without a boiler.
Some fine running ensued on the Midland mainline in an attempt to claw back some of the time lost. The Midland was its typical self, Classes 25 & 45 predominating, though Loughborough held D3101 in service at the ballast siding north of the station. Not wanting to pollute the South Coast with dirty green stuff Control had a replacement for us at Brent, another Class 47, but this one, 47487 could at least heat the train. After the usual stagger round the west of London, getting a close up view of what many Londoner's do on a Saturday morning it was a welcome relief to reach the LSWR mainline, allowing 47487 to do its best impression of a racehorse.
Most sightings involved members of Eastleigh's fleet of Class 33's, but 74007 was noted at Woking and 07006 at Eastleigh. With its diet of REP/4TC combinations Bournemouth proved quiet this day, only the sightings of 33103/111/112/114/118 enlivened the scene. So it was off to the seafront and other salubrious parts of Bournemouth for the remainder of the day.
Most of the return journey was in the dark, still with 47487 on the front, returning the way we had come. Derby was reached with 25121 greeting us in the station, but there was no sign of 47038!


Timings (Booked & Actual)
(from Howard Parker)
| | | | | | |
| --- | --- | --- | --- | --- | --- |
| Location | Booked | Actual | | Booked | Actual |
| Burton-on-Trent | ??.??d | ??.?? | | ??.??a | ??.?? |
| Derby | ??.??a ~ ??.??d | ??.?? ~ ??.?? [P6] | | ??.??a ~ ??.??d | ??.?? ~ ??.?? |
| Long Eaton | ??.??a ~ ??.??d | ??.?? ~ ??.?? | | ??.??a ~ ??.??d | ??.?? ~ ??.?? |
| Loughborough | ??.??a ~ ??.??d | ??.?? ~ ??.?? | | ??.??a ~ ??.??d | ??.?? ~ ??.?? |
| Leicester | ??.??a ~ 09.12d | ??.?? ~ 09.32 | | 22.53a ~ ??.??d | 22.52 ~ ??.?? |
| Market Harborough | ??.??a ~ ??.??d | 09.49 ~ 09.50 | | ??.??a ~ ??.??d | 22.31 ~ 22.34 |
| Kettering | ??/?? | 10/01 | | ??/?? | 22/20 |
| Wellingborough | ??/?? | 10/06 | | ??/?? | 22/14 |
| Bedford | ??/?? | 10/28 | | ??/?? | 22/02 |
| Luton | ??/?? | 10/45 | | ??/?? | 21/48 |
| St Albans | ??/?? | 10/56 | | ??/?? | 21/40 |
| Brent Sidings | ??c?? ~ ??c?? | 11L13 ~ 11L39 | | ??c?? ~ ??c?? | 19.12 ~ 19.13 |
| Feltham | ??/?? | 12/03 | | ??/?? | ??/?? |
| Staines | ??/?? | ??/?? | | ??/?? | 20/25 |
| Woking | ??/?? | 12/30 | | ??/?? | 20/03 |
| Basingstoke | ??/?? | 12/49 | | ??/?? | 19/41 |
| Winchester | ??/?? | 13/07 | | ??/?? | 19/22 |
| Eastleigh | ??c?? ~ ??c?? | 13.13 ~ 13.16 | | ??c?? ~ ??c?? | 19.12 ~19.13 |
| Southampton Central | ??/?? | 13/25 | | ??/?? | 19/02 |
| Bournemouth | 13.59a | 14.02 | | 18.25d | 18.25 |