11th April 1970
Merchant Navy L.P.S., Bullied Pacific P.S. & Southern L.P.S.
The Midlands Enterprise Rail Tour
| | |
| --- | --- |
| Locos Used | 7585, 7597, 6517 & E3137 |
| Stock Used | booked for: BSK, 3x SO, BG, SO, buffet car, 2x SO & BSK |
Route : 1Z75 throughout
| | |
| --- | --- |
| Loco(s) | Route |
| 6517 | London Waterloo - Queens Road - Clapham Junction - Barnes - New Kew Jn - Kew East Jn - Acton Wells Jn - Willesden Jn No 7 |
| E3137 | Willesden Jn No 7 - Wembley Central - Watford Junction - Bletchley - Weedon - Rugby - Nuneaton - Lichfield TV - Stafford - Norton Bridge - Crewe - Sandbach - Alderley Edge - Stockport |
| 7585 + 7597 | Stockport - Heaton Norris - Guide Bridge - Dinting |
| 7597 + 7585 | Dinting - Guide Bridge - Heaton Norris - Stockport |
| E3137 | Stockport - Wimslow - Sandbach - Crewe - Norton Bridge - Stafford - Wolverhampton (High Level) - Dudley Port - Galton Jn - Soho South Jn - Birmingham New Street - Coventry - Rugby - Weedon - Bletchley - Watford Junction - London Euston |
Notes :
(1) Visits were made to Dinting Railway Centre and Severn Valley Railway (bus From Wolverhampton).
Sources : Alan Costello, John Broderick, Alan Baylis & The Bluebell Railway Museum



Photo Review
(all photos: Gordon Jakes)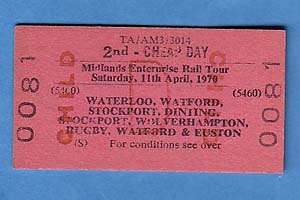 From Andrew Fairholm's ticket collection.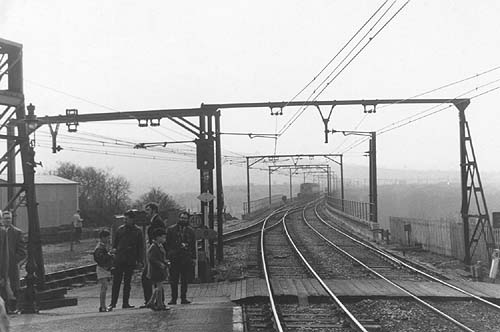 Dinting West Viaduct - a local 1500V dc EMU disappears in the distance.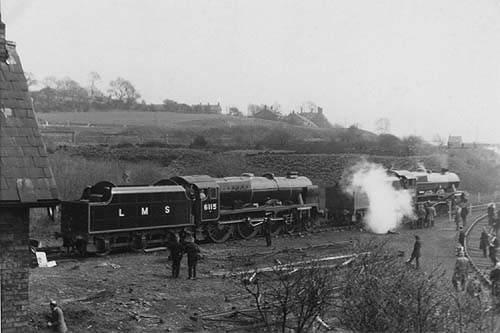 6115 & 5596 at the Dinting Railway Centre.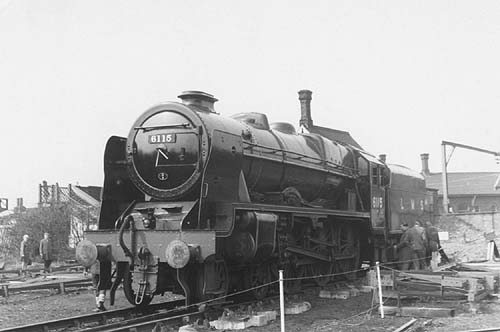 Another view of 6115 at Dinting.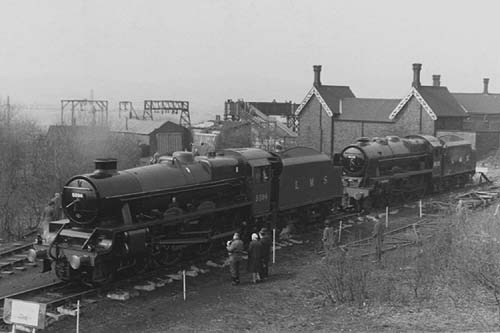 More of 5596 & 6115 at Dinting.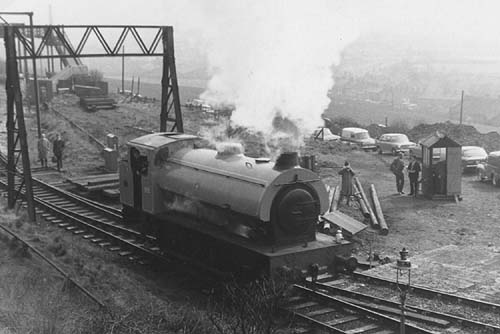 WD150, also in steam on this day.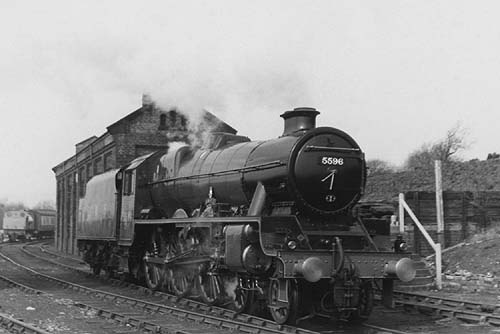 A final view of 5596.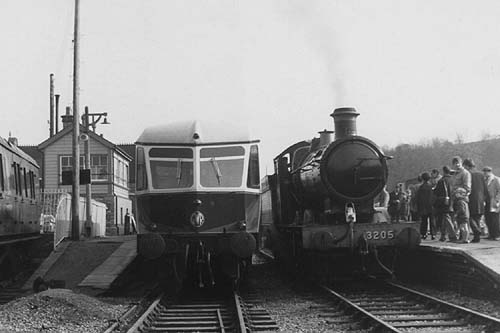 W22W & 3205 at Bridgnorth on the Severn Valley Railway.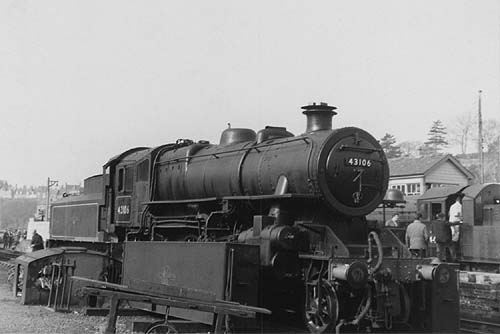 43106 on shed at Bridgnorth.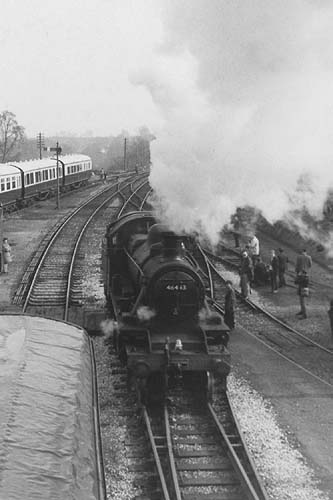 46443 seen from the footbridge at Bridgnorth.


Timings (Booked & Actual)
(from John Broderick)
| | | |
| --- | --- | --- |
| Location | Booked | Actual |
| Waterloo | 08.32d | 08.32½ |
| Queens Road | 08/37 | 08/38 |
| Clapham Junction | 08/39 | 09/39½ |
| Barnes | 08/43 | 08/46 |
| New Kew Jn | 08/49 | 08/52 |
| Kew East Jn | 08/52 | 08/55 |
| South Acton | 08/55 | 08/57 |
| Acton Wells Jn | 09/00 | 09/01½ |
| Acton Canal Wharf | 09/03 | 09/03 |
| Willesden Junction No.7 | 09L06 ~ 09L14 | 09.06 ~ 09.20 |
| Wembley Central | 09/24 | 09/29 |
| Watford Junction | 09.34a ~ 09.37d | 09.39 ~ 09.40 |
| Tring | 09/49 | 09/51 |
| Bletchley | 10/00 | 10/08 |
| Roade | 10/09½ | 10/22 |
| Blisworth | 10/11½ | 10/24 |
| Weedon | 10/16½ | 10/28½ |
| Rugby Midland | 10/26½ | 10/39½ |
| Nuneaton | 10/37½ | 10/53 |
| Tamworth LL | 10/46½ | 11/03 |
| Lichfield TV | 10/50½ | 11/10 |
| Armitage | 10/54 | ? |
| Colwich | 10/58½ | ? |
| Milford & brocton | 11/00½ | 11/19 |
| Stafford | 11/07 | 11/22 |
| Norton Bridge | 11/11 | 11/26½ |
| Madeley | 11/18½ | ? |
| Crewe | 11/27 | 11/41 |
| Sandbach | 11/37 | 11/40½ |
| Alderley Edge | 11/46½ | 11/58 |
| Wilmslow | 11/48 | 11/59 |
| Cheadle Hulme | 11/51½ | 12/04 |
| Edgeley Jn | 11/53 | 12/07½ |
| Stockport Edgeley | 11L54 ~ 12L02 | 12.08 ~ 12.19 |
| Heaton Norris | 12/04 | ? |
| Denton Jn | 12/10 | 12/28 |
| Guide Bridge | 12/12 | 12/33 |
| Dinting | 12.22a ~ 13.50d | 12.50 ~ 14.03 |
| Guide Bridge | 13/59 | 14/16 |
| Denton Jn | 14/01 | 14/18 |
| Heaton Norris | 14/06½ | 14/23 |
| Stockport Edgeley | 14L08 ~ 14L16 | 14.25½ ~ 14.34 |
| Edgeley Jn | 14/17½ | ? |
| Cheadle Hulme | 14/19 | 14/39 |
| Wilmslow | 14/22 | 14/43½ |
| Alderley Edge | 14/24 | 14/44½ |
| Sandbach | 14/34 | 14/53½ |
| Crewe | 14/44 | 15/01½ |
| Madeley | 14/54½ | 15/08½ |
| Norton Bridge | 15/04 | 15/16 |
| Stafford | 15/08 | 15/22 |
| Wolverhampton HL | 15.25a ~ 19.42d | 15.37 ~ 19.39½ |
| Dudley Port | 19/51½ | ? |
| Galton Jn | 19/56 | ? |
| Soho South Jn | 19/57½ | ? |
| Birmingham New Street | 20/02 | 19/58 |
| Proof House Jn | 20/06 | ? |
| Coventry | 20/28 | 20/28 |
| Rugby Midland | 20/37½ | 20/38 |
| Weedon | 20/46½ | ? |
| Blisworth | 20/51½ | ? |
| Roade | 20/53 | 20/53 |
| Bletchley | 21/03½ | 21/04 |
| Tring | 21/14½ | ? |
| Watford Junction | 21.25a ~ 21.26d | 21.25 ~ 21.26½ |
| Willesden Junction | 21/38 | 21/35 |
| Euston | 21.45a | 21.44 |