5th January 1969
R.C.T.S. (West Riding Branch)
Farewell to the Waverley Route Rail Tour
| | |
| --- | --- |
| Locos Used | 9007 'Pinza' |
| Stock Used | 9 coaches |
Route : 1Z28 throughout
| | |
| --- | --- |
| Loco | Route |
| 9007 | Leeds City - Skipton - Settle Jn - (via S&C) - Petteril Bridge Jn - Carlisle - Canal Jn - Riccarton - Hawick - Edinburgh Waverley |
| 9007 | Edinburgh Waverley - (reverse of outward route) - Leeds City |
Notes :
(1) This train provided one last chance to take a run over the Waverley Route, which closed the following day. The train comprised of nine vehicles including restaurant & buffet car, and was handled with ease throughout by the Deltic. During parts of the trip heavy snow was encountered, but never enough to hinder the progress of the special. Train was re-timed to depart at 09:43 due to waiting for the Manchester connection.
Sources : David Hills, Bruce McCartney & John Debens



Photo Review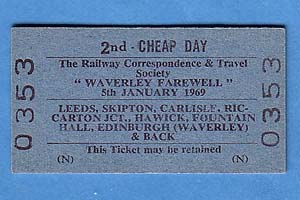 From Andrew Fairholm's ticket collection.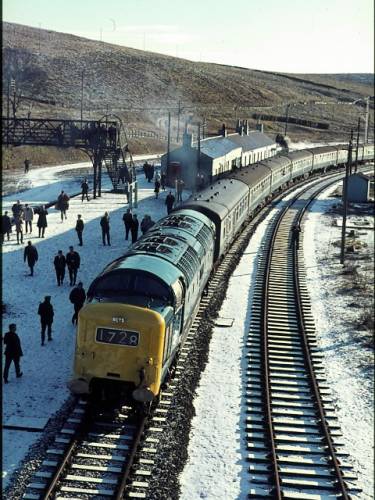 9007 at Riccarton Junction (photo: Robin Lush)
Footnote:
The same day the last scheduled train over the route the 1M82 21.55 Edinburgh - St. Pancras, with eight coaches and two sleepers was handled by Class 45, 60 'Lytham St Anne's'. Departure from Hawick was not until about 00.15 (6th January) and Carlisle was reached over two hours late, caused by the boisterous activities of many local people protesting the closure of the route. Due to the protests of the villagers at Newcastleton the Hawick pilot, 8606, was sent ahead light engine to ensure the integrity of the line south of Hawick. A light snow fall had taken place during the day, but the evening saw clearing allowing the sun to set one last time on this run and providing the protesters with a chilly night out.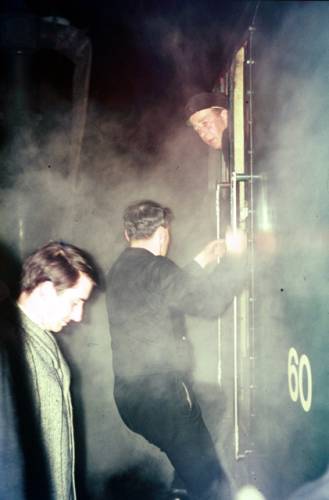 Two photographs from Bruce McCartney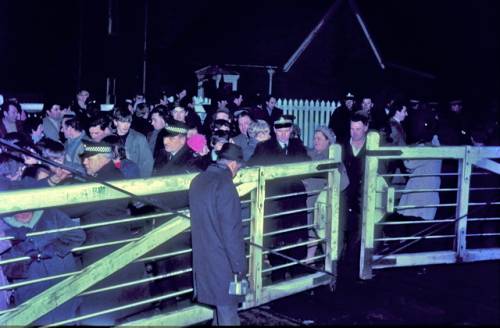 Timings (Booked & Actual)
(from Terry Jackson & John Debens)
| | | | | | | |
| --- | --- | --- | --- | --- | --- | --- |
| M.C | Location | Booked | Actual | | Booked | Actual |
| 0.00 | Leeds City | 09.30d | 09.43 | | 20.48a | ? |
| 0.75 | Wortley Jn | 09/33 | ? | | 20/45 | ? |
| 10.56 | Shipley Leeds Jn | 09/43 | ? | | 20/36 | ? |
| 16.79 | Keighley | 09/53 | 10/07 | | 20/27 | ? |
| 25.00 | Snaygill | 10/03 | ? | | 20/19 | ? |
| 26.14 | Skipton | 10.05a ~ 10.07d | 10.16 ~ 10.18 | | 20.14a ~ 20.16d | 20.12 ~ 20.16 |
| 36.15 | Hellifield | 10/19 | 10/28 | | 20/02 | ? |
| 39.35 | Settle Jn | 10/23½ | 10/34½ | | 19/58½ | 19/53 |
| 53.35 | Blea Moor | 10/46½ | 10/48 | | 19/45 | ? |
| 64.50 | Ais Gill | 10/57½ | 10/59 | | 19/35 | 19/42 |
| 82.15 | Appleby | 11/13 | 11/20 | | 19/10 | 19/17 |
| 112.08 | Petteril Bridge Jn | 11/38½ | ? | | 18/37½ | ? |
| 113.00 | Carlisle | 11L40½a ~ 11L42½d | 11.47 ~ 11.50 | | 18.33a ~ 18.35d | 19.29 ~ 18.35 |
| 113.59 | Carlisle No.3 | 11/44½ | 11/53 | | 18/29 | ? |
| 114.27 | Canal Jn | 11/47½ | ? | | 18/26 | 18/25 |
| 122.46 | Longtown Jn | 11/58½ | 12/10 | | 18/17 | 18/13 |
| 127.03 | Riddings Jn | 12/04 | 12/19 | | 18/11 | ? |
| 137.18 | Newcastleton | 12/17 | 12/30 | | 17/59 | 17/46 |
| 145.27 | Riccarton Junction | 12.34a ~ 12.44d | 12.40 ~ 12.51 | | 17/49 | 17/37 |
| 158.28 | Hawick | 13.07a ~ 13.17d | 13.19 ~ 13.27 | | 17/22 | 17/19 |
| 170.50 | St Boswells | 13/32 | 13/40 | | 17/07 | 17/02 |
| 177.52 | Galashiels | 13/44 | 13/47 | | 16/55 | 16/54 |
| 188.50 | Fountainhall | 14.05a ~ 14.15d | 14.03 ~ 14.13 | | ? | ? |
| 192.06 | Heriot | 14/23 | ? | | 16/35 | 16/38 |
| 202.74 | Hardengreen Jn | 14/37 | 14/35 | | 16/14 | ? |
| 204.76 | Millerhill | 14/41 | ? | | 16/10 | ? |
| 208.15 | Portobello Jn | 14/44 | ? | | 16/06 | 16/17 |
| 211.15 | Edinburgh Waverley | 14.50a | 14.50 | | 16.00d | 16.07 |