4th August 1968
Locomotive Club of Great Britain
The Farewell to Steam Rail Tour
Locos Used
D63, D416, E3064, 44781, 45025, 45390, 48773 & 70013 'Oliver Cromwell'
Stock Used
Booked load 12 LMSR/BR mix (BSK, 4x SO (and/or SK), RB, 5x SO (and/or SK), BSK
rearmost on departing St Pancras were: 4943+4933+4995+34483
Route : 1Z74 throughout
| | |
| --- | --- |
| Loco(s) | Route |
| D63 | London St Pancras – (via MML) – Trent – Trowell Jn – Pye Bridge Jn – Clay Cross South Jn – Chesterfield – Dore South Jn – Dore West Jn – Edale – Chinley – New Mills South Jn – Romiley – Hyde Jn – Guide Bridge – Ashton Moss South Jn – Droylsden – Miles Platting – Manchester Victoria |
| 70013 + 44781 (1) | Manchester Victoria - Bolton - Blackburn |
| 48773 + 44781 | Blackburn – Clitheroe – Hellifield – Settle Jn – Clapham – Carnforth |
| 45390 + 45025 | Carnforth – Clapham – Settle Jn – Hellifield – Clitheroe – Blackburn – Lostock Hall Jn |
| D416 | Lostock Hall Jn – (via WCML) – Crewe |
| E3064 | Crewe - (via WCML, Trent Valley & Weedon) - London Euston |
Notes :
(1) This tour was perhaps unique in sharing motive power with another being run on the same day. After detaching from this tour at Blackburn, 70013 ran light engine to Lostock Hall to await the arrival of the RCTS tour.
(2) Like the unfortunate RCTS tour on the same day, this tour ended up running fairly late. Jim Arkell comments: There was single line working somewhere around New Mills/Chinley (between ??? & Romiley according to Dick Franklin) and we had to reverse and run wrong line which caused the first serious delay in the trains' schedule. I didn't keep very good track of the progress of the train timing wise, as you can see by the lack of entries. I was more concerned with taking photos and tape recording the steam section. I do remember that we waited at Manchester Victoria quite a while for the changeover to 70013/44781 during which time the BR special with 45305 ran in on the opposite side to pick up its passengers. We then got held up at Bolton whilst an SLS tour (I think) passed on the avoiding line. At Blackburn 45407 was waiting, un-cleaned, apparently for the RCTS tour, although that wasn't obvious at the time. The turnaround at Carnforth would have been quick, but we had to wait for passengers who'd run across to the shed. There was a photo stop in the station at Clapham after a great climb up the bank, and then we got held up outside Hellifield for a few minutes. I remember hearing whistles in the distance and later found out that the RCTS tour had been occupying Hellifield station. By the time we got back to Blackburn there was a carnival atmosphere and both crews were downing pints which were brought up the platform by other rail staff. Perhaps I shouldn't mention that, but it stuck in my memory quite vividly. Back at Lostock Hall Jn when we changed engines there were two other fives off other tours waiting to go on the shed 44871 & 44894, and 70013 was also there.
Sources : Leonard Rogers, Graham Stacey, Jim Arkell & Dick Franklin



Photo Review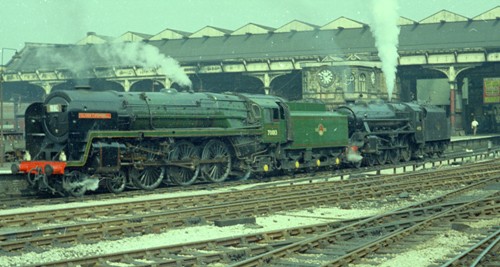 70013 and 44871 waiting to take the train over at Manchester Victoria (as
seen from the passing R.C.T.S. farewell tour) (photo: Bruce Nathan)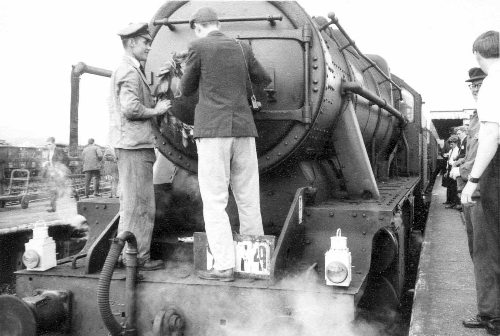 The wreath is removed from 48773 at Carnforth (photo: Jim Arkell)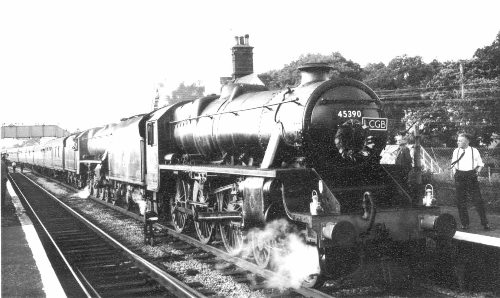 45390 & 45025 pause at Clapham for a photo stop (photo: Jim Arkell)
From The John Debens Ticket Collection.


Timings (Booked & Actual)
(from Jim Arkell & Dick Franklin)
n.b. actual times were originally supplied by Jim Arkell - a subsequent more detailed set from Dick Franklin were consistently (with some exceptions) 3-5 minutes later than Jim's suggesting one (or both?) watches were 'out' to the actual time. Due to the relatively significant difference I have uploaded both sets...if anyone can provide a third opinion then I may subsequently combine them into a single set based on later opinion as to which were most accurate.
| | | | | |
| --- | --- | --- | --- | --- |
| M.C | Location | Booked | Actual (J.Arkell) | Actual (D.Franklin) |
| 0.00 | St Pancras | 08.30d | 08.30 | 08.33½ |
| 3.44 | Finchley Road | 08/36 | 08/37 | ? |
| 6.78 | Hendon | 08/40 | 08/40 | 08/44 |
| 19.71 | St Albans City | 08.52a ~ 08.53d | 08.51½ ~ 08.53 | 08.55 ~ 08.56 |
| ? | Harpenden | ? | ? | [SL] |
| 30.20 | Luton | 09/08 | 09/08 | 09/11½ |
| 49.68 | Bedford Midland | 09.33a ~ 09.34d | 09.29 ~ 09.31½ | 09.33 ~ 09.35 [FL] |
| 65.08 | Wellingborough | 09/57 | 09/56 | 10/01 |
| 72.05 | Kettering | 10/09 | 10/08 | 10/12 |
| 78.42 | Desborough North | 10/18 | 10/23 | 10/28 |
| 82.78 | Market Harborough | 10/22 | 10/30 | 10/34 |
| 89.01 | Kibworth | 10/28 | ? | 10/39 |
| 95.75 | Wigston North Jn | 10/34 | ? | 10/46 |
| 99.09 | Leicester London Road | 10c37 ~ 10c39 | 10.47 ~ 10.49 | 10.51 ~ 10.52½ |
| 104.00 | Syston South Jn | 10/45 | 10/58 | 11/02 |
| 111.49 | Loughborough Midland | 10/52 | ? | 11/08½ |
| 119.25 | Trent Jn | 10/58 | ? | 11/17 |
| 125.00 | Trowell Jn | 11/06 | ? | ? |
| 133.65 | Pye Bridge Jn | 11/19 | ? | 11/37½ |
| 139.01 | Morton Sidings | 11/30 | 11/41 | 11/44½ |
| 141.78 | Clay Cross South Jn | 11/34 | ? | 11/48 |
| 146.16 | Chesterfield | 11/42 | 11/52 | 11/55 |
| 154.16 | Dore & Totley West Jn | 11/54 | ? | 12/08½ |
| 160.50 | Hathersage | 12/02 | 12/15 | 12/18½ |
| 169.01 | Edale | 12/12 | ? | 12/27 |
| 173.73 | Chinley North Jn | 12/20 [SL] | ? | ? |
| 174.74 | Chinley | 12/22 | 12/35 | ??.?? ~ 12.50 |
| 177.52 | New Mills South Jn | 12/26 | ? | ? |
| 183.65 | Romiley | 12/40 | 13/06 | 13/10 |
| 184.82 | Woodley | 12/43 | ? | 13/13½ |
| 187.48 | Hyde Jn | 12/48 | ? | 13/18 |
| 188.25 | Guide Bridge East Jn | 12/51 [GL] | ? | 13/20 |
| 188.67 | Guide Bridge | 12/55 | ? | 13/22 |
| 188.76 | Stockport Jn | 12/56 | ? | 13/22½ |
| 189.47 | Crowthorn Jn | 12/58 | ? | ? |
| 190.22 | Ashton Moss South | 13/00 | ? | 13/27 |
| 190.44 | Ashton Moss North | 13/05 | ? | 13/29 |
| 191.42 | Droylsden | 13/08 | ? | ? |
| 194.59 | Miles Platting | 13/14 [FL] | ? | 13/41 |
| 196.17 | Manchester Victoria | 13L19a ~ 13L30d | ? | 13.44 ~ 14.17 |
| 196.49 | Deal Street | 13/32 | ? | ? |
| 197.26 | Windsor Bridge No.1 | 13/33 | ? | ? |
| 198.02 | Windsor Bridge No.3 | 13/35 | ? | 14/20½ |
| 200.73 | Clifton Jn | 13/39 | ? | 14/24 |
| 206.67 | Bolton | 13/54 | ? | 14.32½ ~ 14.41 |
| 213.51 | Walton's Sidings | 14/10 | ? | 14/55 |
| 216.44 | Darwen | 14/15 | ? | 14/59 |
| 220.57 | Blackburn | 14L22 ~ 14L32 | ? | 15.08 ~ 15.34 |
| 221.22 | Daisyfield Jn | 14/34 | ? | ? |
| 231.42 | Clitheroe | 14/52 | ? | ? |
| 245.02 | Hellifield | 15/12 | ? | 16/20 |
| 248.22 | Settle Jn | 15/17 | ? | 16/26 |
| 255.60 | Clapham | 15/29 | ? | 16/35½ |
| 263.18 | Wennington | 15/40 | ? | 16/45 |
| 272.42 | Carnforth East Jn | 15/54 | ? | 16/58 |
| 272.66 | Carnforth | 15L56a ~ 16L28d | ? | 16.59 ~ 17.20 |
| 273.10 | Carnforth East Jn | 16/30 | ? | ? |
| 282.34 | Wennington | 16/44 | ? | 17/43 |
| 289.72 | Clapham | 16p57a ~ 17p08d | ? | 17.58 ~ 18.12½ |
| 297.30 | Settle Jn | 17/18 | ? | 18/25 |
| 300.50 | Hellifield | 17/23 | ? | 18/36 |
| 314.10 | Clitheroe | 17/43 | ? | ? |
| 324.30 | Daisyfield Jn | 18/01 | ? | ? |
| 324.75 | Blackburn | 18/03 | ? | 19.32½ ~ 19.41 |
| 333.07 | Bamber Bridge | 18/16 | ? | 19/54 |
| 333.77 | Lostock Hall Jn | 18L18 ~ 18L28 [GL] | ? | ? |
| 334.60 | Farington Jn | 18/34 | ? | 20.03 ~ 20.19 |
| 337.48 | Euxton Jn | 18/40 | ? | 20/25 |
| 343.74 | Standish Jn | 18/47 | ? | 20/34 |
| 347.20 | Wigan North Western | 18/50 | ? | 20/40 |
| 348.49 | Springs Branch Jn | 18/52 | ? | 20/42 |
| 355.41 | Winwick Jn | 18/57 | ? | 20/52 |
| 359.00 | Warrington Bank Quay | 19/03 | ? | 21.01 ~ 21.03 |
| 361.01 | Acton Grange Jn | 19/06 | ? | ? |
| 366.49 | Weaver Jn | 19/24 | ? | 21/30 |
| 374.27 | Winsford Jn | 19/31 | ? | ? |
| 379.76 | Coppenhall Jn | 19/36 | ? | ? |
| 383.10 | Crewe | 19L42a ~ 19L52d | ??.?? ~ 21.51 | 21.49 ~ 21.56 |
| 391.16 | Madeley | 20/00 | ? | ? |
| 402.16 | Norton Bridge | 20/07½ | ? | ? |
| 407.47 | Stafford | 20/11 | ? | 22/16 |
| 411.45 | Milford & Brocton | 20/14½ | ? | ? |
| 413.79 | Colwich | 20/16½ | ? | ? |
| 420.12 | Armitage | 20/21 | ? | ? |
| 424.70 | Lichfield TV | 20/24 | ? | ? |
| 431.10 | Tamworth LL | 20/28 | ? | 22/33 |
| 444.02 | Nuneaton TV | 20/37½ | ? | 22/41 |
| 458.48 | Rugby Midland | 20/50 | 22/48 | ? |
| 471.35 | Weedon | 21/00½ | ? | ? |
| 478.25 | Blisworth | 21/05½ | ? | ? |
| 481.20 | Roade | 21/07½ | ? | ? |
| 494.39 | Bletchley | 21/17½ | 23/15 | 23/21 |
| 509.38 | Tring | 21/28½ | ? | 23/36½ |
| 523.57 | Watford Junction | 21.40a ~ 21.41d | ? | 23.52 ~ 23.54 |
| 535.61 | Willesden Junction | 21/52 | ? | 00/04½ |
| 541.11 | Euston | 21.59a | ? | 00.13 |