28th July 1968
Severn Valley Railway Society / Manchester Rail Travel Society
Farewell to B.R. Steam
| | |
| --- | --- |
| Locos Used | D1946? (3), 45073, 45156 'Ayrshire Yeomanry', 48773, 70013 'Oliver Cromwell', 75019 & 75027 |
| Stock Used | load 10? |
Route : 1L43 (?throughout?)
| | |
| --- | --- |
| Loco(s) | Route |
| D1946? (3) | Birmingham New Street - Wolverhampton HL - Stafford - Norton Bridge (4) - Stone - Stoke-on-Trent - Kidsgrove - Macclesfield - (4) Cheadle Hulme - Stockport Edgeley - Manchester Victoria |
| 70013 | Manchester Victoria - Tyldesley - Wigan North Western - Farington Jn - Hellifield - Wennington - Carnforth |
| 75019 & 75027 | Carnforth - Wennington - Hellifield - Skipton |
| 45073 & 45156 | Skipton - Bamber Bridge - Wigan - Bolton - Blackburn - Rose Grove |
| 48773 | Rose Grove - Copy Pit - Rochdale - Bury - Bolton - Manchester Victoria |
| D1946? (3) | Manchester Victoria (2) - Ashburys - Romiley - Stockport Edgeley |
| electric | Stockport Edgeley - (reverse of outward route) - Birmingham New Street |
Notes :
(1) An advertising leaflet gave the tour name as 'Preservation Special No.3'
(2) D5209 was called on at Manchester Victoria as bank engine to Miles Platting but despite being positioned at rear of train was not used and did not assist.
(3) Advised initially as D1906 on the outward leg, a timing sheet and tour advertising leaflet seen by the Webmaster are both hand-marked that D1948 was the loco between Birmingham and Manchester. David Wignall however has the loco used from Wolverhampton to Manchester Victoria as D1946. The return leg between Manchester Victoria & Stockport Edgeley was originally uploaded as having been hauled by either D1948 or 48773 however David Wignall's records have this leg as hauled also by D1946.
(4) Route originally uploaded as routed via Crewe however David Wignall's records have it as via Stoke-on-Trent.
Sources : David Wignall (joined/left the train at Wolverhampton), David Hills,
Leonard Rogers, Phil Durrell, James King & Bob Bishop



Photo Review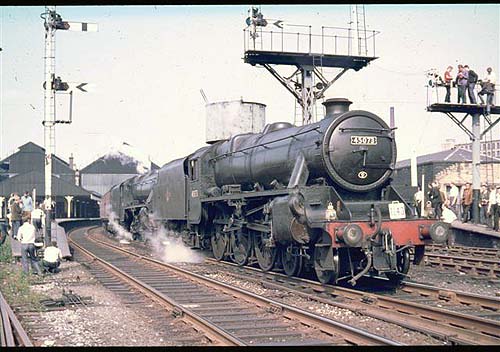 45073 leads 45156 at Blackburn (photo: Alan Sainty Collection)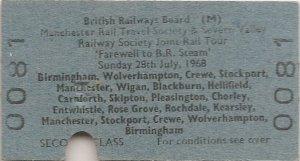 From The John Debens Ticket Collection.


Timings (Booked & Actual)
(from James King, John Debens & David Wignall)
| | | |
| --- | --- | --- |
| Location | Booked | Actual |
| Birmingham New Street | 08.00d | 08.00 |
| Wolverhampton HL | 08/18 | 08.18 ~ 08.20 |
| Cheadle Hulme | 09/34 | 09.49 ~ 09.50 |
| Stockport Edgeley | 09.38 ~ 09.41 | 09.58 ~ 10.00 |
| Droylsden | 09/54 | 10/14 |
| Manchester Victoria | 10L05 ~ 10L21 | 10.21 ~ 10.35 |
| Kenyon Jn | 10/41 | 10/54 |
| Golbourne Jn | 10/48 | 11/00 |
| Wigan North Western | 11/00 | 11/12 |
| Lostock Hall Jn | 11/24 | 11/35 |
| Bamber Bridge | 11/27 | 11/37½ |
| Blackburn | 11w43 ~ 11w53 | 11.55 ~ 12.08 |
| Clitheroe | 12/13 | 12/29 |
| Hellifield | 12/33 | 12/49 |
| Settle Jn | 12/38 | 12/54 |
| Wennington | 13/01 | 13/12 |
| Carnforth | 13L17 ~ 13L50 | 13.27 ~ 13.56 |
| Settle Jn | 14/36 | 14/37 |
| Skipton | 14.54 ~ 15.14 | 14.54 ~ 15.14 |
| Colne | 15/32 | 15/33 |
| Blackburn | 16w06 ~ 16w10 | 16.01 ~ 16.25 |
| Lostock Hall Jn | 16/25 | 16/40 |
| Euxton Jn | 16/36 | 16/46 |
| Chorley | 16/42 | 16/52 |
| Lostock Jn | 16/51 | 17/02 |
| Bolton West Jn | 16/56 | 17/07 |
| Walton Sidings | 17/12 | 17/21 |
| Darwen | 17/17 | 17/25 |
| Rose Grove | 17L44 ~ 18L04 | 17.58 ~ 18.24 |
| Copy Pit | 18/19 | 18/39 |
| Todmorden | 18/29 | 18/47 |
| Rochdale | 18/40 | 19/00 |
| Bury | 18/51 | 19/12 |
| Burnden Jn | 19/03 | 19/25 |
| Windsor Br. No. 3 | 19/17 | 19/40 |
| Manchester Victoria | 19L21 ~ 19L41 | 19.45 ~ 19.55 |
| Droylsden | 19/52 | 20/07 |
| Stockport Edgeley | 20L05 ~ 20L11 | 20.20 ~ 20.38 |
| Cheadle Hulme | 20/15 | 20/43 |
| Macclesfield | ? | 20/55 |
| Stoke-on-Trent | ? | 21.16 ~ 21.20 |
| Wolverhampton HL | 21.30a ~ ??.??d | 22.05 ~ ??.?? |
| Birmingham New Street | 21.50a | 22.24 |