16th June 1968
R.C.T.S. (West Riding Branch)
Dalesman No 2 Rail Tour
| | |
| --- | --- |
| Locos Used | D5113, D7568 & 70013 'Oliver Cromwell' |
| Stock Used | 9 coaches |
Route : 1Z44 throughout (1)
| | |
| --- | --- |
| Loco | Route |
| D7568 | Leeds City - Laisterdyke - Halifax - Stansfield Hall |
| 70013 | Stansfield Hall - Copy Pit - Gannow Jn - Accrington - Lostock Hall - Preston N.U. - Carnforth - Wennington - Clapham - Skipton |
| D5113 | Skipton - Grassington |
| D5113 | Grassington - Skipton |
| D5113 | Skipton - Keighley - Shipley Jn - Guiseley - Ilkley (2) |
| D5113 | Ilkley - Leeds City |
Notes :
(1) Originally uploaded as 1Z74 in error (1Z44 confirmed by photographic evidence - carried in the headcode of D7568 & in the cab windows of D5113).
(2) Stopped short of Ilkley station, ran round, then propelled into platform.
Participants were able to visit Carnforth shed and the soon to open Keighley & Worth Valley Railway.
Sources : David Hills, Kevin Driscoll, Leonard Rogers & Paul Barrett



Photo Review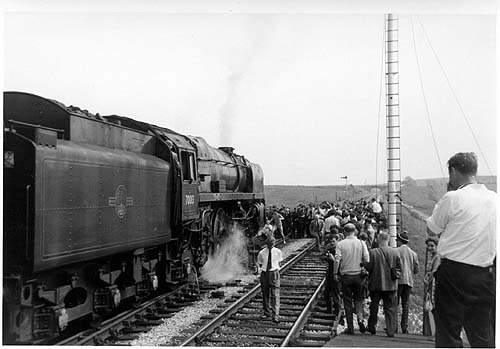 70013 pauses at Clapham (photo: Paul Barrett)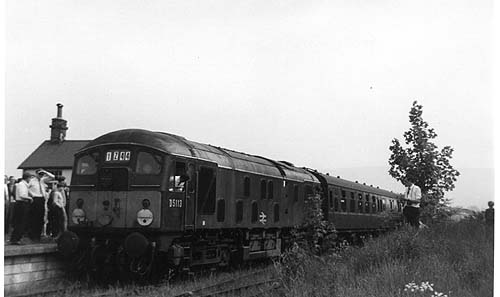 D5113 at Grassington (photo: Paul Barrett)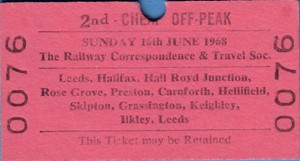 From Andrew Fairholm's ticket collection.


Timings (Booked & Actual)
(from Terry Jackson & Kevin Driscoll)
| | | | |
| --- | --- | --- | --- |
| M.C | Location | Booked | Actual |
| 0.00 | Leeds City | 10.00d | 10.02 |
| 0.49 | Whitehall Jn | 10/03 | ? |
| 0.68 | Holbeck Jn | 10/04 | ? |
| 7.48 | Laisterdyke | 10/16 | ? |
| 9.39 | Bowling Jn | 10/21 | ? |
| 11.14 | Low Moor | 10/25 | ? |
| 16.30 | Halifax | 10.32a ~ 10.34d | ??.?? ~ 10.41 |
| 20.02 | Sowerby Bridge | 10/40 | ? |
| 25.02 | Hebden Bridge | 10/46 | ? |
| 29.01 | Hall Royd Jn | 10/50 | ? |
| 29.21 | Stansfield Hall | 10L52a ~ 11L02d | 11.01 ~ 11.08 |
| 33.26 | Copy Pit | 11/11 | ? |
| 39.14 | Rose Grove | 11/21 | ? |
| 43.61 | Accrington | 11/31 | ? |
| 49.00 | Blackburn | 11/41 | ? |
| 58.02 | Lostock Hall Jn | 11/54 | ? |
| 59.39 | Farington Curve Jn | 11/59 | ? |
| 61.04 | Preston N.U. | 12/07 | 12w03a ~ 12w10d |
| 70.42 | Garstang | 12/20 | ? |
| 82.03 | Lancaster | 12/23 | ? |
| 88.22 | Carnforth | 12.40a ~ 14.00d | 12.59 ~ ??.?? |
| 88.46 | Carnforth East Jn | 14/01 | ? |
| 97.70 | Wennington | 14/16 | ? |
| 105.28 | Clapham | 14.28a ~ 14.43d | (14.30) |
| 112.66 | Settle Jn | 14/55 | ? |
| 116.06 | Hellifield | 14/59 | ? |
| 126.07 | Skipton Station Jn | 15L13a ~ 15L23d | ??.?? ~ 5.33 |
| 128.01 | Embsay Jn | 15/29 | ? |
| 136.39 | Grassington | 16.00a ~ 17.00d | 16.10 ~ ??.?? |
| 144.77 | Embsay Jn | 17/29 | ? |
| 146.71 | Skipton North Jn | 17L35a ~ 17L45d | ? |
| 148.05 | Snaygill | 17/47 | ? |
| 156.06 | Keighley | 17.57a ~ 20.00d | 18.01 ~ 20.00 |
| 162.29 | Shipley Leeds Jn | 20/09 | ? |
| 162.47 | Shipley Guiseley Jn | 20/10 | ? |
| 172.72 | Ilkley | 20.29a ~ 20.45d | ??.?? ~ 21.03 |
| 182.11 | Apperley Jn | 21/00 | ? |
| 188.08 | Wortley Jn | 21/10 | ? |
| 189.03 | Leeds City | 21.13a | 21.25 |