8th June 1968
The Bullied Pacific Preservation Society
The Bullied Commemorative Rail Tour
| | |
| --- | --- |
| Locos Used | 20001, 20002 (5), E6048 (4), E6108 & Steam : 92203 |
| Stock Used | BSK+SO+SO+SO+van+buffet car+SO+SO+SO+BSK |
Route :
SR Headcode C9 : London Waterloo to Brighton
1Z23 & SR Headcode 29 : Brighton to Havant
1Z23 & SR Headcode 74 : Havant to London Waterloo
| | |
| --- | --- |
| Loco | Route |
| 20002 (5) | London Waterloo - Clapham Junction - Barnes - Twickenham - Whitton - Hounslow - Brentford - Barnes - Clapham Junction - Longhedge Jn - Factory Jn - Brixton - Herne Hill - Tulse Hill - West Norwood - Crystal Palace - Norwood Junction - East Croydon - (via Quarry line) - Three Bridges - Haywards Heath - Plumpton - Lewes - Seaford |
| E6048 (4) | Seaford - Lewes - Falmer - Brighton |
| 20001 | (3) Brighton - Preston Park |
| E6048 (4) | Preston Park - Hove |
| E6048 (4) | Hove - Brighton (3) |
| 20001 | Brighton - Hove - Worthing Central - Barnham - Chichester - Havant |
| E6108 | Havant - Liss - Liss Exchange Sidings |
| 92203 | Liss Exchange Sidings - Longmoor Downs (2) |
| 92203 | Longmoor Downs - Liss |
| E6108 | Liss - Haslemere - Guildford |
| 20001 | Guildford - Effingham Junction - Cobham - Surbiton - Wimbledon - Earlsfield - Clapham Junction - London Waterloo |
Notes :
(1) 20001 & 20002 were class 70 electrics, formerly numbered CC1 & CC2 respectively. According to the tour brochure, Waterloo to Seaford was booked for haulage behind 20001 or 20002, the legs from Brighton to Havant and Liss to Waterloo were booked to be hauled by 20003 but this was reported out of service.
(2) For open day. Locos at Longmoor: ex-BR steam locos 35028, 34023, 41298 & 75029. Timing sheet reports an LMR special train, booked to be hauled by diesel loco 'General Lord Robertson' booked to depart Longmoor Downs at 16.10 and return from Oakhanger at 17.10 - passengers could purchase tickets for this service if desired. A private special is also mentioned, booked to depart from Longmoor Downs at 15.45 - further details of this are required.
(3) Turning of stock via the Preston Park/Hove triangle - this operation was not given timings in the tour brochure and Brighton was given as a refreshment stop. Was this stock turning operation just made available to passengers on the day who wished to remain on the train?
(4) Originally uploaded as E6042 however John Clifford suggested it should be E6048 and in a brochure in John Debens collection E6048 is written against the leg from Seaford to Brighton.
(5) A tour brochure in John Debens collection has a line through the suggested use of 20001 or 20002 against the leg from Waterloo to Seaford and 20003 written in instead - was this loco used or was it 20002 as shown in the above tabulation?
(7) A tour advertising leaflet described this as the BPPS's first rail tour.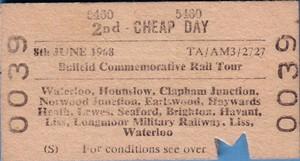 From Andrew Fairholm's ticket collection.
Sources : Alan Costello, John Clifford, The Bluebell Railway Museum & John Debens



Timings (Booked Only)
(from The Bluebell Railway Museum & John Debens)
| | | |
| --- | --- | --- |
| Location | Booked | Revised |
| Waterloo | 09.08d [P14] [LL] | unchanged |
| Clapham Junction | 09/15 | unchanged |
| Barnes | 09/18½ | unchanged |
| Twickenham | 09/24½ | unchanged |
| Hounslow | 09/31½ | unchanged |
| Barnes | 09/42 [LL] | unchanged |
| Clapham Junction (W) | 09*48 ~ 09*50 | unchanged |
| Longhedge Jn | 09/54 | unchanged |
| Factory Jn | 09/57 | unchanged |
| Brixton | 10/01 | unchanged |
| Herne Hill | 10*03 ~ 10*08 | unchanged |
| Tulse Hill | 10*13 ~ 10*14 | unchanged |
| West Norwood | 10/16½ | unchanged |
| Crystal Palace | 10/21 | unchanged |
| Norwood Junction | 10/25 [LL] | unchanged |
| East Croydon | 10/29 | unchanged |
| Coulsdon North | 10/35½ [QL] | unchanged |
| Earlswood | 10/43 [TL] | unchanged |
| Three Bridges | 10/50½ | unchanged |
| Haywards Heath | 11/00 | unchanged |
| Keymer Jn | 11/04 | unchanged |
| Lewes | 11/16 | unchanged |
| Southerham Jn | 11/18½ | unchanged |
| Seaford | 11L30a ~ 11L43d | unchanged |
| Southerham Jn | 11/56 | unchanged |
| Lewes | 11/58 | unchanged |
| Brighton | [P7] 12.10a ~ 13.12d [P2] | unchanged |
| Hove | 13/15 | unchanged |
| Shoreham-by-Sea | 13/21½ | unchanged |
| Worthing | 13/28 | unchanged |
| Arundel Jn | 13/38½ | unchanged |
| Barnham | 13/43½ | unchanged |
| Chichester | 13p52a ~ 14p00d | unchanged |
| Havant | 14L13 ~ 14L23 | unchanged |
| Petersfield | 14/37 | unchanged |
| Liss | 14/42 | unchanged |
| Liss Exchange Sidings | 14L43 ~ 14L55 | unchanged |
| Longmoor Downs | 15.10a ~ 17.50d | unchanged |
| Liss | 18L15 ~ 18L25 | 18L10 ~ 18L18 |
| Haslemere | 18/33 | 18/28 |
| Guildford | 18/48 | 18L44 ~ 18L52 |
| Effingham Junction | 18/59 | 19/03 |
| Hampton Court Jn | 19/09 [TL] | 19/15 |
| Clapham Junction | 19/20 | 19/28 |
| Waterloo | 19.26a | 19.35a |


Associated Light Engine Movements
(from John Debens)
SR Headcode C9 : booked loco 20001 (20002 used)
(to work 09.08d to Brighton)
| | |
| --- | --- |
| Location | Booked |
| Eastbourne | 06.05d |
| Clapham Junction | 07.57 ~ 08.27 [WTL] |
| Waterloo | 08.36a |
SR Headcode 73 : booked loco 20003 (20001 used)
(to work 18.45d to London Waterloo)
| | |
| --- | --- |
| Location | Booked |
| Havant | 14.49d |
| Petersfield | 15/05 |
| Haslemere | 15/25 |
| Guildford | 15.45a |
SR Headcode 55 : booked loco 20003 (20001 used)
| | |
| --- | --- |
| Location | Booked |
| Waterloo | 19.58d |
| Clapham Junction | 20.10 ~ 20.12 |
| Brighton | 'CD' |