20th April 1968
Manchester Rail Travel Society / Severn Valley Railway Society
North West Tour
| | |
| --- | --- |
| Locos Used | E3093, E3180, 44949, 45110, 48773, 73069, 73134 & 92160 |
Route : 1Z77 throughout
| | |
| --- | --- |
| Loco(s) | Route |
| E3180 | Birmingham New Street - Stockport |
| 45110 & 44949 | Stockport - Disley LNW - Buxton No.1 - Peak Forest Jn - Chinley - Romiley - Guide Bridge East Jn - Stalybridge |
| 73134 & 73069 | Stalybridge - Standedge - Hedben Bridge - Copy Pit - Rose Grove - Blackburn - (2) - Bolton |
| 48773 | Bolton - Bury Knowsley Street - Rochdale - Oldham Mumps - Dean Lane - Thorpes Bridge Jn - Philips Park No.1 Jn - Droylesdon - Denton Jn - Stockport |
| 92160 | Stockport - Northenden Jn - Skelton Jn - Warrington Bank Quay LL - Ditton Jn - Liverpool Lime Street |
| E3093 | Liverpool Lime Street - Birmingham New Street |
Notes :
(1) Route confirmation required. Lydney Jeff reports the tour ticket carried the name 'Joint Rail Tour' - was this the tour name or did it refer to the fact it was jointly organised by two societies?
(2) Due to roof works underway in Sough Tunnel the train stopped prior to the tunnel, reversed over a crossover, then continued 'wrong line' through the tunnel.
Sources : David Hills, Lydney Jeff, Chris Totty, Bevan Price, Leonard Rogers & Roy Lambeth



Photo Review
(all photos from Roy Lambeth unless otherwise stated)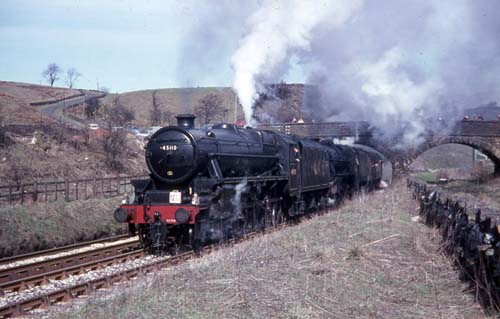 45110 & 44949 climbing towards Buxton. To the right is the trackbed of the
former Peak Forest Tramway.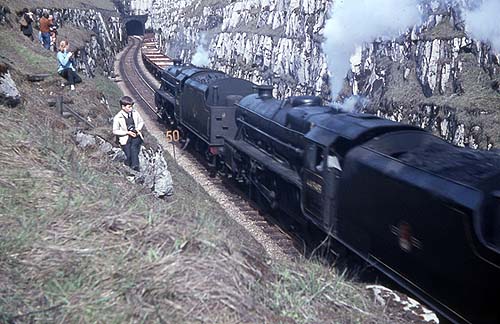 ...beyond Buxton and the 5's are about to plunge into Dove Holes tunnel.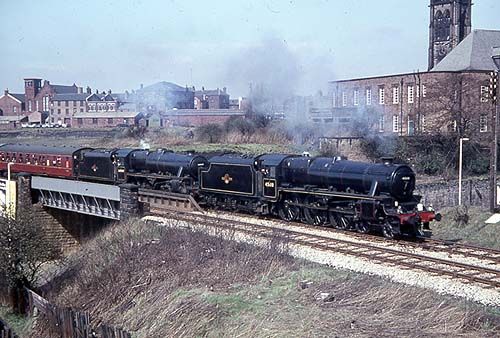 The pair of Black 5's again, near Guide Bridge.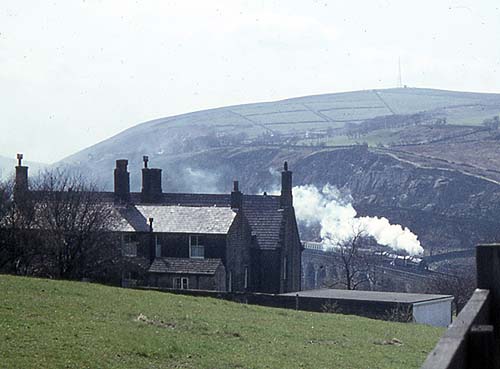 73134+73069 crossing Saddleworth Viaduct.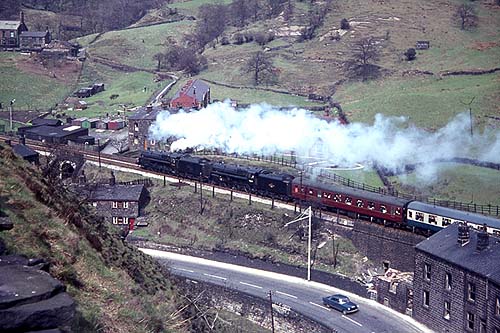 73134+73069 climbing towards Rose Grove/Copy Pit.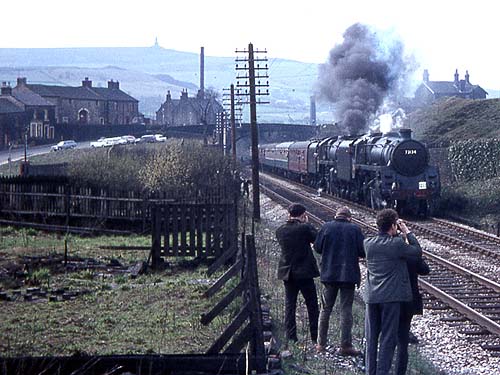 Right...and wrong...line working on the approach to Sough Tunnel.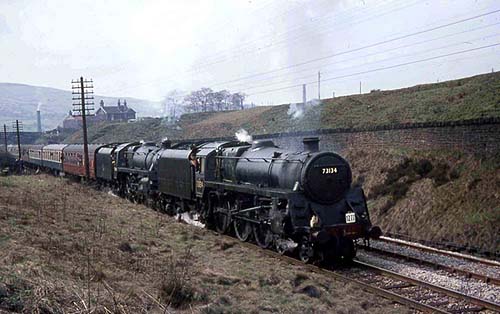 48773 backs on to the train at Bolton.
(photo: Bob Bishop collection - from cine film by John Simons)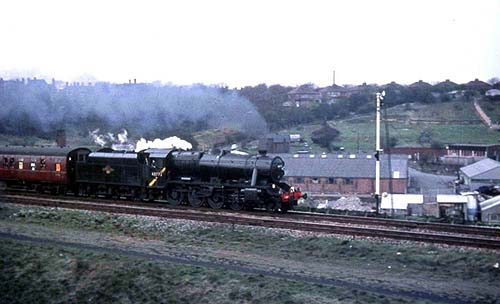 48773 speeds by near Clayton Bridge.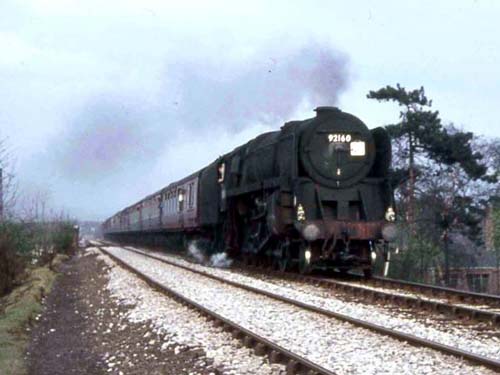 A filthy 92160 on the way to Liverpool, about an hour late.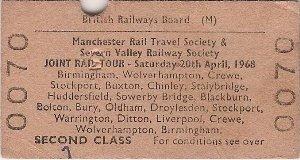 From The John Debens Ticket Collection.


Timings (Booked & Actual)
(from Chris Totty & David Wignall)
| | | |
| --- | --- | --- |
| Location | Booked | Actual |
| Birmingham New Street | 08.45d | 08.45 |
| Wolverhampton HL | ??.??a ~ 09.02d | 09.09 ~ 09.10 |
| Crewe | ??.??a ~ 09.48d | 09.43 ~ 09.48 |
| Stockport | 10L22a ~ 10L37d | 10.22 ~ 10.39 |
| Whalley Bridge | 10/58 | 11/00 |
| Buxton No.1 | 11/16 | 11/33 |
| Peak Forest Jn | 11/28 | 11/41 |
| Chinley | 11p40a ~ 11p50d | 11.45½ ~ 11.55 |
| New Mills South Jn | 11/55 | 12/01½ |
| Romiley | 12/07 | 12/12 |
| Hyde Jn | 12/15 | 12/19 |
| Guide Bridge Jn (East) | 12/18 | 12/21 |
| Stalybridge | 12L28 ~ 12L38 | 12.30 ~ 12.48½ |
| Diggle | 12/51 | 13/05 |
| Hebden Bridge | 13/49 | 13/55½ |
| Hall Royd Jn | 13/54 | 14/01½ |
| Copy Pit | 14/05 | 14/12 |
| Gannow Jn | 14/14 | 14/21 |
| Rose Grove | 14L16 ~ 14L44 | 14.24 ~ 14.47 |
| Blackburn | 15/05 | 15/16 |
| Bolton | 15L31 ~ 15L39 | 15.55½ ~ 16.07 |
| Bury Knowsley Street | 15/48 | 16/32 |
| Broadfield | 15p55a ~ 16p06d | 16.39 ~ 16.48 |
| Rochdale | 16/14 | 16/58 |
| Oldham Mumps | 16/26 | 17/13 |
| Dean Lane | 16/38 | 17/23 |
| Philips Park No.1 | 16*43 ~ 16*51 | 17/30 |
| Droylesden | 16/58 | 17/37 |
| Denton Jn | 17/02 | 17/41 |
| Stockport | 17L17 ~ 17L25 | 17.52 ~ 18.18 |
| Northenden Jn | 17/33 | 18/25 |
| Skelton Jn | 17/40 | 18/30 |
| Ditton Jn | 18/14 | 19/02 |
| Liverpool Lime Street | 18L31a ~ 18L56d | 19.20 ~ 19.31 |
| Crewe | 19.40a ~ ??.??d | 20.27 ~ 20.32 |
| Wolverhampton HL | 20.21 ~ ??.??d | 21.13 ~ 21.15 |
| Birmingham New Street | 20.40a | 21.31 |