25th November 1967
Manchester Rail Travel Society
Lancs & Yorks Rambler / The Mancunian
| | |
| --- | --- |
| Loco Used | 60019 'Bittern' |
| Stock Used | load 10 (4) |
Route : 1Z29 throughout
| | |
| --- | --- |
| Loco | Route |
| 60019 | Leeds City - Shipley - Keighley - Skipton - Hellifield - Settle Jn - Wennington - Carnforth - Lancaster - Preston - Wigan North Western - Golborne Jn - Parkside East Jn - Eccles - Castlefield Jn - Manchester Piccadilly - Ashburys - Guide Bridge |
| 60019 (1) | Guide Bridge - Denton Jn - Stockport |
| 60019 | Stockport - Denton - Park - Miles Platting - Manchester Victoria - Pendleton Broad Street - Moses Gate - Bury Knowsley Street - Heywood - Castleton - Rochdale - Hebden Bridge - Mirfield - Dewsbury - Leeds City |
Notes:
(1) Running tender first.
(2) Train ran all day carrying 'The Mancunian' headboard (itinerary showed both 'Lancs & Yorks Rambler' and 'The Mancunian'). This trip should have originally had a BR Std 5MT for part of the (now revised) route. Consequently, 60019 ran throughout on what was advertised as its 'Last Run'.
(3) Gordon Lacy comments: Time was comfortably kept until we reached the Preston area. An unscheduled (?) 9min water stop was then made at Parkside. Having dropped 6 more min to passing Manchester Piccadilly, due to a signal stop at Ordsall Lane, we were to be held a further 11 min before taking the GC route at Ardwick Jn. The run-round was achieved quite quickly, and the unusual sight of a tender-first A4 was to take us to Stockport Edgeley, for a further reversal. Further signal stops at Deal Street and Bury, preceded 'missing' our water stop at Broadfield. After standing 17 min, we carried on to Rochdale, after which a 10 min 'water stop' was made at Hall Royd Jn. The photstop at Mirfield was cancelled, after two more signal stops, which enabled some of the lost time to be regained before Leeds City.
(4) Gordon Lacy questions the number of coaches listed as used: Train was booked load 9 vb90 = BSO, 3x TSO, RB, 3x TSO, BSO. I only recorded 9 on the day in the log book. Did it have 10? I thought it had been restricted to 9 because of the 'tight' run-round at Guide Bridge?
Sources : Gordon Lacy & Bevan Price



Photo Review
(all photos: Gordon Lacy)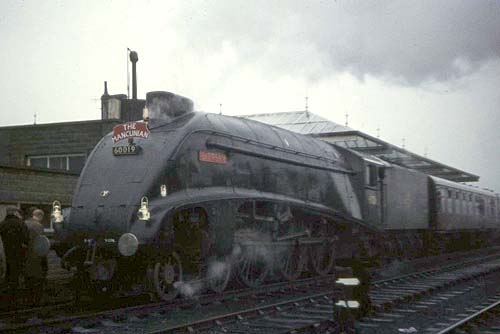 60019 during a watering stop at Skipton.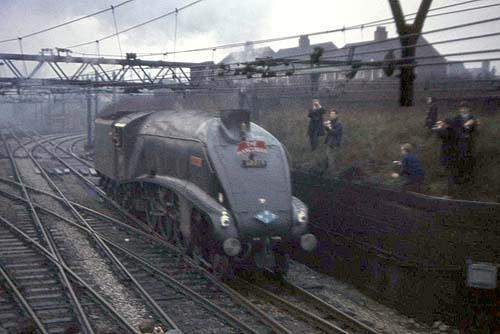 Running round at Guide Bridge.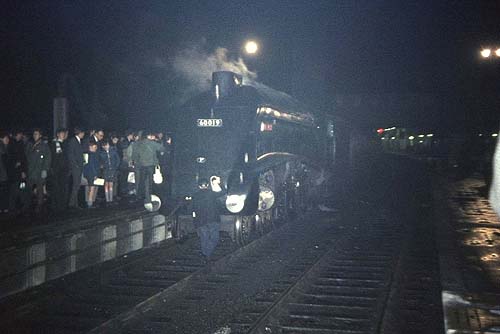 Back at Leeds.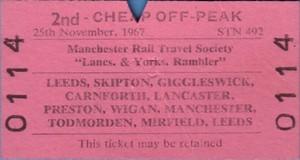 From Andrew Fairholm's ticket collection.


Timings (Booked Only)
(from Gordon Lacy)
| | |
| --- | --- |
| Location | Booked |
| Leeds City | 10.17d |
| Wortley Jn | 10/20 |
| Shipley, Leeds Jn | 10/33 |
| Keighley | 10/41 |
| Skipton | 10p54a ~ 11p10d |
| Hellifield | 11/26 |
| Settle Jn | 11/30 |
| Wennington | 11/54 |
| Carnforth | 12c11 ~ 12c14 |
| Lancaster | 12/37 |
| Garstang & Catterall | 12/50 |
| Preston | 13/08 |
| Euxton Jn | 13/16 |
| Standish Jn | 13/24 |
| Wigan North Western | 13.29 ~ 13.35 |
| Golborne Jn | 13/44 |
| Parkside East Jn | 13/48 |
| Barton Moss Jn | 13/59 |
| Eccles | 14/02 |
| Ordsall Lane No.2 | 14/07 |
| Castlefield Jn | 14/10 |
| Oxford Road | 14/12 |
| Manchester Piccadilly | 14/15 |
| Ardwick Jn | 14/18 |
| Ashburys | 14/22 |
| Guide Bridge | 14.31 ~ 14.53 |
| Denton Jn | 14/57 |
| Heaton Norris Jn | 15/07 |
| Stockport Edgeley | 15.10 ~ 15.30 |
| Heaton Norris Jn | 15/32 |
| Droylesden | 15/50 |
| Park | 15p54a ~ 16p04d |
| Miles Platting | 16/07 |
| Manchester Victoria | 16/14 |
| Windsor Bridge No.1 | 16/18 |
| Pendleton Broad Street | 16/20 |
| Brindle Heath | 16/22 |
| Agecroft Jn | 16/23 |
| Burnden Jn | 16/34 |
| Bury Knowsley Street | 16/47 |
| Broadfield | 16w54 ~ 17w09 |
| Castleton East Jn | 17/15 |
| Rochdale | 17p22a ~ 17p45d |
| Todmorden | 18/01 |
| Hebden Bridge | 18/06 |
| Sowerby Bridge | 18/14 |
| Brighouse | 18/21 |
| Mirfield | 18p28a ~ 18p40d |
| Morley Row | 18/54 |
| Leeds City | 19.05a |