18th June 1967
R.C.T.S.
Farewell to Southern Steam Rail Tour
| | |
| --- | --- |
| Locos Used (4) | 34023, 34089, 34108, 35013, 73029 & 80146 |
| Stock Used | 12 coaches - BSK, 8 SO, RB, SO (for dining purposes), BSK |
Route : at least SPL 12
| | |
| --- | --- |
| Loco(s) | Route |
| 73029 & 34023 | London Waterloo - (via Windsor through lines) - Clapham Junction - East Putney - Surbiton - Effingham Junction - Guldford - Haslemere - Havant - Fareham |
| 34089 | Fareham - Netley - Southampton Central |
| 34089 + 34108 | Southampton Central - Brockenhurst - Bournemouth - Wareham |
| 34089 (2) | Wareham - Swanage |
| 80146 (3) | Swanage - Wareham |
| 34089 | Wareham - Weymouth |
| 34023 + 34108 (5) | Weymouth - Bournemouth Central - Eastleigh - Romsey - Salisbury |
| 35013 | Salisbury - Basingstoke - London Waterloo |
Notes :
(1) This twelve coach train ran as a tribute to the final days of steam over the LSWR main line, prior to the start up of the new electrified services. Apart from the Salisbury - Waterloo section the train running was hindered by poor timetabling, a number of stopping services were sent out in front of the special. Tour quoted with names 'Farewell to Steam' and 'Farewell to Southern Steam'. Tour itinerary titled this train as the 'Farewell to Southern Steam Tour'.
(2) 80146 on rear.
(3) 34089 on rear.
(4) The SR locos were un-named and missing the smokebox number-plates. Former names were as follows;
34023 'Blackmore Vale', 34089 '602 Squadron', 34108 'Wincanton' & 35013 'Blue Funnel'.
(5) 'Vintage Railtours (RCTS - 1954-1969)' by Gavin Morrison, published by Silver Link Publishing details the locos on this leg as 34023 & 34089 however Gordon Lacy confirms the locos used on this leg were definitely 34023 & 34108 (the latter having run 'light engine' from Wareham). Proof is given by the photos below - 34089 having backing metalwork for a nameplate with squadron crest, 34108 only having backing for a plain nameplate without crest. The markings on the buffers provides further confirmation.
(6) Gordon Lacy comments: I was told that the run to Salisbury would be 34108's last (passenger?) working, the loco being withdrawn shortly afterwards...can anyone confirm if this was the case? Gordon also requests: If anyone has a full log (i.e., min/secs, speeds, etc), at all/most locations throughout, I would be most interested (& eternally grateful!) to have a copy!
(7) Photographs at Swanage of 80146 show SR headcode SPL 12 being carried - was this used throughout?
Sources : John Clifford & Gordon Lacy (both on the train throughout), David Hills, Gary Thornton & Steve Armitage



Photo Review
(all photos: Gordon Lacy)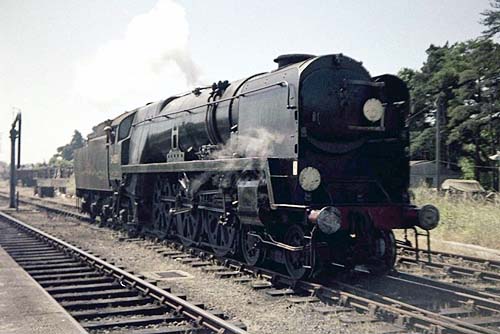 34089 waits to run onto the train at Fareham.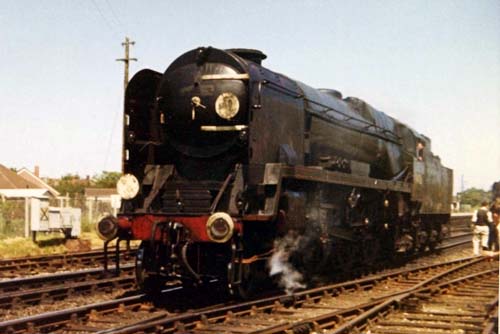 34108, off the train at Wareham and before heading 'light' for Weymouth.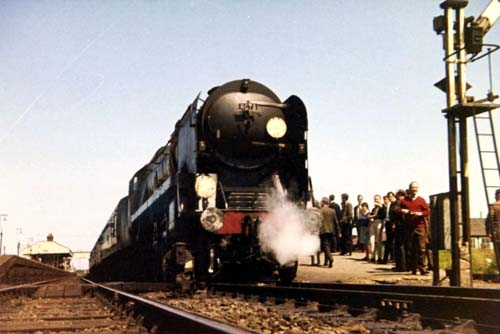 Wareham still, 34089 waits to depart for Swanage.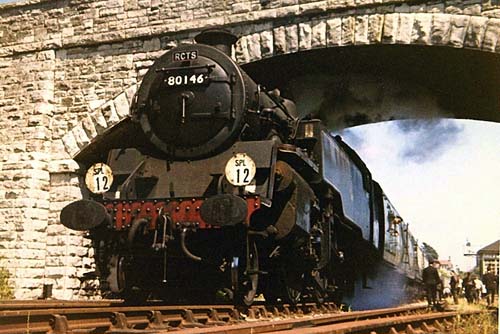 80146 at Swanage, awaiting departure back to Wareham.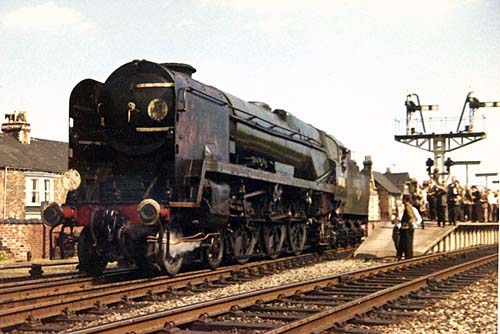 34108 backs onto the train at Weymouth.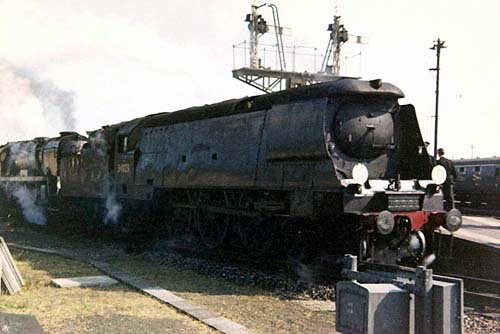 34023 & 34108 wait to leave Weymouth.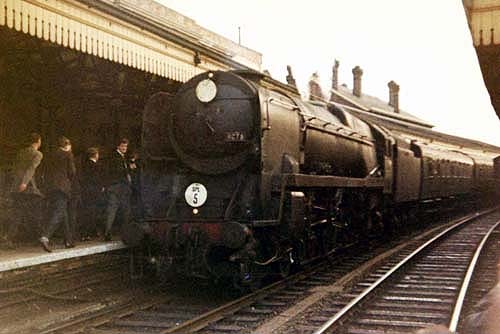 35013 at Salisbury.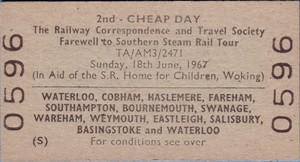 From the Andrew Fairholm ticket collection.


Timings (Booked & Actual)
(from Terry Jackson/John Clifford)
| | | | |
| --- | --- | --- | --- |
| M.C | Location | Booked | Actual |
| 0.00 | Waterloo | 09.10d | 09.18 |
| 5.06 | Point Pleasant Jn | 09/20 | 09/28 |
| 5.57 | East Putney | 09/22 | 09/30 |
| 8.43 | Wimbledon | 09/29 TL | 09/35 |
| 14.52 | Hampton Court Jn | 09/36 | 09/42 |
| 22.40 | Effingham Junction | 09/46 | 09/52 |
| 31.20 | Guildford | 09/58 | 10/02 |
| 43.75 | Haslemere | 10/18 | 10/32 |
| 55.66 | Petersfield | 10/31 | 10/44 |
| 67.31 | Havant | 10/44 | 10.57a ~ 10.57d |
| 69.57 | Farlington Jn | 10/47 | 11/03 |
| 70.22 | Cosham Jn | 10*49a ~ 10*53d | 11/06 |
| 76.52 | Fareham | 11L03a ~ 11L12d | 11.20 ~ 11.30 |
| 89.25 | St Denys | 11/37 | 11/52 |
| 90.19 | Northam Jn | 11/40 | 11/55 |
| 91.24 | Southampton Central | 11L43a ~ 11L53d | 12.01 ~ 12.09 |
| 92.16 | Millbrook | 11*56a ~ 12*03d | 12/14 |
| 93.75 | Redbridge | 12/07 | 12/20 |
| 97.38 | Lyndhurst Road | 12.15a ~ 12.30d | 13/05 |
| 105.65 | Lymington Jn | 12/40 | 13/11 |
| 120.07 | Bournemouth Central | 13*01a ~ 13*02d | 13.35 ~ 13.37 |
| 125.67 | Poole | 13/12 | 13/47 |
| 132.75 | Wareham | 13L22a ~ 13L32d | 13.57 ~ 14.05 |
| 134.02 | Worgret Jn | 13/35 | 14*09 |
| 138.79 | Corfe Castle | 13/45 | 14/17 |
| 143.78 | Swanage | 13.55a ~ 14.10d | 14.26 ~ 14.41 |
| 148.77 | Corfe Castle | 14/20 | 14/50 |
| 153.74 | Worgret Jn | 14/30 | 14/59 |
| 155.01 | Wareham | 14L33a ~ 14L45d | 15.04 ~ 15.09 |
| 156.08 | Worgret Jn | 14/48 | 15/13 |
| 170.26 | Dorchester Jn | 15/10 | 15/33 |
| 175.72 | Radipole Halt | 15.20a ~ 15.22d | 15.42 ~ 15.47 |
| 176.76 | Weymouth | 15.25a ~ 16.20d | 15.51 ~ 16.55 |
| 178.00 | Radipole Halt | 16.23a ~ 16.25d | 16.58 ~ 17.01 |
| 183.46 | Dorchester Jn | 16/38 | 17/14 |
| 197.64 | Worgret Jn | 16/54 | 17/23 |
| 205.79 | Poole | 17/04 | 17/44 |
| 211.59 | Bournemouth Central | 17.14a ~ 17.24d | 17.54 ~ 18.08 |
| 226.01 | Lymington Jn | 17/41 | 18/24 |
| 237.71 | Redbridge | 17/53 | 18/40 |
| 239.50 | Milbrook | TL | ??/?? |
| 240.42 | Southampton Central | 17/58 | 18/44 |
| 241.47 | Northam Jn | 18/02 | 18/48 |
| 246.16 | Eastleigh | 18/09 | 18/57 |
| 253.42 | Romsey | 18/20 | 19/09 |
| 268.77 | Tunnel Jn | 18/37 | 19/26 |
| 270.05 | Salisbury | 18L40a ~ 18L55d | 19.29 ~ 19.36 |
| 271.13 | Tunnel Jn | 18/59 | 19/41 |
| 303.38 | Worting Jn | 19/29 | 20/11 |
| 329.00 | Woking Jn | 19/49 | 20/32 |
| 349.70 | Clapham Junction | 20/08 | 20/56 |
| 353.61 | Waterloo | 20.15a | 21.02 |