20th May 1967
Stephenson Locomotive Society (Tees-Side Centre)
The Three Dales Rail Tour
| | |
| --- | --- |
| Locos Used | D5160 & 62005 |
| Stock Used | 6 coaches |
Route : 3Z08 throughout
| | |
| --- | --- |
| Loco(s) | Route |
| 62005 | Stockton - Eaglescliffe - Northallerton |
| 62005 (2) | Northallerton - Castle Hills Inner Jn - Ainderby - Leyburn - Redmire |
| 62005 + D5160 | Redmire - Leyburn - Ainderby - Castle Hills Inner Jn - Castle Hills Jn - Eryholme Jn - Darlington |
| 62005 | Darlington - Eryholme Jn - Catterick Bridge |
| 62005 | Propelling move at Catterick Bridge (3) |
| 62005 | Catterick Bridge - Camp Centre |
| 62005 | Camp Centre - Catterick Bridge - Richmond |
| 62005 | Richmond - Catterick Bridge - Eryholme Jn - Darlington - Darlington Bank Top (4) - Bishop Auckland - Stanhope - Westgate |
| 62005 | Westgate - Stanhope - Bishop Auckland - Darlington Bank Top - Darlington - Eaglescliffe - Thornaby - Stockton Cut - (via goods lines) - Newport Bridge - Middlesbrough |
Notes:
(1) Route & loco confirmation required - Above information gleaned from SLS journal article (volume 43 no. 505) as published on the NELPG Website. It was originally planned to start this tour at Saint John's Crossing in Stockton, the original passenger terminus of the Stockton and Darlington Railway, but the absence of platforms prevented this and similarly the termination of the tour at Middlesbrough Goods Station.
(2) D5160 on rear. The diesel was required as the crossing loop at Redmire was not long enough to accommodate the six coach train.
(3) At Catterick Bridge the loco ran round then propelled the train under the bridge carrying the A1 road before running forward again onto the Catterick Military Railway.
(4) At the time the tour was originally planned it was thought there would no longer be watering facilities at Darlington or Bishop Auckland, and it was consequently intended to change to diesel power for the journey up to Weardale. Fortunately however the equipment was still in place thus the loco change was not required and 62005 watered at Darlington Bank Top on the outward and Bishop Auckland on the return.
Sources : Andrew Fairholm, Nige Paine, Gary Thornton & John Debens



Photo Review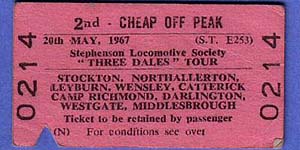 From Andrew Fairholm's ticket collection.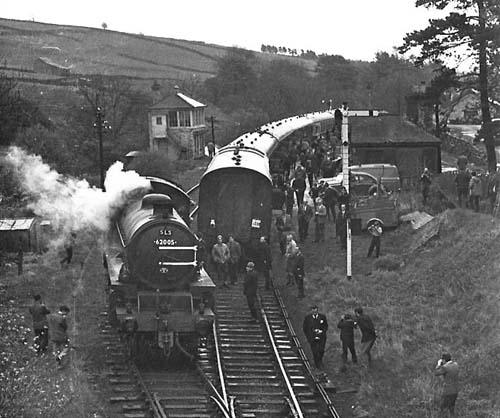 62005 runs round its train at Westgate (photo: Alan Brown, courtesy of Disused Stations)


Timings (Booked & Actual)
(from various including David Murray & Richard Maund)
M.C
Location
Booked
Actual
0.00
Stockton
10.17d
?
2.10
Eaglescliffe
10/23
?
6.56
Picton
?
?
16.65
Northallerton
10.43 ~ 10.55
?
?
Leeming Bar
11/10
?
24.28
Bedale
11/13
?
34.30
Leyburn
11.33 ~ 11.43
?
38.64
Redmire
11.53 ~ 12.08
?
43.18
Leyburn
12.20 ~ 12.34
?
?
Leeming Bar
12/59
?
61.63
Castle Hills Jn
13/11
?
?
Eryholme Jn
13/23
?
75.14
Darlington
13.30 ~ 13.40
?
?
Eryholme Jn
13/48
14/02
86.52
Catterick Bridge
14.00 ~ 14.10
?
90.32
Camp Centre
14.25a ~ 14.38d
?
94.12
Catterick Bridge
14/55
?
97.48
Richmond
15.01 ~ 15.16
??.?? ~ 15.19
?
Eryholme Jn
15/33
15/33
112.42
Darlington
15.40 ~ 15.50
?
113.65
North Road
?
?
118.23
Heighington
?
?
121.50
Shildon
?
?
125.08
Bishop Auckland
16/11
?
128.32
Wear Valley Jn
?
?
141.13
Stanhope
16/49
?
146.76
Westgate
17.07 ~ 17.22
early away
152.59
Stanhope
17/40
?
?
Bishop Auckland
18/18
?
181.25
Darlington
18.51 ~ 18.52
18.44 ~ ??.??
[mainline platform]
184.44
Oak Tree Jn
?
?
188.79
Eaglescliffe
19/05
?
?
Stockton Cut
19/10
? [goods line]
119.69
Thornaby
?
?
?
Newport Bridge [472 points]
??/??
? [passenger line]
?
Tees Box
19/25
?
195.16
Middlesborough
19.27a
19.33