29th April 1967
R.C.T.S. (Merseyside Branch)
The Wrexham, Mold & Connah's Quay Railway Rail Tour
| | |
| --- | --- |
| Locos Used | 42616, 42647, 48697 & 92058 |
Route : 1Z50 throughout
| | |
| --- | --- |
| Loco(s) | Route |
| 92058 | Crewe - Sandbach - Middlewich - (via Northwich chord) - Hartford & Greenbank - Moldsworth Jn - West Cheshire Jn - Ellesmere Port - Hooton |
| 42616 + 42647 | Hooton - Chester - Saltney Jn - Mold Jn - Kinnerton - Rhydymwyn |
| 42616 + 42647 | Rhydymwyn - Hope Jn |
| 42616 + 42647 | Hope Jn - Caergwrle - Wrexham Exchange |
| 48697 | Wrexham Exchange - Wrexham Central |
| 42616 + 42647 | Wrexham Central - Wrexhan North Jn |
| 48697 | Wrexham North Jn - Croes Newydd North Fork Jn - Brymbo West |
| 48697 | Brymbo West - Wrexham General |
| 48697 | Wrexham General - Ruabon - Llangollen Goods |
| 48697 | Llangollen Goods - Wrexham General |
| 42616 + 42647 | Wrexham General - Brymbo Jn - Buckley Jn - Shotton, Upton - Bidston Yard (2) |
| 92058 | Bidston Yard - Heswall - Neston North - Dee Marsh Jn - Chester - Mouldsworth Jn - Delamere - Hartford - Middlewich - Sandbach - Crewe |
Notes :
(1) This tour, run to belatedly celebrate the 100th anniversary of the W.M & C.Q. Rly, commenced with seven coaches, but had one removed at Bidston Yard after three hot boxes were discovered on the offending vehicle! Because of this delay the intended route via New Brighton was changed, with a straight run back to Crewe instead, minimising the lateness to only thirty minutes.
(2) Was booked to reverse at New Brighton but did not due to late running.
Sources : David Hills, The Bluebell Railway Museum, Steve Armitage, David Wignall & David Cull



Photo Review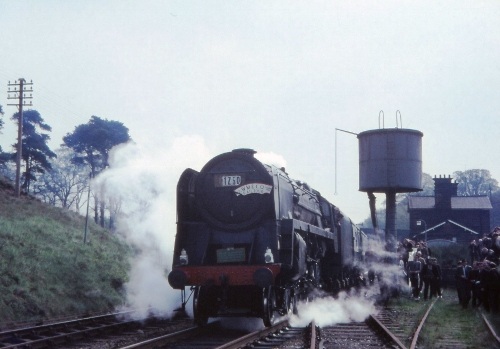 92058 during the morning photo-stop at Delamere (photo: David Cull)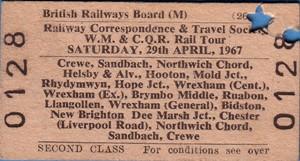 From Andrew Fairholm's ticket collection.


Timings (Booked & Actual)
(from Terry Jackson & The Bluebell Railway Museum & David Wignall)
| | | | |
| --- | --- | --- | --- |
| M.C | Location | Booked | Actual |
| 0.00 | Crewe | 09.15d | 09.16 |
| 0.66 | Sydney Bridge | 09/18 | 09/19 |
| 04.48 | Sandbach | 09/28 | 09/30 |
| 8.28 | Middlewich | 09/38 | 09/39 |
| 13.19 | Northwich Sandbach South Jn | 09/50 | 09/51 |
| 13.47 | Northwich Sandbach West Jn | 09/55 | 09/55 |
| 20.64 | Delamere | 10p20a ~ 10p20d | 10.12 ~ 10.22 |
| 23.56 | Mouldsworth Jn | 10/26 | 10/29 |
| 27.51 | Helsby West Cheshire Jn | 10/34 | 10/39 |
| 35.70 | Hooton | 10L51a ~ 11L01d | 10.52 ~ 11.04 |
| 43.48 | Chester No.5 | 11c13 ~ 11c15 | 11.17~ 11.18 |
| 43.63 | Chester No.6 | 11/17 [SL] | 11/19 |
| 46.43 | Mold Jn No.1 | 11/23 | 11.24 ~ 11.26 |
| 52.78 | Hope Jn | 11/50 | 11/42 |
| 56.45 | Mold | 12/04 | 11/56 |
| 59.56 | Rhydymwyn | 12.15a ~ 12.45d | 12.05 ~ 12.48 |
| 62.67 | Mold | 12/56 | 13/00 |
| 66.34 | Hope Jn | 13/10 | 13.11 ~ 13.27 |
| 66.66 | Penyffordd | 13/12 | 13/29 |
| 69.33 | Caergwrle Castle & Wells | 13/21 | 13/34 |
| 72.20 | Gwersyllt, Brymbo Jn | 13/31 | 13/38 |
| 73.56 | Wrexham Exchange | 13/35 | ? |
| 74.25 | Wrexham Central | 13w39a ~ 13w55d | 14.00 ~ 14.10 |
| 74.74 | Wrexham Exchange | 14L00a ~ 14L13d | ? |
| 75.20 | Wrexham North Jn | 14/16 | 14.13 ~ 14.32 |
| 75.41 | Wrexham General | 14/19 | 14/33 |
| 75.66 | Croes Newydd North Fork | 14/21 | 14/35 |
| 76.06 | Croes Newydd East Fork | 14/23 | 14/36 |
| 78.21 | Broughton Crossing Jn | 14/30 | ? |
| 78.75 | Brymbo East | 14/33 | 14/49 |
| 79.21 | Brymbo Middle | 14.36a ~ 14.50d | 14.51 ~ 15.02 |
| 79.47 | Brymbo East | 14/53 | ? |
| 80.21 | Broughton Crossing Jn | 14/56 | 15/07 |
| 82.36 | Croes Newydd East Fork | 15/03 | 15/13 |
| 82.53 | Croes Newydd North Fork | 15/05 | 15.15 ~ 15.32 |
| 87.43 | Ruabon South Box | 15/14 | 15/44 |
| 93.61 | Llangollen Goods Jn | 15.30a ~ 16.00d | 15.57 ~ 16.12 |
| 99.79 | Ruabon South Box | 16/15 | 16/27 |
| 105.16 | Wrexham General | 16.24a ~ 16.27d | 16.36 ~ 16.51 |
| 105.37 | Wrexham North Jn | 16L29 ~ 16L40 | 16/51 |
| 105.63 | Wrexham Exchange Box | 16/42 | 16/52 |
| 107.19 | Gwersyllt Brymbo Jn | 16/46 | ? |
| 114.00 | Buckley Jn | 17/06 | 17/16 |
| 118.68 | Dee Marsh Jn | 17/20 | 17/33 |
| 125.10 | Neston North | 17/30 | 17/39 |
| 136.34 | New Brighton | 17.55a ~ 18.20d | CANX |
| 139.11 | Bidston Dee Jn | 18/30 | 18.04 ~ 18.13 |
| 148.58 | Neston North | 18.50a ~ 19.00d | 19.28 ~ 19.37 |
| 153.30 | Dee Marsh East Jn | 19c08 ~ 19c10 | 19.46 ~ 19.47 |
| 158.52 | Chester Liverpool Road West Jn | 19.20a ~ 19.28d | 19.58 ~ 20.05 |
| 166.08 | Mouldsworth Jn | 19/43 | 20/18 |
| 176.17 | Northwich Sandbach West Jn | 20/02 | 20/33 |
| 181.36 | Middlewich | 20/15 | 20/49 |
| 185.16 | Sandbach | 20/26 | ? |
| 188.78 | Sydney Bridge | 20/36 | ? |
| 189.64 | Crewe | 20.39a | 21.09 |