24th, 26th & 27th March 1967
Branch Line Society / Stephenson Locomotive Society
Scottish Rambler No.6
(27th March also named: Edinburgh District Tour)
Locos Used
at least D5317, 42274, 43121, 70032 & 92009
Stock Used
[1] expected to be 7 brake-vans
[2] expected to be 6 coaches including buffet car
[3] booked to be 3 coaches (BSK & 2x SO)
Route :
24/03 : ???
26/03 : ???
27/03 : 2Z20 throughout
| | | | |
| --- | --- | --- | --- |
| Date | Loco(s) | Stock | Route |
| 24/03 | ????? (1) | [1] | Larbert - Alloa Jn - Airth Road - Throsk - Longcarse Jn - Alloa West Goods |
| 24/03 | ????? (1) (2) | [1] | Alloa West Goods - Longcarse Jn |
| 24/03 | ????? (1) | [1] | Longcarse Jn - Alloa West Jn - Alloa |
| 24/03 | ????? (1) (2) | [1] | Alloa - Alloa East Goods |
| 24/03 | ????? (1) | [1] | Alloa East Goods - Alloa - Kinkardine Jn - Oakley |
| 24/03 | ????? (1) | [1] | Oakley - Comrie Colliery |
| 24/03 | ????? (1) | [1] | Comrie Colliery - Oakley |
| 24/03 | ????? (1) | [1] | Oakley - Kinkardine Jn - Alloa - Alloa West Jn - Longcarse Jn - Throsk - Airth Road - Alloa Jn - Larbert - Larbert Jn - Bonnywater Jn - Denny |
| 24/03 | ????? (1) (2) | [1] | Denny - Stonewood Goods - Carrongrove Paper Mill |
| 24/03 | ????? (1) | [1] | Carrongrove Paper Mill - Denny - Larbert Jn - Larbert - Carmuirs East Jn - Falkirk Camelon - Swingbridge Jn - Fouldubs Jn - Grangemouth No.1 - Grangemouth No.3 |
| 24/03 | ????? (1) | [1] | (1) 'tour of Dock Lines' (1) |
| 24/03 | ????? (1) | [1] | Grangemouth No.3 - Fouldubs Jn - Grangemouth Jn - Falkirk Grahamston |
| 24/03 | ????? (1) (2) | [1] | Falkirk Grahamston - Dalderse Goods - Falkirk Grahamston |
| 24/03 | ????? (1) | [1] | Dalderse Goods - Falkirk Grahamston |
| 26/03 | 70032 (3) | [2] | Glasgow Central - (via WCML) - Gretna Jn - Carlisle No.3 - Carlisle No.11 - Carlisle No.10 - Carlisle No.12 - Carlisle Upperby |
| 26/03 | 43121 | [2] | Carlisle Upperby - London Road Jn - Petteril Bridge Jn - Haltwhistle - Alston |
| 26/03 | 43121 | [2] | Alston - Haltwhistle - Petteril Bridge Jn - London Road Jn - Carlisle No.10 - Carlisle No.11 - Canal - Canal Jn - Stainton Jn - Longtown - Riddings Junction - Langholm [Cattle Dock] |
| 26/03 | 43121 | [2] | Langholm - (reverse of outward route) - Canal Jn - Carlisle No.1 - Carlisle No.2 - Carlisle No.3 - Carlisle Citadel |
| 26/03 | 92009 | [2] | Carlisle Citadel - Carlisle No.3 - Gretna Jn - Dumfries - Sanquhar - New Cumnock - Auchinleck - Mauchline - Kilmarnock - Lugton - Barrhead - Busby Jn - Strathbungo Jn - Eglinton Street - Glasgow Central |
| 27/03 (5) | D5317 | [3] | Edinburgh Waverley - Haymarket - Gorgie East Jn - Craiglockhart Jn - Morningside Road - Niddrie West Jn - Niddrie South Jn - Millerhill - Loanhead - Roslin Colliery |
| 27/03 (5) | D5317 | [3] | Roslin Colliery - Loanhead - Millerhill - Monktonhall Jn - Longniddry Jn - Haddington |
| 27/03 (5) | D5317 | [3] | Haddington - Longniddry Jn - Monktonhall Jn |
| 27/03 (5) | D5317 (2) | [3] | Monktonhall Jn - Smeaton |
| 27/03 (5) | D5317 | [3] | Smeaton - Monktonhall Jn - Niddrie West Jn - Niddrie North Jn - Portobello East Jn - Kings Road - Seafield Jn - Leith South Goods |
| 27/03 (5) | D5317 (2) | [3] | Leith South Goods - Leith South Yard |
| 27/03 (5) | D5317 | [3] | Leith South Yard - Kings Road - Portobello East Jn - Joppa |
| 27/03 (5) | D5317 | [3] | Joppa - Portobello East Jn - Craigentinny - Lochend Jn - Easter Road - Leith Walk - Bonnington South Jn - Trinity Jn - Granton Gas Works |
| 27/03 (5) | D5317 | [3] | Granton Gas Works - Trinity Jn - Bonnington South Jn |
| 27/03 (5) | D5317 (2) | [3] | Bonnington South Jn - Leith Citadel |
| 27/03 (5) | D5317 | [3] | Leith Citadel - Junction Road - Bonnington South Jn - Easter Road - London Road Jn - Abbeyhill Jn - Edinburgh Waverley |
Notes :
(1) S.L.S. timing sheet confirms the train on the 24th was expected to consist of seven brake vans hauled by a class 20 diesel loco. Between arrival at Grangemouth No.3 and departure from same, the timing sheet simply stated 'tour of Dock Lines' with a more detailed explanation in the tour notes thus; 'it is expected the tour will comprise from Grangemouth No.3 via Grid Iron Yard and East Wall (Grange Dock) to B.P. Siding, returning to Grangemouth No.3 then via the West Cut Bridge and the North Wall (Grange Dock) to Mining Siding then back to Grangemouth No.3'. Confirmation is required if this is what took place on the day.
(2) Loco propelling.
(3) Assisted by 42274 at Greskine.
(4) There was no train on 25th March due to the running of British Rail's 'Grand Tour No.1' on that date. Originally it had been planned to run a scenic trip to the West Highland line but this ran on 24th August 1968 instead as the 'West Highland Scenic Diesel'.
(5) Part of the Scottish Rambler No.6 but also named the 'Edinburgh District Tour', originally advertised to be a DMU it was changed to be a 'type 2' diesel loco and three coaches.
Sources : Garth McLean, Andrew Fairholm, Rob Tibbits, Nick Catford, Gas Hill (BLS) & Ian Clark (SLS)



Photo Review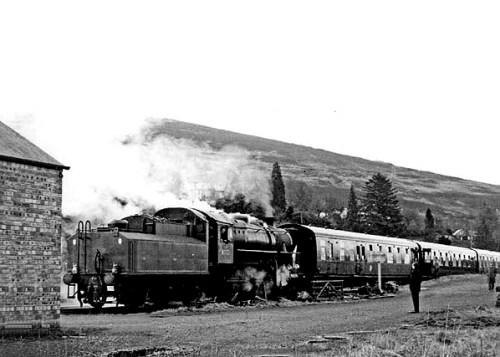 43121 at Langholm (photo: Nick Catford/The Bill Lynn Collection)
Webmasters note: the following photo, of D5317, has been offered as belonging to a R.S.S. organised tour on 1st April but Ian Clark of the S.L.S. has researched with the aid of input from others who travelled on this (BLS/SLS) tour and they are suggesting this photo is more likely to have been of the 27th March 'Edinburgh District Tour', day 3 of this multiple-day trip.

Is this the 27th March train, hauled by D5317, at Haddington?
(Photo by G N Turnbull İTOPticl Digital Memories - see
www.TOPticl.com for further details and a chance to buy a full size copy)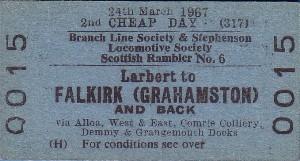 From Andrew Fairholm's ticket collection.
Note Denny is misspelt 'Demmy' on the ticket.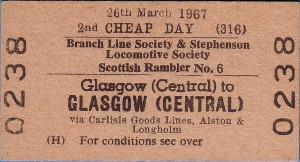 From Andrew Fairholm's ticket collection.
Note Langholm is misspelt 'Longholm'!


Timings (Booked Only)
(from Ian Clark (SLS))
24/03 : 'Larbert - Alloa - Grangemouth - Falkirk Area Brake-Van Trip'
M.C
Location
Booked
0.00
Larbert
09.55d
2.13
Alloa Jn
10/02
3.45
Airth
10/04
5.09
Dunmore Jn (site of)
10/06
6.22
Throsk
10/09
7.44
Longcarse Jn
10/13
8.30
Alloa West Goods
10.25a ~ 10.35d
9.06
Longcarse Jn
10.50 ~ 10.52
10.12
Alloa
10.58 ~ 11.00
10.56
Alloa East Goods
11.15a ~ 11.25d
11.20
Alloa
11/32
20.42
Oakley
11.57a ~ 12.07d
22.02
Comrie Colliery
12.25a ~ 12.40d
23.42
Oakley
12.55a ~ 13.05d
31.32
Kincardine Jn
13/26
32.64
Alloa
13.31a ~ 13.45d
(toilet break!)
33.26
Alloa West Jn
13/48
33.70
Longcarse Jn
13/51
35.12
Throsk
13/57
39.21
Alloa Jn
14/07
41.34
Larbert
14/16
42.00
Larbert Jn
14/18
42.35
Denny West Jn (site of)
14/20
43.29
Bonnywater Jn
14/25
45.11
Denny
14.31a ~ 14.39d
46.09
Stoneywood Goods
?
46.16
Carrongrove Paper Mill
14.47a ~ 14.50d
47.21
Denny
14/58
50.32
Larbert Jn
15/11
51.08
Larbert
15.13a ~ 15.23d
51.64
Larbert Jn
15/25
52.19
Carmuirs East Jn
15/27
52.65
Falkirk Camelon
15/28
53.17
Swingbridge Jn
15/30
56.13
Fouldubs Jn
15*38 ~ 15*46
56.64
Grangemouth No.1
15/50
57.26
Grangemouth No.3
15.53a
-
'tour of Dock Lines'
61.26
Grangemouth No.3
17.20d
62.39
Fouldubs Jn
17/25
64.14
Grangemouth Jn
17/32
64.42
Falkirk Grahamston
17.35a ~ 17.40d
64.79
Dalderse Goods
17.50a ~ 18.08d
65.36
Falkirk Grahamston
18.15a
24/03 : connecting trains from Edinburgh & Glasgow;
Location
Booked
Booked
Location
Glasgow Queen Street
09.10d
09.35a
Larbert
Edinburgh Waverley
07.35d
(change at Polmont)
08.21a
Larbert
26/03 : 'Glasgow Central - Carstairs - Carlisle - Alston - Carlisle Goods Lines - Langholm - Carlisle - Dumfries - Glasgow Central'
| | | |
| --- | --- | --- |
| M.C | Location | Booked |
| 0.00 | Glasgow Central | 10.10d |
| 1.00 | Eglinton Street | 10/13 |
| 3.76 | Rutherglen Jn | 10/17 |
| 6.50 | Newton | 10/21 |
| 8.38 | Uddingston | 10/24 |
| 12.69 | Motherwell | 10.34a ~ 10.35d |
| 14.65 | Shieldmuir Jn | 10/38 |
| 18.20 | Law Jn | 10/46 |
| 26.43 | Lanark Jn | 10/59 |
| 28.63 | Carstairs | 11w03 ~ 11w10 |
| 29.11 | Strawfrank Jn | 11.13 ~ 11.15 |
| 35.36 | Symington | 11/29 |
| 52.52 | Beattock Summit | 11/49 |
| 57.74 | Greskine | 11.55 ~ 12.03 |
| 62.53 | Beattock | 12/25 |
| 76.48 | Lockerbie | 12/38 |
| 93.53 | Gretna Jn | 12/54 |
| 101.42 | Carlisle No.3 | 13/05 |
| 102.32 | Carlisle No.11 | 13/11 |
| 102.51 | Carlisle No.10 | 13/13 |
| 103.20 | Carlisle No.12 | 13L17 ~ 13L30 |
| 103.57 | Carlisle No.7 | 13/36 |
| 104.00 | Petteril Bridge Jn | 13/37 |
| 104.32 | Durranhill | 13/38 |
| 113.66 | Brampton Jn | 13/53 |
| 126.13 | Haltwhistle | 14.10 ~ 14.25 |
| 129.13 | Featherstone Park | 14/34 |
| 130.21 | Coanwood | 14/36 |
| 130.69 | Lambley | 14/37 |
| 134.54 | Slaggyford | 14/47 |
| 139.13 | Alston | 15.00a ~ 15.15d |
| 152.13 | Haltwhistle | 15c50 ~ 15c52 |
| 164.20 | Brampton Jn | 16/09 |
| 173.72 | Durranhill | 16/23 |
| 174.24 | Petteril Bridge Jn | 16/24 |
| 174.47 | Carlisle No.7 | 16/26 |
| 175.09 | Carlisle No.10 | 16/28 |
| 175.28 | Carlisle No.11 | 16/30 |
| 176.34 | Canal Jn | 16/36 |
| 184.53 | Longtown | 16/49 |
| 189.10 | Riddings Junction | 16/55 |
| 190.39 | Canonbie | 17/02 |
| 191.72 | Gilnockie | 17/09 |
| 196.18 | Langholm | 17.30a ~ 17.45d |
| 203.26 | Riddings Junction | 18.20a ~ 18.30d |
| 207.63 | Longtown | 18/37 |
| 216.02 | Canal Jn | 18/49 |
| 216.50 | Carlisle No.3 | 18/51 |
| 217.29 | Carlisle | 18L53a ~ 19L01d |
| 225.77 | Gretna Jn | 19/12 |
| 234.67 | Annan | 19/24 |
| 250.24 | Dumfries | 19/45 |
| 264.39 | Thornhill | 20/05 |
| 276.34 | Sanquhar | 20/21 |
| 286.17 | New Cumnock | 20w35 ~ 20w40 |
| 298.78 | Mauchline | 21/00 |
| 308.30 | Kilmarnock | 21/13 |
| 319.28 | Lugton | 21/29 |
| 325.11 | Barrhead | 21/37 |
| 328.72 | Busby Jn | 21/42 |
| 330.65 | Strathbungo Jn | 21/45 |
| 331.45 | Eglinton Street | 21/47 |
| 332.45 | Glasgow Central | 21.50a |
Single-line working was expected to occur between Carstairs and Beattock as follows;
right-line working between Strawfrank Jn and Leggetfoot
wrong-line working between Greskine and Beattock North SB
27/03 : 'Edinburgh District Tour'
| | | |
| --- | --- | --- |
| M.C | Location | Booked |
| 0.00 | Edinburgh Waverley | 10.15d |
| 1.13 | Haymarket | 10/18 |
| 1.53 | Haymarket Central Jn | 10/19 |
| 2.10 | Gorgie East Jn | 10/21 |
| 2.70 | Craiglockhart Jn | 10/24 |
| 3.47 | Morningside Road | 10/27 |
| 6.56 | Duddingston | 10/32 |
| 8.00 | Niddrie West Jn | 10/35 |
| 8.59 | Niddrie South Jn | 10/37 |
| 10.28 | Millerhill | 10/40 |
| 12.36 | Gilmerton | 10/48 |
| 14.32 | Loanhead | 10/56 |
| 16.05 | Roslin Colliery | 11.04a ~ 11.15d |
| 17.58 | Loanhead | 11/24 |
| 21.57 | Millerhill | 11/40 |
| 23.66 | Monktonhall Jn | 11/46 |
| 32.41 | Longniddry Jn | 11/59 |
| 36.75 | Haddington | 12.15a ~ 12.25d |
| 41.29 | Longniddry Jn | 12/42 |
| 50.04 | Monktonhall Jn | 12*56 ~ 12*58 |
| 51.46 | Smeaton | 13.08a ~ 13.15d |
| 54.00 | Monktonhall Jn | 13/22 |
| 55.42 | Niddrie West Jn | 13*30 ~ 13*40 |
| 56.06 | Niddrie North Jn | 13/44 |
| 56.54 | Portobello East Jn | 13/48 |
| 57.53 | Kings Road | 13/57 |
| 58.77 | Seafield Jn | 14/02 |
| 60.71 | Leith South Goods | 14.12a ~ 14.20d |
| 61.53 | Leith South Yard | 14*28 ~ 14*38 |
| 63.08 | Kings Road | 14/46 |
| 64.07 | Portobello East Jn | 14/52 |
| 64.30 | Joppa | 14*54 ~ 15*04 |
| 64.53 | Portobello East Jn | 15/08 |
| 65.66 | Craigentinny | 15/11 |
| 66.64 | Lochend Jn | 15/14 |
| 67.23 | Easter Road | 15/19 |
| 67.57 | Leith Walk | 15/21 |
| 68.16 | Powderhill | 15/24 |
| 68.23 | Bonnington South Jn | 15/25 |
| 68.76 | Trinity Jn | 15/27 |
| 69.21 | Trinity (site of) | 15/29 |
| 70.16 | Granton | 15/35 |
| ? | end of branch near Gas Works | 15.40a ~ 16.00d |
| 71.36 | Trinity Jn | 16/08 |
| 72.09 | Bonnington South Jn | 16*10 ~ 16*12 |
| 73.02 | Leith Citadel | 16.20a ~ 16.35d |
| 73.17 | Junction Road | 16/37 |
| 73.47 | Bonnington | 16/39 |
| 73.75 | Bonnington South Jn | 16/40 |
| 74.73 | Easter Road | 16/45 |
| 75.17 | L0ndon Road Jn | 16/47 |
| 75.35 | Abbeyhill Jn | 16/48 |
| 76.20 | Edinburgh Waverley | 16.51a |
27/03 : 2Z20 : 'Edinburgh District Tour' E.C.S. Movements
| | | |
| --- | --- | --- |
| Location | Booked (out) | Booked (rtn) |
| Craigentinny | 09.50d | 17.05a |
| Edinburgh Waverley | 09.58a | 16.57d |