19th March 1967
R.C.T.S.
The Lancastrian Rail Tour
| | |
| --- | --- |
| Loco Used | 70015 'Apollo' |
| Stock Used | load 7 |
Route : 1T55 throughout
| | |
| --- | --- |
| Loco | Route |
| 70015 | Manchester Victoria - Salford - Windsor Bridge No 3 - Brindle Heath - Agecroft Jn - Burnden Jn - Rose Hill Jn - Bury Knowsley Street - Castleton - Rochdale - Todmorden - Stansfield Hall - Copy Pit - Burnley Manchester Road - Rose Grove - Padiham |
| 70015 | Padiham - Rose Grove - Oswaldtwistle - Blackburn - Cherry Tree - Feniscowles |
| 70015 | Feniscowles - Blackburn |
| 70015 | Blackburn - Entwistle - Bolton Lane Jn - Walton's Siding - Lostock Jn - Hindley North - De Trafford Jn - Standish Jn - Farington Jn - Lostock Hall Jn - Croston - Burscough North Jn - Meols Cop - St Lukes - Southport South |
| 70015 | Southport South - Formby - Bootle - Hall Road - Walton - Stanley - Edge Lane Jn - Pighue Lane Jn - Olive Mount Jn - Huyton Jn - Lea Green - Earlestown - Astley - Ordsall Lane - Castlefield Jn - Deansgate - Oxford Road - Manchester Piccadilly |
Notes :
(1) Seven coaches were provided for this tour, with a freshly painted 70015 enthusiastically worked by crews from Newton Heath and Lostock Hall. Despite the torturous route and the lack of fast running from Liverpool, the tour reached its destination only ten minute late.
Source : David Hills (compiled from contemporary reports)



Photo Review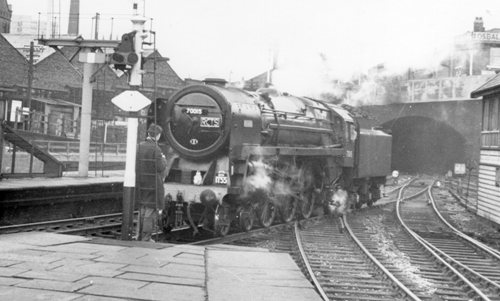 70015 runs round its train at Blackburn (photo: The John Debens Collection)
From The John Debens Ticket Collection.


Timings (Booked Only)
(from Terry Jackson)
| | | |
| --- | --- | --- |
| M.C | Location | Booked |
| 0.00 | Manchester Victoria | 10.00d |
| 2.79 | Brindle Heath Jn | 10/06 |
| 4.57 | Clifton Jn | 10/09 |
| 10.03 | Burnden Jn | 10/20 |
| 10.26 | Rose Hill Jn | 10/22 |
| 15.53 | Bury Knowsley Street | 10/32 |
| 20.62 | Castleton East Jn | 10/44 |
| 22.47 | Rochdale | 10/48 |
| 31.16 | Todmorden | 11/00 |
| 31.56 | Stansfield Hall | 11/02 |
| 35.66 | Copy Pit | 11/12 |
| 41.08 | Gannow Jn | 11.22a ~ 11.27d |
| 41.74 | Rose Grove West | 11/29 |
| 43.47 | Padiham | 11.39a ~ 12.05d |
| 45.20 | Rose Grove West | 12.12a ~ 12.26d |
| 49.47 | Accrington | 12/36 |
| 54.66 | Blackburn | 12/48 |
| 57.77 | Cherry Tree | 12/52 |
| 59.11 | Feniscowles | 13.01a ~ 13.16d |
| 60.25 | Cherry Tree | 13/23 |
| 63.36 | Blackburn | 13.27a ~ 13.42 |
| 67.49 | Darwen | 13/50 |
| 74.31 | Bromley Cross | 14/02 |
| 77.01 | Bolton West Jn | 14/08 |
| 79.66 | Lostock Jn | 14/13 |
| 83.19 | Crow Nest Jn | 14/19 |
| 84.09 | Hindley North No.2 | 14/21 |
| 84.29 | Dee Trafford Jn | 14/24 |
| 87.75 | Whelley Jn | 14/31 |
| 89.33 | Standish Jn | 14/35 |
| 95.59 | Euxton Jn | 14/50 |
| 98.47 | Farington Jn | 14.55a ~ 15.01d |
| 99.32 | Lostock Hall Jn | 15.07a ~ 15.27d |
| 100.60 | Moss Lane Jn | 15/29 |
| 109.78 | Burscough North Jn | 15/43 |
| 114.27 | Pool Hey Jn | 15/53 |
| 115.62 | Meols Cop | 15/56 |
| 116.37 | St Lukes | 15/58 |
| 117.03 | Southport South | 16.00a ~ 16.05d |
| 117.72 | Birkdale | 16/08 |
| 127.79 | Hall Road | 16/30 |
| 131.41 | Marsh Lane Jn | 16/37 |
| 132.61 | Bootle Jn | 16/40 |
| 136.72 | Edge Lane Jn | 16/50 |
| 137.46 | Olive Mount Jn | 16/53 |
| 138.43 | Broad Green | 16/55 |
| 140.51 | Huyton | 16/59 |
| 146.67 | St Helens Jn | 17/09 |
| 149.57 | Earlestown | 17/13 |
| 153.66 | Kenyon Jn | 17/18 |
| 159.48 | Barton Moss Jn | 17/25 |
| 162.43 | Eccles | 17/27 |
| 165.30 | Ordsall Lane Jn | 17/33 |
| 165.72 | Castlefield Jn | 17/38 |
| 166.31 | Oxford Road | 17/41 |
| 167.09 | Manchester Piccadilly | 17.44a |