15th October 1966
The Railway Enthusiasts' Club
The Tyneside Tourer
| | |
| --- | --- |
| DMU Used | booked for 2-car set |
Route :
| | |
| --- | --- |
| DMU | Route |
| as listed? | Newcastle Central - Ponteland - Benton - Morpeth - Bedlington - (via Benton S.E. curve) - Heaton - (via Benton S.W. curve) - Newcastle Central - St Peters - Tyne Commission Quay - Newcastle Central - West Wylam - Blaydon main - Derwenthaugh - Norwood Jn - Pelaw - South Pelaw Low Fell Jn - Norwood Jn - Gateshead West - Newcastle Central |
Notes :
(1) Route confirmation required - above is from booked timings. Reversal points not detailed. The letter sent out with the tour tickets stated that the train would travel to Tyne Commission Quay but that a toll would be levied for all passengers (of about 1/6d each). Passengers not wishing to pay this would have to alight at Percy Main and rejoin the train there later. A further statement made in the letter was that British Rail had advised that the the direct line from West Gosforth to Gosforth East Jn had been removed and consequently the tour would travel from West Gosforth to South Gosforth and reverse to proceed to Benton.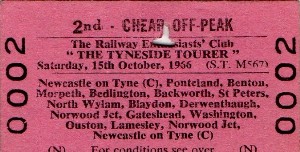 From The John Debens Ticket Collection.
Source : Stephen Bragg (courtesy of Ian Clark (SLS))



Timings (Booked Only)
(from Stephen Bragg)
| | |
| --- | --- |
| Location | Booked |
| Newcastle Central | 09.30d |
| Ponteland | 10.08 ~ 10.13 |
| Benton | 10/53 |
| Morpeth | 11.10 ~ 11.15d |
| Bedlington | 11/24 |
| Benton S.E. curve | 11/47 |
| Heaton | 11.55 ~ 12.00 |
| Benton S.W. curve | 12/08 |
| Newcastle Central | 12.20 ~ 12.25 |
| St Peters | 12/30 |
| Tyne Commission Quay | 13.07 ~ 13.12 |
| Newcastle Central | 13.47 ~ 13.55 |
| West Wylam | 14.17 ~ 14.22 |
| Blaydon Main | 14/40 |
| Derwenthaugh | 14/43 |
| Norwood Jn | 14/51 |
| Pelaw | 15/14 |
| South Pelaw | 15.40 ~ 15.50 |
| Low Fell Jn | 16/10 |
| Norwood Jn | 16.10 ~ 16.15 |
| Gateshead West | 16/26 |
| Newcastle Central | 16.29a |