15th October 1966
D.W. Winkworth
Steam Again to the West Country
| | |
| --- | --- |
| Locos Used | D866 'Zebra', 35023 'Holland-Afrika Line' & 35026 'Lamport & Holt Line' |
Route :
| | |
| --- | --- |
| Loco(s) | Route |
| 35023 | London Waterloo - Clapham Junction - Earlsfield - Wimbledon - Surbiton - Woking - Basingstoke - Andover Jn - Salisbury - Warminster - Westbury |
| 35026 (1) | Westbury - Frome avoiding line - Castle Cary - Taunton - Tiverton Junction - Exeter St Davids (1) - Exeter Central - Axminster - Yeovil Junction - Gillingham - Salisbury |
| 35023 | Salisbury - (reverse of outward route) - London Waterloo |
Notes:
(1) Banked by D866 between Exeter St Davids & Exeter Central.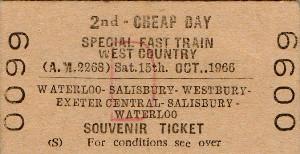 From The John Debens Ticket Collection.
Source : John Clifford (on the train throughout)



Tour Comments
Terry Jackson comments : Mr. Winkworth organised a number of tours over the Southern route to Exeter with locomotive performance in mind but most of them were dogged to some extent by a variety of problems. However this tour more than made up for everything which had gone before with superb performances by all of the engines and footplate staff involved. The first leg to Salisbury with Driver Bert Hooker of Nine Elms achieved a net time of 71¼ minutes with a maximum of 102 at Andover. Then from Westbury we had Driver Parsons of Salisbury on a schedule of 91 minutes to Exeter St Davids. A schedule of 75 minutes had been requested from the Western Region but was refused, an action that was widely scorned at the time. In the event a run with a net time of 75 minutes was made well within the capabilities of the engine. A max of 55 was achieved over Whiteball summit. The return from Exeter Central to Salisbury again with Driver Parsons produced another superb effort with a time of 83½ minutes to Salisbury and a max of 88 below Templecombe. The final leg to Waterloo with Driver Kelly of Salisbury produced another sparkling run with a net time in the region of 77 minutes and a max of 91 at Brookwood. The whole tour was a credit to everyone involved and gave all of the passengers a day they would never forget. Full details of the runs to Exeter can be found in D.W. Winkworth' book Bulleid Pacifics which I can thoroughly recommend.
John Clifford comments : In all the years that I have been on tours this still rates as my best ever. The tour was advertised as a high speed & that is exactly what we got. The load was limited to 8 coaches & for the first stage to Salisbury we had an unprecedented timing of 78 mins which was slightly exceeded due to relaying work between West Byfleet & Woking & at Hook. Nevertheless we reached 85 before West Byfleet & from the relaying slack (covered at a minimum of 12 mph) accelerated to pass m.p. 31 at 73, then 87 (maximum) at m.p. 38, then a further slack at Hook (covered at 19 mph), & we reached 70 before the Basingstoke restriction. After this we flew. We were doing 90 at Whitchurch North and didn't drop below 90 till we were climbing to Grateley. The maximum was 102 at Andover Junc. There was a minimum beyond Grateley of 81 & we reached 96 down Porton bank. My timings show that we covered the 30 miles from mp. 51 to m.p. 81 in 20 mins 13 secs - an average of just over 89 mph - not bad when the line limit was 85! The rest of the tour continued at a high standard with a maximum of 74 along the Wylye valley to Westbury & some good work to Exeter. We returned to Salisbury in just over 83 mins for the 88 miles gaining almost 12 mins (perhaps the Western Region's dislike of steam meant that they did not trust us). For the final section to Waterloo we were allowed only 80 mins which was exceeded due to relaying slacks between Idmiston & Allington, at Hook & near New Malden. There were also 2 signal checks in the London area. Nevertheless we reached 59 before the first slack, 67 at Grateley & 90 at Andover. There was another 90 at m.p. 45 & 91 before Brookwood. All in all a veritable tour de force. As said at the start, my best tour ever. I will not see the like again.


Photo Review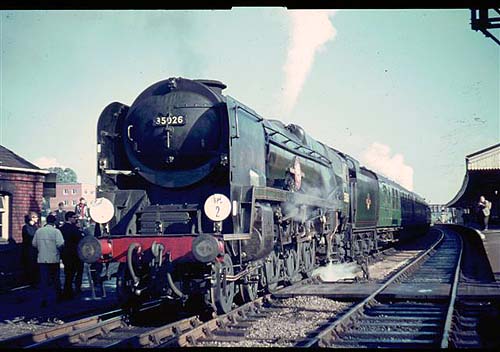 This photo, from Alan Sainty, was unidentified but John Clifford believes it
may be of this tour, photographed at Westbury during the loco change from
35023 (the steam seen at the rear?) and 35026.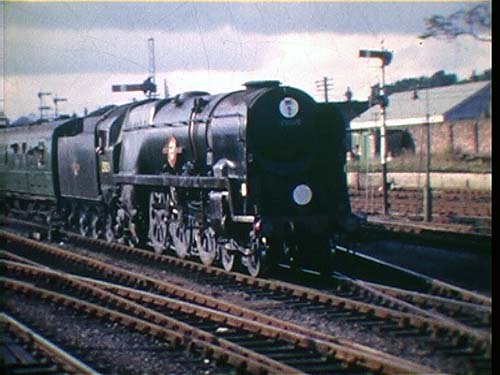 Two shots of 35023 at Salisbury - arriving (above) & departing (below)
(images: John Simons -from Cine film, courtesy of Bob Bishop)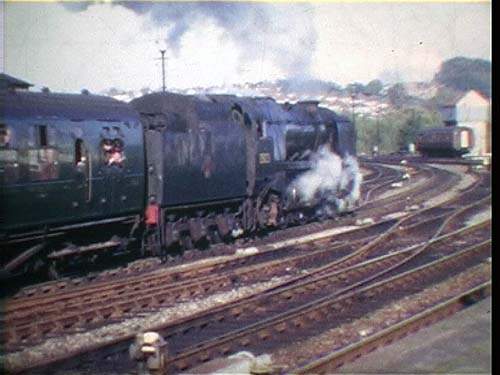 Timings (Booked & Actual)
(from Terry Jackson & John Clifford)
Miles
Location
Booked
Actual
0.0
Waterloo
09.10d
09.09
3.9
Clapham Junction
09/17
09/17
13.3
Hampton Court Jn
09/27
09/26½
24.8
Woking Jn
09/38
09/41
50.3
Worting Jn
10/00
10/03½
82.6
Tunnel Jn
10/25½
10/26
93.7
0.0
Salisbury
10.28a ~ 10.40d
10.29 ~ 10.38
23.0
Dilton Marsh Halt
11/08
11/04½
24.4
0.0
Westbury
11L13a ~ 11L20d
11.06½ ~ 11.16
1.4
Fairwood Road Jn
11/23
11/20
4.7
Clink Road Jn
11/28
11/24½
6.7
Blatchbridge Jn
11/32
11/26½
19.6
Castle Cary
11/46
11/38½
47.1
Taunton
12/13
12/02
58.0
Whiteball Tunnel
12/28
12/12
76.7
Cowley Bridge Jn
12/48
12/33
77.9
0.0
Exeter St Davids
12L51a ~ 12L56d
12.39½ ~ 12.51
0.7
0.0
Exeter Central
13w01a ~ 14w10d
12.54 ~ 14.09½
1.0
Exmouth Jn
14/14
14/13
12.01
Sidmouth Junction
14/29
14/25
27.0
Axminster
14/44
14/40
48.9
Yeovil Junction
15/05
14/57½
53.4
Sherborne
15/10
15/01
59.6
Templecombe
15/16
15/06
85.5
Wilton South
15/41
15/27
88.0
0.0
Salisbury
15L45a ~ 16L00d
15.32 ~ 15.56
1.1
Tunnel Jn
16/03
15/59
33.4
Worting Jn
16/32
16/28
58.9
Woking Jn
16/52
16/50½
70.4
Hampton Court Jn
17/03
?
79.8
Clapham Junction
17/13
17/12
83.7
Waterloo
17.20a
17.19½