8th October 1966
Locomotive Club of Great Britain
Crab Commemorative Rail Tour
| | |
| --- | --- |
| Locos Used | 42942, 45336 & 90076 |
| Stock Used | 9 coaches (BSK, 3 SO, RB 3 SO, BSK) |
Route : 1X50 throughout
Loco(s)
Route
42942

Liverpool Exchange - Sandhills - Bootle Oriel Road - Marsh Lane Jn - North Mersey Branch Jn - Fazackerley Jn - Pemberton - (via Wigan avoiding line) - Hindley - Swinton - Manchester Victoria

45336 + 42942

Manchester Victoria - Cheetham Hill Jn - Crumpsall - Besses O'The Barn - Radcliffe - Bury Bolton Street - Accrington - Rose Grove - Stansfield Hall

42942

Stansfield Hall - Hebden Bridge - Halifax - Low Moor Jn - Cleckheaton - Wakefield Kirkgate

90076
Wakefield Kirkgate - Hare Park Jn - Adwick Jn - Stainforth - Thorne - Goole
42942

Goole - (1) - Snaith - Knottingley - Pontefract Monkhill - Monkhill - Crofton - Crofton East Jn - Crofton West Jn - Wakefield Kirkgate - Todmorden - Rochdale - Red Bank - Manchester Victoria

42942
Manchester

Victoria - (2) Bolton -

Liverpool Exchange
Notes :
(1) Kevin Driscoll comments: On the way back from Goole we took the then rare (but now normal) route to the Knottingley line via Potters Grange Jn and Engine Shed Jn. The train stopped opposite Goole shed (near Engine Shed Jn) where passengers were able to get off for unofficial shed bash.
(2) Terry Jackson comments : I left the train at Manchester Victoria on the return journey. Whilst I know that 42942 worked through to Liverpool as scheduled, I have seen a report that says that the train went via Bolton. This diversion is confirmed by Kevin Driscoll from the ticket letter (adding 5 minutes on to the booked timings).
(3) John Thickitt comments: It was a very clean Austerity. The Crab was very late (an hour?) arriving at Goole station. After being held for signals outside the shed, there followed a brisk run over the flatland to Kirkgate station, where I left the train.
Sources : Terry Jackson & Kevin Driscoll



Photo Review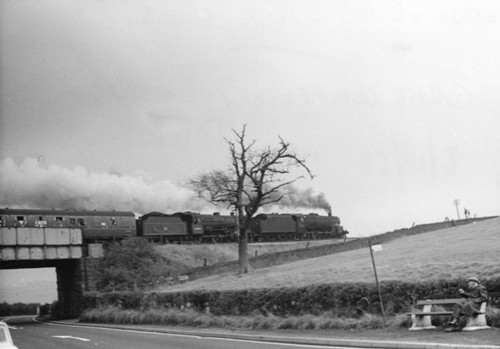 45336 leads 42942 towards Burnley (photo: The John Debens Collection)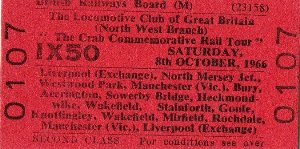 From The John Debens Ticket Collection.


Timings (Booked Only)
(from Terry Jackson & Kevin Driscoll)
M.C
Location
Booked (Actual)
0.00
Liverpool Exchange
09.35d
3.51
Marsh Lane Jn
09/45
7.29
Fazackerley Jn
09/56
13.42
Rainford Jn
10/04
18.67
Pemberton Jn
10/12
(Westwood Park Line)
23.27
Crow Nest Jn
10/20
24.50
Dobbs Brow Jn
10/22
37.05
Windsor Bridge No.1
10/39
38.14
Manchester Victoria
10L42a ~ 10L47d (11.20d)
47.69
Bury Bolton Street
11/09
60.62
Accrington
11/37
66.02
Gannow Jn
11L49a ~ 11L57d
79.58
Hebden Bridge
12/24
84.58
Sowerby Bridge
12/30
93.45
Low Moor No.5
12/43
100.64
Thornhill
12/56
104.52
Horbury Jn
13/04
108.22
Wakefield Kirkgate
13L08a ~ 13L18d
110.05
Crofton West Jn
13/22
111.36
Hare Park Jn
13/25
122.51
Adwick Jn
13/46
125.16
Applehirst Jn
13/49
131.36
Thorne Jn
14/09
140.16
Goole
14L25a ~ 15L35d
156.56
Knottingley
16/10
165.45
Crofton West Jn
16/22
167.28
Wakefield Kirkgate
16*26a ~ 16-30d
170.68
Horbury Jn
16/35
173.60
Thornhill Middle Jn
16/41
177.21
Mirfield
16/48
181.27
Brighouse
16/54
187.02
Sowerby Bridge
17w03a ~ 17w14d
192.02
Hebden Bridge
17/21
196.40
Todmorden
17/27
205.09
Rochdale
17/38
212.73
Newton Heath
17/49
215.49
Manchester Victoria
17.54a ~ 18.07d (18.45a)
216.58
Windsor bridge No.1
18/10
229.13
Dobbs Brow Jn
18/27
230.26
Crow Nest Jn
18/29
(Westwood Park Line)
234.66
Pemberton Jn
18/36
240.11
Rainford Jn
18/42
248.62
Walton Jn
18/51
252.22
Liverpool Exchange
18.57a