2nd October 1966
Gosforth (Newcastle) Round Table
The Wansbeck Piper
| | |
| --- | --- |
| Locos Used | 43000 & 43063 |
| Stock Used | 11 coaches (incl. 9325) |
Route : 1Z08 throughout
| | |
| --- | --- |
| Locos | Route |
| 43000 +43063 | Newcastle - (via ECML) - Morpeth - Morpeth SB |
| 43000 +43063 | Morpeth SB - Morpeth - Meldon - Scotsgap - Knowesgate - Woodburn |
| 43000 +43063 | Woodburn - (reverse of outward route) - Morpeth SB |
| 43000 +43063 | Morpeth SB - (reverse of outward route) - Newcastle |
Notes :
(1) Run to mark the closure of the Woodburn branch. Locos were coupled tender-to-tender.
Sources : David Whittaker & Roy Lambeth



Photo Review
(all photos from Roy Lambeth unless otherwise stated)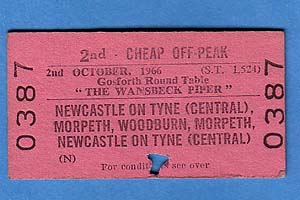 From Andrew Fairholms ticket collection.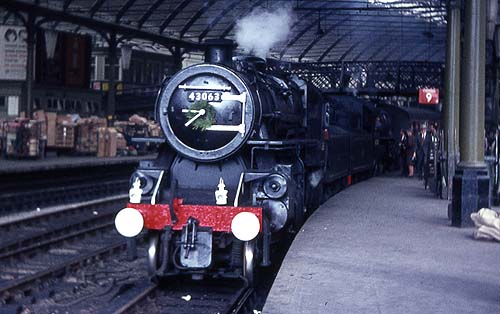 The empty stock arrives into Newcastle.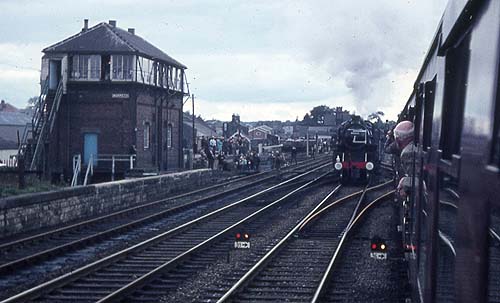 The run-round at Morpeth - by the signal box, not in the station.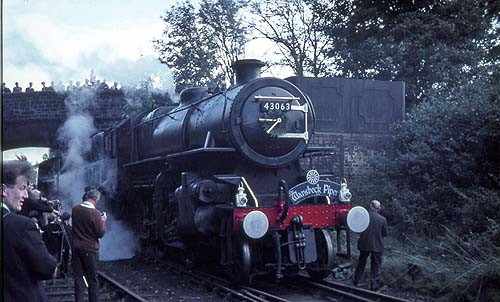 A chance for photos at Scots Gap.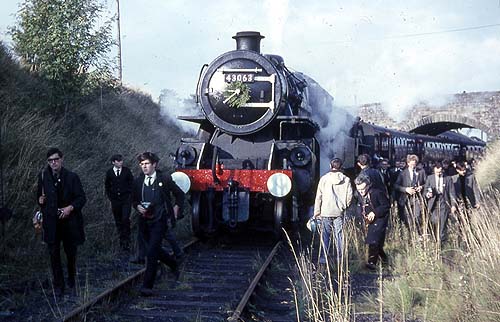 Woodburn. On Arrival, a Scottish Piper played a lament for the passing of the
railway then, because of a short headshunt, the locos ran round the train one
at a time.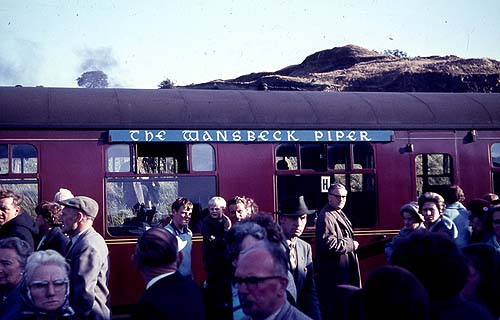 Coach nameboards in addition to a headboard on the locos!