3rd - 4th September 1966
The South and West Railway Society
Granite City
| | |
| --- | --- |
| Locos Used | class 47, E3136, 45593, 60019, 60024, 60532, 60836 & 70032 |
| Stock Used | 8 coaches (including 2x mark 2 SO's) |
Route : 1X75 (?throughout?) (4)
| | | |
| --- | --- | --- |
| Date | Loco | Route |
| 03/09 | E3136 | London Euston - Crewe |
| 03/09 | 45593 | Crewe - Preston |
| 03/09 | 70032 | Preston - Carlisle |
| 03/09 | 60836 | Carlisle - (via Waverley route) - Edinburgh Waverley |
| 03/09 | 60532 | Edinburgh Waverley - (via Kinross Junction) (2) - Perth - Dundee - Aberdeen |
| 04/09 | 60024 | Aberdeen - Montrose - Dundee - Inverkeithing - Edinburgh Waverley |
| 04/09 | 60019 | Edinburgh Waverley - Newcastle - York |
| 04/09 | Brush Type 4 [class 47] | York - Newark - Peterborough - London Kings Cross |
Notes:
(1) Further route confirmation required, plus last loco used on tour (possibly a class 47 or 55?).
(2) Booked route was Edinburgh Waverley - Thornton - Leuchars - Dundee but Rod Miebs believes it went via Kinross Junction and this has been confirmed by John Furnevel who has a photograph (taken by the late Robin Barbour) of the train passing through Kinross Junction.
(3) There was an optional visit to Ferryhill MPD prior to the train leaving Aberdeen on the second day.
(4) It was originally reported that 60836 carried the headcode 1X71 however John Furnevel comments: although partially blocked, the headcode in the image I have of the train passing through Kinross Junction finishes with 75 and this is backed up by Robin Lush who has seen a photograph which shows 60836 at Carlisle with the reporting number 1X75 displayed and Alan Barnes who took a photo of 70032 at Preston also carrying a 1X75 code.
Sources : Chris Harley & Mark Harrington, Rod Miebs (on the train throughout),
John Furnevel, Robin Lush & Alan Barnes



Photo Review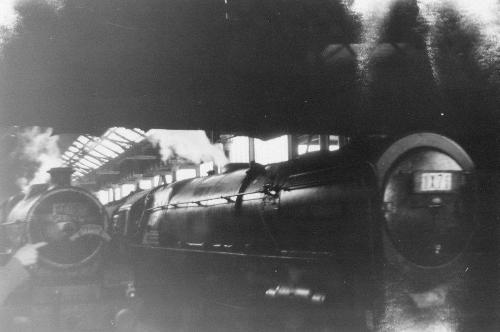 Alan Barnes caught the loco changeover at Preston; 45593 for 70032.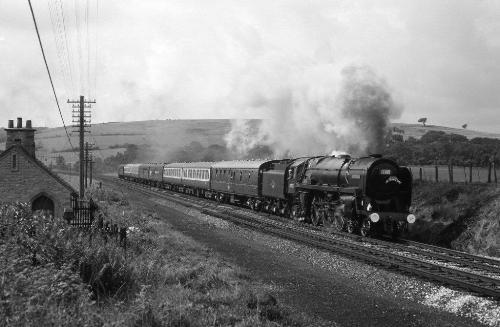 70032 is seen approaching Low Gill, Westmorland (photo: Arthur Haymes)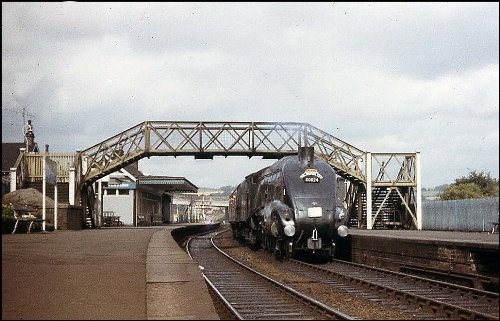 60024 passing through Inverkeithing on 4th September (photo: Dave Sallery)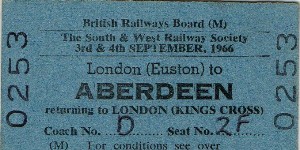 From The John Debens Ticket Collection.


Timings (Booked Only)
(from Rob Miebs)
| | |
| --- | --- |
| Location | Booked |
| Euston | 09.00d |
| Crewe | 11L03a ~ 11L11d |
| Preston | 12L17a ~ 12L33d |
| Carlisle | 14L34a ~ 14.39d |
| Hawick | 15p50a ~ 16p02d |
| Edinburgh Waverley | 17L18a ~ 17L28d |
| Perth | 18.51a ~ 19.00d |
| Dundee | 19.30a ~ 19.40d |
| Aberdeen | 21L31a ~ 10L10d |
| Montrose | 11p17a ~ 11p32d |
| Dundee | 12.19a ~ 12.26d |
| Edinburgh Waverley | 14L05a ~ 14L25d |
| Newcastle | 16.47a ~ 16.49d |
| York | 18L26a ~ 18L34d |
| Newark | 19.48a ~ 19.50d |
| Peterborough | 20.38a ~ ??.??d |
| Kings Cross | 21.58a |