21st August 1966
Altrinchamian Railway Excursion Society
The Holyhead & Brymbo Special
| | |
| --- | --- |
| Locos Used | 9610, 9630 & 60532 'Blue Peter' |
Route : 1T66 (throughout?)
| | |
| --- | --- |
| Loco(s) | Route |
| 60532 | Manchester Central - Altrincham - Knutsford - Northwich - Mouldsworth |
| 9630 + 9610 | Mouldsworth - Mickle Trafford - Chester East Jn - Chester Liverpool Road - Dee Marsh East Jn - Hawarden Bridge - Buckley Junction - Penyfford - Wrexham General - Brymbo |
| 9610 + 9630 | Brymbo - Wrexham General - Saltney Jn - Chester General |
| 60532 | Chester General - Rhyl - Llandudno Junction - Bangor - Holyhead |
| 60532 | Holyhead - (reverse of outward route) - Chester General |
| 60532 | Chester General - Capenhurst - Hooton |
| 60532 | Hooton - Ellesmere Port - West Cheshire Jn - Mouldsworth - (reverse of outward route) - Manchester Central |
Notes :
(1) Originally advertised motive power was to have been 60009 'Union of South Africa, 5605 & 6697 but all three were withdrawn from service and the replacement then advertised were 60024 'Kingfisher, 1628 & 1638 - none of which also made it to the running day.
Sources : Terry Jackson & John Debens



Photo Review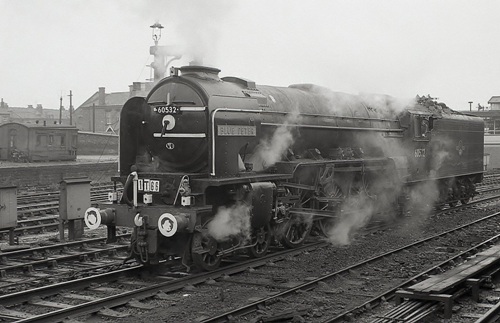 60532 'Blue Peter' at Chester General after working light from Mouldsworth
and prior to taking the train to Holyhead & back to Manchester Central
(photo: The Andy Muir Collection)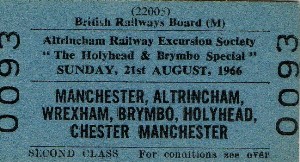 From The John Debens Ticket Collection.


Timings (Advertised & Booked)
(from Terry Jackson & John Debens)
Timings were given in both cases as "approximate". Advertised timing sheet also carries a note that 'length of stops are not given (except at Holyhead) these will be given on the train' - these places are shown below as '12.34a/d'.
| | | | |
| --- | --- | --- | --- |
| Miles | Location | Advertised | Booked |
| 0 | Manchester Central | 09.30d | 08.50d |
| 3¼ | Stretford | 09.40a/d | ? |
| 7¾ | Altrincham | 09.50a/d | 09.08a/d |
| 14¾ | Knutsford | 10.00a/d | ? |
| 20¾ | Northwich | 10.10a/d | 09.28a/d |
| 31¾ | Mouldsworth | 10L30a/d | 09L48a ~ 09L56d |
| ? | Mickle Trafford | ? | 10/03 |
| ? | Chester East Jn | ? | 10/07 |
| ? | Chester Liverpool Road | ? | 10/10 |
| ? | Dee Marsh Jn | ? | 10/20 |
| 46¾ | Shotton HL | 10/45 | ? |
| 52¾ | Buckley Jn | 10/55 | 10/33 |
| ? | Wrexham Exchange Jn | ? | 10/55 |
| ? | Wrexham North | ? | 11/00 |
| 59¾ | Wrexham (General?) | 11.05a/d | 11.02a ~ 11.20d |
| 63¾ | Brymbo | 11.20a/d | 11.44a ~ 12.04d |
| 67¾ | Wrexham (General?) | 11/50 | 12.28a ~ 12.42d |
| ? | Chester General | ? | 13.13a ~ 13.25d |
| 79½ | Mold Jn | 12/10 | ? |
| 91 | Flint | 12/30 | ? |
| ? | Baguilt | ? | 13/44 |
| 105½ | Prestatyn | 12/45 | ? |
| 109 | Rhyl | 12/50 | 14/00 |
| ? | Abergele | ? | 14/05 |
| ? | Colwyn Bay | ? | 14/13 |
| 123½ | Llandudno Junction | 13/10 | 14/20 |
| 131¾ | Llanfairfechan | 13/25 | ? |
| 140 | Bangor | 13/35 | 14/39 |
| ? | Gaerwen | ? | 14/47 |
| 155½ | Ty Croes | 13/50 | ? |
| 164¾ | Holyhead | 14.00a ~ 15.00d | 15.10a ~ 16.25d |
| 174 | Ty Croes | 15/10 | ? |
| ? | Gaerwen | ? | 16/47 |
| 189½ | Bangor | 15/25 | 16/56 |
| 196¾ | Llanfairfechan | 15/35 | ? |
| 205 | Llandudno Junction | 15/45 | 17/15 |
| ? | Colwyn Bay | ? | 17/21 |
| ? | Abergele | ? | 17/29 |
| 215¼ | Rhyl | 15/55 | 17/35 |
| 222¾ | Prestatyn | 16/05 | ? |
| ? | Baguilt | ? | 17/51 |
| 236¾ | Flint | 16/20 | ? |
| 249 | Chester General | 16.35a/d | 18L11a ~ 18L21d |
| 258 | Hooton | 17.10a/d | 18.36a ~ 18.46d |
| 263¼ | Ellesmere Port | 17/30 | 18/54 |
| 266 | Helsby Jn (West Cheshire Jn?) | 17/45 | 19/03 |
| 270 | Mouldsworth | 17L50a/d | 19.13a/d |
| 281 | Northwich | 18.10a/d | 19.32a/d |
| 287 | Knutsford | 18.30a/d | ? |
| 294 | Altrincham | 19.00a/d | 19.54a/d |
| 298½ | Stretford | 19.10a/d | ? |
| 301¾ | Manchester Central | 19.30a | 20.17a |