13th August 1966
R.C.T.S.
Great Central Rail Tour
| | |
| --- | --- |
| Locos Used | 34002 'Salisbury', 48197, 61131, E26053 'Perseus' |
Route : 1X21 (throughout?) (3)
Loco
Route
34002

London Waterloo - Barnes - Kew East Jn - Acton Wells Jn - Neasden South Jn - Aylesbury - (via GC) - Nottingham Victoria

48197

Nottingham Victoria - Kirkby South Jn - Kirkby in Ashfield Central - Mansfield Central - Clipstone West Jn - Clipstone North Jn - Warsop - Warsop Jn - Shirebrook North - Cresswell - Clown South - Spinkhill - Upperthorpe & Killamarsh - Killamarsh Jn - Waleswood - Shireoaks

61131
Shireoaks - Darnall - Attercliffe - Rotherham Central - Wath Jn - Wath Central - Elsecar Jn
E26053
Elsecar Jn - Worsborough - Penistone
E26053
Penistone - Sheffield Victoria
61131

Sheffield Victoria - Staveley Central - Tibshelf Town - Kirkby South Jn - Hucknall Town -

Nottingham Victoria
34002
Nottingham Victoria - (via GC) - Grendon Jn - Ashendon Jn - High Wycombe - London Marylebone
Notes :
(1) This eleven coach tour was run to commemorate the loss of through passenger workings over much of the Great Central London extension, service cuts backs occurring September 5th. After coming off the train at Nottingham 34002 spent the afternoon at Colwick surrounded by many unfamiliar classes. Despite this layover the return south provided a mediocre performance, the arrival in London being over one hundred minutes late, not all of this was however attributable to the locomotive. Dave Groves adds: The main reason why the tour ran quite late throughout was the lack of appreciation of the need for a double reversal at Neasden Jn early on in the tour. The timing sheet allowed 3mins for what eventually took about 45 from memory. LT were far from happy whilst we ran late for the rest of the day.
(2) John A. Thickitt comments: Tour participants were split into groups, each of which was given a conducted tour of Colwick shed by a member of the footplate crew.
(3) 48197 photographed at Nottingham Victoria carrying headcode 1X21 - was this used throughout?
Sources : David Hills (compiled from contemporary reports) & Steve Armitage



Photo Review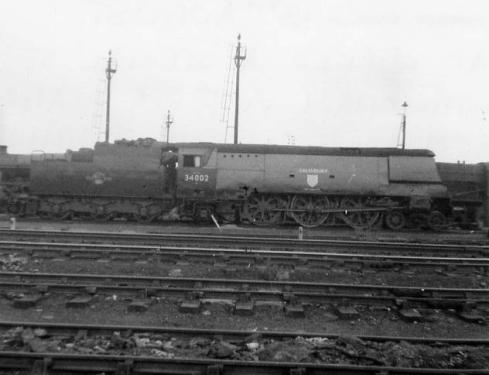 34002 'Salisbury' on Colwick shed (photo: John A. Thickitt)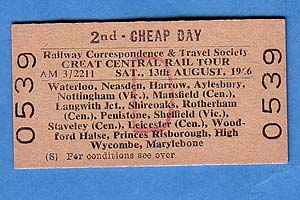 From The John Debens Ticket Collection.
(originally supplied by Andrew Fairholm)


Timings (Booked Only)
(from Terry Jackson)
| | | |
| --- | --- | --- |
| M.C | Location | Booked |
| 0.00 | Waterloo | 09.00d |
| 3.71 | Clapham Junction | 09/08 |
| 7.04 | Barnes | 09/15 |
| 8.00 | New Kew Jn | 09/22 |
| 8.24 | Kew East Jn | 09*25a ~ 09*32d |
| 10.71 | Acton Wells Jn | 09/40 |
| 12.67 | Neasden Jn | 09/46 |
| 13.11 | Neasden South Jn | 09/48 |
| 17.09 | Harrow on the Hill | 09/54 |
| 23.78 | Watford South Jn | 10/03 |
| 25.06 | Rickmansworth | 10/05 |
| 29.38 | Chalfont | 10/14 |
| 31.42 | Amersham | 10/17 |
| 36.56 | Great Missenden | 10/25 |
| 45.64 | Aylesbury | 10w35a ~ 10w45d |
| 54.60 | Grendon Underwood Jn | 10/52 |
| 75.18 | Culworth Jn | 11/13 |
| 76.79 | Woodford Halse | 11/17 |
| 91.11 | Rugby Central | 11/35 |
| 97.74 | Lutterworth | 11/44 |
| 111.01 | Leicester Central | 11/58 |
| 120.72 | Loughborough Central | 12/10 |
| 134.36 | Nottingham Victoria | 12L30a ~ 12L40d |
| 136.47 | Bagthorpe Jn | 12/44 |
| 145.19 | Kirkby South Jn | 13/00 |
| 150.56 | Mansfield Central | 13/23 |
| 156.24 | Clipstone West Jn | 13/36 |
| 161.31 | Warsop Jn | 13/45 |
| 162.16 | Langwith Jn | 13w48a ~ 13w58d |
| 167.58 | Clowne | 14/12 |
| 173.54 | Killamarsh Jn | 14/25 |
| 175.42 | Waleswood Jn | 14/30 |
| 181.33 | Shireoaks | 14L42a ~ 14L52d |
| 187.24 | Waleswood Jn | 15/04 |
| 189.30 | Woodhouse East Jn | 15/08 |
| 192.64 | Darnall | 15/14 |
| 193.52 | Attercliffe Jn | 15/19 |
| 197.77 | Rotherham Central | 15/27 |
| 203.22 | Mexborough No.3 | 15/36 |
| 204.72 | Wath Central | 15/46 |
| 206.00 | Elsecar Jn | 15L50a ~ 16L07d |
| 208.72 | Aldam Jn | 16/14 |
| 209.55 | Wombwell Jn | 16/18 |
| 214.16 | Wentworth Jn | 16/28 |
| 216.57 | West Silkstone Jn | 16/34 |
| 217.78 | Barnsley Jn | 16/38 |
| 218.52 | Penistone | 16.40a ~ 16.55d |
| 231.52 | Sheffield Victoria | 17L10a ~ 17L16d |
| 232.53 | Woodburn Jn | 17/19 |
| 236.76 | Woodhouse East Jn | 17/26 |
| 239.11 | Killamarsh Jn | 17/30 |
| 243.51 | Staveley Central | 17/37 |
| 249.39 | Heath | 17/49 |
| 258.79 | Kirkby South Jn | 18/08 |
| 267.51 | Bagthorpe Jn | 18/29 |
| 269.62 | Nottingham Victoria | 18L35a ~ 18L45d |
| 283.26 | Loughborough Central | 19/04 |
| 293.17 | Leicester Central | 19/17 |
| 306.24 | Lutterworth | 19/34 |
| 313.07 | Rugby Central | 19/42 |
| 327.19 | Woodford Halse | 20/00 |
| 329.00 | Culworth Jn | 20/04 |
| 349.38 | Grendon Underwood Jn | 20/25 |
| 355.35 | Ashendon Jn | 20/33 |
| 365.03 | Princes Risborough | 20/45 |
| 372.75 | High Wycombe | 20w58a ~ 21w03d |
| 389.34 | Northolt Jn East | 21/33 |
| 395.58 | Neasden South Jn | 21/42 |
| 400.69 | Marylebone | 21.50a |