16th April 1966
Warwickshire Railway Society
Cambrian Tour
| | |
| --- | --- |
| Locos Used | 45287, 75014 & 75020 |
| Stock Used | 8 Mk 1's |
Route : 1X82 throughout
| | |
| --- | --- |
| Loco | Route |
| 45287 | Birmingham Snow Hill - Wolverhampton - Shrewsbury |
| 75014 | Shrewsbury - Welshpool - Moat Lane Jn - Machynlleth - Aberystwyth |
| 75014 | Aberystwyth - Dovey Junction |
| 75020 | Dovey Junction - Towyn - Barmouth - Harlech - Portmadoc - Pwllheli |
| 75020 | Pwllheli - Portmadoc - Harlech - Barmouth - Towyn - Machynlleth - Moat Lane Jn - Welshpool - Shrewsbury |
| 45287 | Shrewsbury - (reverse of outward route) - Birmingham Snow Hill |
Notes :
(1) Brian Basterfield comments: The tour covered both the Aberystwyth and Pwllheli routes which made for a long day. By 1966 the the Manors and Churchward 2-6-0's were long gone, and it was the BR Standard 4MT 4-6-0's which were now in command. And by all accounts, had been doing good work, particularly on the Cambrian Coast Express. Well, each way over Talerddig would certainly be a good test. On the outward run, with 75014, things got off to a modest start with a small loss on the schedule to Welshpool, and a poor 22 mph up the bank to Westbury on Severn. We then held our own to Newtown, but stopped for water at Moat Lane Junction. The westbound climb to Talerddig was poor, and we were 7 late into Machynlleth. And the running on to Aberystwyth, and subsequently back to Dovey Junction was ok, though not inspiring. We said goodbye to 75014, and hoped that 75020, which was to take us up to Pwllheli, then back the whole way to Shrewsbury, would be better. On the coast line, things were most satisfactory. The loco seemed on top of the job, and was 3 minutes early into Pwllheli. The same was true coming back down the coast. Everything seemed under control. But the climb from Machynlleth to Talerddig would be the real test. On time from Machynlleth and all seemed well, until we approached Llanbrynmair. Here we stopped, ostensibly for water. But it doesn't take 8 minutes to top up, not after filling up at Machynlleth. We struggled away, and then started slipping, and slipping. After 15 minutes and about 1 mile gone, we stopped for a 6 minute blow up. Then struggled up to Talerddig, and sat down for another 5 minutes to recover. So instead of the usual 24 to 26 minutes to pass Talerddig, we had taken 56 by the time we restarted. From then on, things were much better, and our lateness into Shrewsbury was cut to 19 minutes. 75020 came off, and our Black 5, no 45287, took over for the run back to Birmingham Snow Hill. We were 12 minutes late from Shrewsbury, but thereafter I took no times. I guess it would have been about 10.15pm or so back into Birmingham. But the tour as a whole was a great success. Both the Aberystwyth and Pwllheli lines in one day. And Barmouth to Pwllheli without a stop was interesting. How many times has that been done? Pity the Standard 4's were off form that day though.
(2) 45287 was photographed at Shrewsbury carrying headcode 1X82; it is assumed this was used throughout.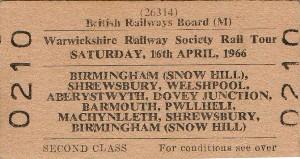 From The John Debens Ticket Collection.
Sources : Brian Basterfield & Richard Strange



Timings (Actual Only)
(from Brian Basterfield)
| | |
| --- | --- |
| Location | Actual |
| Birmingham Snow Hill | 07.25d |
| Wolverhampton Low Level | 07.50a ~ 07.52d |
| Wellington | 08.15a ~ 08.16d |
| Shrewsbury | 08L30a ~ 08L45d |
| Welshpool | 09.24a ~ 09.29d |
| Newtown | 09/53 |
| Moat Lane Jn | 10.00a ~ 10.03d |
| Talerddig | 10/24 |
| Machynlleth | 10.46 ~ 10.53 |
| Dovey Jn | 10/59 |
| Aberystwyth | 11.31a ~ 12.44d |
| Borth | 13.03a ~ 13.07d |
| Dovey Junction | 13L23a ~ 13L32d |
| Towyn | 13.53a ~ 13.55d |
| Llwyngrwl | 14.05a ~ 14.08d |
| Barmouth Jn | 14/18 |
| Barmouth | 14.24a ~ 14.31d |
| Harlech | 14/51 |
| Portmadoc | 15/08 |
| Criccieth | 15/17 |
| Afon Wen | 15/22 |
| Pwllheli | 15.33a ~ 15.56d |
| Afon Wen | 16/07 |
| Criccieth | 16.13a ~ 16.14d |
| Portmadoc | 16/43 |
| Harlech | 16/43 |
| Dyffryn Ardudwy | 16.56a ~ 17.06d |
| Barmouth | 17.15a ~ 17.21d |
| Barmouth Junction | 17.27a ~ 17.40d |
| Llwyngrwl | 17/50 |
| Towyn | 18/02 |
| Dovey Junction | 18/21 |
| Machynlleth | 18.28a ~ 18.34d |
| Llanbrynmair | 18*54a ~ 19*02d |
| Talerddig | 19.17a ~ 19.30d |
| Moat Lane Jn | 19/45 |
| Newtown | 19/52 |
| Welshpool | 20.11a ~ 20.15d |
| Shrewsbury | 20L51a ~ 21L02d |
| Wellington | ? |
| Wolverhampton Low Level | ? |
| Birmingham Snow Hill | ? |