11th April 1966
B.L.S. / S.L.S. / Scottish Locomotive Preservation Fund
Scottish Rambler No.5
| | |
| --- | --- |
| Locos Used | 65345, 65914 & 90386 |
Route :
ScR reporting code used: 630
| | |
| --- | --- |
| Loco | Route |
| 90386 | Glasgow Queen Street - Lenzie Jn - Greenhill Upper Jn - Greenhill Lower Jn - Larbert - Alloa Jn - Stirling |
| 65914 | Stirling - Cambus |
| 65914 | Cambus - Menstrie |
| 65914 | Menstrie - Cambus |
| 65914 | Cambus - Alloa Yard |
| 65914 | Alloa Yard - (via direct curve) - Longcarse Jn - Throsk - Alloa Jn - Larbert - Falkirk Grahamston - Polmont - Bo'ness Jn - Kinniel Colliery |
| 65914 | Kinniel Colliery - Bo'ness Jn |
| 65914 | Bo'ness Jn - Winchburgh Jn - Bathgate Jn |
| 65345 | Bathgate Jn - Uphall - Pumpherston |
| 65345 | Pumpherston - Uphall - Bathgate Upper - Bathgate Lower - Westfield Loop |
| 65345 | Westfield Loop - Bathgate Lower - Bathgate Upper - Polkemmet Jn - Whitburn - Addiewell Jn - Fauldhouse (2) |
| 65345 | Fauldhouse - Addiewell Jn - Whitburn - Polkemmet Jn - Bathgate Upper - Westcraigs Jn - Airdrie - Bellgrove - High Street Jn - St Johns - Glasgow St Enoch |
Notes :
(1) Confirmation of reversing points required.
(2) Ewan Crawford queries if the train went to Fauldhouse as indicated (Garth McLean suggests the train did) or traversed the North British Railway branch towards Addiewell (NB) as he is in possession of what he believes to be a photo of this tour at Stoneyburn on the branch to Addiewell (see below). That said (Webmasters comment); the line is shown as having closed in 1963, three years before this tour...was it still possible to travel over it in April 1966?
(3) 90396 was photographed at Glasgow Queen Street and 65914 was photographed at Stirling and Menstrie, in all cases carrying ScR reporting code 630; it is assumed this was used throughout.
Sources : George Woods & Richard Strange



Photo Review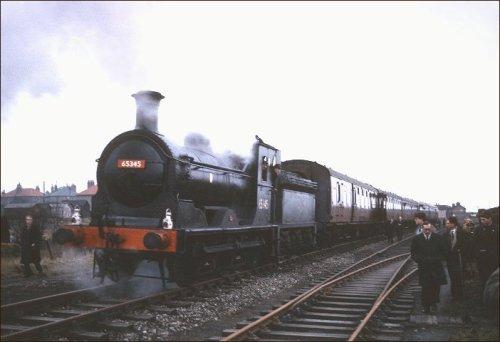 Is this Stoneyburn on the North British Railway branch to Addiewell?
(photo: The Robin Barbour Collection [Courtesy Bruce McCartney])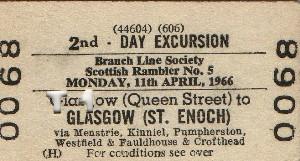 From The John Debens Ticket Collection.


Timings (Booked Only)
(from George Woods)
| | |
| --- | --- |
| Location | Booked |
| Glasgow Queen Street | 09.10d |
| Cowlairs SB | 09/17 |
| Lenzie Jn | 09/25 |
| Greenhill Upper Jn | 09/47 |
| Greenhill Lower Jn | 09.50a ~ 10.10d |
| Larbert Jn | 10/16 |
| Larbert | 10/18 |
| Alloa Jn | 10/22 |
| Stirling | 10L35a ~ 10L43d |
| Cambus | 11.41a ~ 11.44d |
| Menstrie | 11.18a ~ 11.26d |
| Cambus | 11.41a ~ 11.44d |
| Alloa Yard | 11.54a ~ 12.04d |
| Longcarse Jn | 12/07 |
| Throsk | 12/11 |
| Alloa Jn | 12/19 |
| Larbert | 12/22 |
| Larbert Jn | 12/23 |
| Falkirk Grahamston | 12/34 |
| Polmont | 12/46 |
| Bo'ness Jn | 12/50 |
| Kinniel Colliery | 13.07a ~ 13.17d |
| Bo'ness Jn | 13.40a ~ 13.45d |
| Winchburgh Jn | 13/55 |
| Bathgate Jn | 14L02a ~ 14L07d |
| Uphall | 14.20a ~ 14.25d |
| Pumpherston | 14.35a ~ 14.45d |
| Uphall | 15/05 |
| Bathgate Upper | 15.10a ~ 15.15d |
| Bathgate Lower | 15/19 |
| Westfield Loop | 15.35a ~ 15.50d |
| Bathgate Lower | 16/06 |
| Bathgate Upper | 16.10a ~ 16.15d |
| Polkemmet Jn | 16/18 |
| Whitburn Jn | 16/26 |
| Addiewell Jn | 16/36 |
| Fauldhouse Jn | 16.48a ~ 16.58d |
| Addiewell Jn | 17/15 |
| Whitburn | 17/20 |
| Polkemmet Jn | 17/28 |
| Bathgate Upper | 17.31a ~ 17.36d |
| Westcraigs Jn | 17/48 |
| Airdrie | 18/02 |
| Bellgrove | 18/30 |
| High Street Jn | 18/32 |
| St Johns | 18.37a ~ 18.41d |
| Glasgow St Enoch | 18.45a |