8th April 1966
Branch Line Society / Stephenson Locomotive Society / Scottish Locomotive Preservation Fund
Scottish Rambler No.5
| | |
| --- | --- |
| Loco Used | 77005 |
| Stock Used | 12 brake vans |
Route : at least headcode 300
| | |
| --- | --- |
| Loco | Route |
| 77005 | Springburn - Sighthill East Jn - Gartcosh Jn - Gartsherrie South Jn - Coatbridge Central - Mossend - Holytown - Cleland - Benhar Jn - Polkemmet Colliery (2) |
| 77005 | (2) Polkemmet Colliery - Benhar Jn - Cleland - Holytown - Milnwood Jn - Jerviston Jn - Ravenscraig No.3 |
| 77005 | Ravenscraig No.3 - Jerviston Jn - Motherwell - Garriongill Jn - Morningside - (3) Kingshill Colliery |
| 77005 | Kingshill Colliery - Garriongill Jn - Shields Colliery |
| 77005 | Shields Colliery - Ravenscraig No.1 |
| 77005 | Ravenscraig No.1 - Lanarkshire New Yard - (via Dellburn Branch) - Motherwell |
| 77005 | Motherwell - Milnwood Jn - (via west lines) - Mossend No.1 |
| 77005 | Mossend No.1 - Burnhouse Weighs - Whifflet South Jn - Whifflet Yard - Langloan East Jn |
| 77005 | Langloan East Jn - Sheepford |
| 77005 | Sheepford - Langloan East Jn |
| 77005 | Langloan East Jn - Sunnyside Jn - Gunnie - Gartsherrie East Jn - Garnqueen South Jn - Bedlay |
| 77005 | Bedlay - Garnqueen South Jn - Gartsherrie East Jn - Gunnie - Sunnyside Jn - Kipps Yard |
| 77005 | Kipps Yard - Sunnyside Jn - Shettleston - Parkhead North Jn - Haghill Jn - Sighthill Jn - Springburn |
Notes :
(1) May not have accurately captured all reversing points (particularly round Kingshill & Shields Collieries).
(2) Andrew Fairholm adds: There is photographic evidence of a Barclay 0-6-0T buffered up to the train at Polkemmet Colliery - was it involved in some way?
(3) There is photographic evidence of 77005 approaching Kingshill Colliery with only 6 brake vans, suggesting maybe that 12 vans proved too much (it was raining) and the train was divided and worked in two portions?
(4) 77005 was photographed at Clelland carrying headcode 300 - was this headcode used throughout?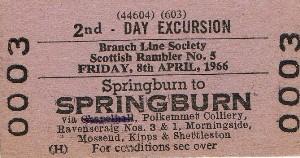 From The John Debens Ticket Collection.
Sources : George Woods, Andrew Fairholm & Steve Armitage



Timings (Booked Only)
(from George Woods)
| | |
| --- | --- |
| Location | Booked |
| Springburn | 10.00d |
| Sighthill Jn | 10/02 |
| Sighthill East Jn | 10/07 |
| Gartcosh Jn | 10/25 |
| Gartsherrie South Jn | 10/28 |
| Coatbridge Central | 10/31 |
| Mossend | 10/40 |
| Holytown | 10.45a ~ 10.47d |
| Cleland | 10/55 |
| Benhar Jn | 11/10 |
| Polkemmet Colliery | 11.25a ~ 11.35d |
| Benhar Jn | 11/50 |
| Cleland | 12.05a ~ 12.12d |
| Holytown | 12.20a ~ 12.30d |
| Milnwood Jn | 12/37 |
| Jerviston Jn | 12/40 |
| Ravenscraig No.3 | 12.53a ~ 13.05d |
| Jerviston Jn | 13.18a ~ 13.28d |
| Motherwell | 13/35 |
| Garriongill Jn | 13.48a ~ 13.50d |
| Morningside | 14.00a ~ 14.03d |
| Colliery Gates | 14/07 |
| Kingshill Colliery | 14.15a ~ 14.25d |
| Morningside | 14.33a ~ 14.35d |
| Garriongill Jn | 14/43 |
| Shields Colliery | 14.51a ~ 14.53d |
| Ravenscraig No.1 | 15.03a ~ 15.08d |
| Lanarkshire New Yard | 15.15a ~ 15.25d |
| Motherwell South | 15/35 |
| Motherwell | 15.40a ~ 15.48d |
| Milnwood Jn | 15/55 |
| Mossend No.1 | 16.02a ~ 16.08d |
| Burnhouse Weighs | 16/12 |
| Whifflet South Jn | 16/18 |
| Whifflet Yard | 16.20a ~ 16.22d |
| Langloan East Jn | 16.27a ~ 16.37d |
| Sheepford | 16.47a ~ 16.57d |
| Langloan East Jn | 17/07 |
| Sunnyside Jn | 17/12 |
| Gunnie | 17/14 |
| Gartsherrie East Jn | 17/17 |
| Garnqueen South Jn | 17/20 |
| Bedlay | 17.32a ~ 17.42d |
| Garnqueen South Jn | 17/54 |
| Gartsherrie East Jn | 17/57 |
| Gunnie | 18/00 |
| Sunnyside Jn | 18/03 |
| Kipps Yard | 18.07a ~ 18.25d |
| Sunnyside Jn | 18/30 |
| Shettleston | 18/41 |
| Parkhead North Jn | 18/45 |
| Haghill Jn | 18/49 |
| Sighthill Jn | 18/55 |
| Springburn | 18.57a |