26th March 1966
R.C.T.S.
Eight Counties Rail Tour
| | |
| --- | --- |
| Locos Used | D5016, E26000 'Tommy', E3093, 45596 'Bahamas', 48467 & 61302 |
| Stock Used | 6 coaches (booked to be formed: BSK, 2x TSO, Cafe Car, TSO, BSK) |
Route : 1X76 throughout
| | |
| --- | --- |
| Loco | Route |
| D5016 | Northampton Castle - Kelmarsh - Clipston & Oxendon - Market Harborough - Kibworth - Leicester |
| 48467 | Leicester - Syston - Loughborough - Trent - Beeston - Nottingham Midland - London Road Jn - Netherfield & Colwick |
| 61302 | Netherfield & Colwick - Nottingham London Road HL - Nottingham Victoria - Bagthorpe Jn - Bulwell Jn - Bestwood Jn - Hucknall Town - Linby - Annesley South Jn - Annesley North Jn - Sutton-in-Ashfield - Skegby - Pleasley East - Shirebrook South - Shirebrook North - Clown South - Killamarsh Jn - Beighton Jn - Treeton Jn - Rotherham Masborough - Aldwarke Jn - Wath Central Jn - Wath Exchange Sidings |
| E26000 | Wath Exchange Sidings - Adlam Jn - Worsborough - Penistone - Woodhead - Hadfield - Dinting - Godley Jn |
| 45596 | Godley Jn - Woodley Jn - Bredbury Jn - Stockport Tiviot Dale - Cheadle Jn - Northenden - Baguley - Skelton Jn - Deansgate Jn - Altrincham - Knutsford - Northwich - Middlewich - Sandbach - Crewe |
| E3093 | Crewe - (via WCML) - Rugby - Northampton |
Notes :
(1) This six coach train, which featured three of the new XP64 coaches covered many lines that were no longer used by passengers services. This was the last revenue earning trip for 61302, being withdrawn the next Monday.
(2) John A. Thickitt comments: At the time, I made a note in my diary which reminds me the tour was advertised as having Crab, Jubilee & Black Five haulage.
Sources : David Hills & John Debens



Photo Review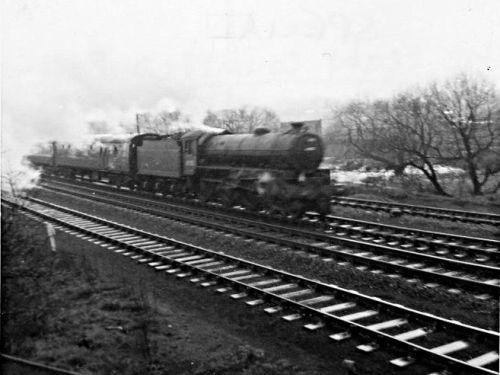 61302 speeds past Beighton (photo: John A. Thickitt)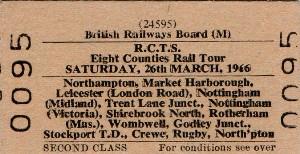 From The John Debens Ticket Collection.


Timings (Booked Only)
(from John Debens)
| | | |
| --- | --- | --- |
| M.C | Location | Booked |
| 0.00 | Northampton Castle | 10.20d |
| 13.10 | Kelmarsh | ? |
| 14.28 | Clipston & Oxendon | ? |
| 17.64 | Market Harborough | 11/00 |
| 21.16 | East Langton | ? |
| 23.64 | Kibworth | ? |
| 24.50 | Kibworth North Box Summit | ? |
| 26.42 | Great Glen | ? |
| 30.21 | Wigston Magna | ? |
| 30.62 | Wigston Magna North Jn Up. | ? |
| 32.64 | Knighton North Jn Down. | ? |
| 33.76 | Leicester Midland | 11.20 ~ 11.30 |
| 34.57 | Humberstone Road | ? |
| 38.53 | Syston | ? |
| 41.36 | Sileby | / |
| 43.61 | Barrow-on-Soar & Quorn | ? |
| 46.36 | Loughborough Midland | 11/46 |
| 51.18 | Kegworth | ? |
| 54.55 | Trent | 11/56 |
| 55.21 | Long Eaton | ? |
| 56.63 | Attenborough | ? |
| 58.12 | Beeston | ? |
| 60.58 | Mansfield Jn | ? |
| 61.38 | Nottingham Midland | 12.06 ~ 12.10 |
| 61.58 | London Road Jn | ? |
| 62.22 | Trent Lane Jn | ? |
| 64.24 | Netherfield & Colwick | 12.17 ~ 12.27 |
| 67.10 | Nottingham London Road HL | ? |
| 67.36 | Weekday Cross Jn | ? |
| 67.70 | Nottingham Victoria | 12/35 |
| 69.37 | New Basford | ? |
| 70.01 | Bagthorpe Jn | ? |
| 71.13 | Bulwell Common | ? |
| 71.18 | Bullwell North Jn | ? |
| 72.21 | Bestwood Jn | ? |
| 72.57 | Bestwood Colliery | ? |
| 74.06 | Hucknall Town | ? |
| 75.21 | Linby | ? |
| 77.13 | Annesley South Jn | ? |
| 77.51 | Annesley North Jn | ? |
| 78.52 | Kirkby South Jn | ? |
| 81.30 | Sutton-in-Ashfield | ? |
| 82.46 | Skegby | ? |
| 84.70 | Pleasley East | ? |
| 87.08 | Shirebrook South | ? |
| 88.24 | Shirebrook North | 13.35 ~ 13.50 |
| 93.47 | Clowne South | 14/03 |
| 97.55 | Spinkhill | ? |
| 99.58 | Killamarsh Jn | 14/16 |
| 102.43 | Beighton Jn | 14/21 |
| 105.62 | Treeton Jn | ? |
| 110.61 | Rotherham Masborough South Sidings | ? |
| 111.58 | Rotherham Masborough South Jn | 14/35 [SL] |
| 112.14 | Rotherham Masborough | 14.38 ~ 14.48 |
| 113.27 | Parkgate Jn | ? |
| 114.12 | Parkgate & Rawmarsh | ? |
| 114.54 | Aldwarke Crossings | 14/56 [ML] |
| 117.53 | Mexborough No.3 South | 15/03 |
| 118.42 | Mexborough No.1 West | 15/05 |
| 119.36 | Wath Jn | 15/07 |
| 119.70 | Wath Central | ? |
| 120.60 | Wath Exchange Sidings | 15L10 ~ 15L25 |
| 121.41 | Elsecar Jn | ? |
| 123.44 | Adlam Jn | 15/31 |
| 124.27 | Wombwell Main Jn | 15/34 |
| ? | Lewden Crossing Box | ? |
| ? | Worsborough Dale Crossing Box (down) | ? |
| ? | Glosshouse Crossing Box (up) | ? |
| ? | Worsborough Bridge Crossing (down) | ? |
| ? | Kendal Green Crossing Box (down) | ? |
| ? | Stratford Crossing Box (up) | ? |
| 128.68 | Wentworth Jn Box (down) | ? |
| 131.29 | West Silkstone Jn Box (up) | 15/48 |
| ? | Oxspring Jn Box (up) | ? |
| 132.50 | Barnsley Jn Box (up) | 15/51 |
| 133.24 | Penistone | 15/53 |
| ? | Hazelhead | ? |
| 139.26 | Dunford Bridge | 16/01 |
| 142.44 | Woodhead | 16/05 |
| 144.37 | Crowden | ? |
| 146.28 | Torside | 16/11 |
| 152.62 | Hadfield | ? |
| 153.47 | Dinting | ? |
| ? | Broadbottom for Mottram | ? |
| 157.17 | Godley Jn | 16.22 ~ 16.28 |
| ? | Apethorne Jn | ? |
| 159.55 | Woodley Jn | 16/35 |
| 160.65 | Bredbury Jn | 16/38 |
| 161.07 | Brinnington Jn | ? |
| 162.59 | Stockport Tiviot Dale | 16/42 |
| 164.00 | Heaton Mersey East Jn | 16/44 |
| 164.47 | Cheadle Jn | ? |
| 165.29 | Cheadle | ? |
| 166.72 | Northenden | 16/50 |
| 169.12 | Baguley | ? |
| 170.22 | Skelton Jn | 16/57 |
| 170.49 | Deansgate Jn | 17/00 |
| 171.38 | Altrincham | ? |
| 173.61 | Ashley | ? |
| 175.49 | Mobberley | ? |
| 178.17 | Knutsford | 17/11 |
| 180.74 | Plumbley | ? |
| 182.72 | Lostock Gralham | ? |
| 184.24 | Northwich | 17.20 ~ 17.22 |
| ? | Billinge Green Halt | ? |
| 189.48 | Middlewich | 17/31 |
| ? | Gledford Bridge halt | ? |
| 193.24 | Sandbach | 17/38 |
| 197.06 | Sydney Bridge | 17/48 |
| 197.72 | Crewe | 17.50 ~ 18.01 |
| 205.78 | Madeley | ? |
| 216.78 | Norton Bridge | ? |
| 222.29 | Stafford | 18/20 |
| 226.27 | Milford & Brocton | ? |
| 229.61 | Colwich | ? |
| 231.50 | Rugeley TV | ? |
| 239.52 | Lichfield TV | 18/33½ |
| 245.72 | Tamworth LL | ? |
| 249.33 | Polesworth | ? |
| 253.48 | Atherstone | ? |
| 258.64 | Nuneaton TV | 18/48½ |
| 264.62 | Shilton Up Siding GF | ? |
| 279.30 | Rugby Midland | 19/02 |
| 282.59 | Long Buckby | 19/12 |
| 292.33 | Northampton Castle | 19.23a |