6th March 1966
William Deacon Bank Club
A4 Tour
Locos Used
47521 & 60019 'Bittern'
Stock Used
[1] : RB + load 10
[2] : load 10 (RB removed)
[3] : load 10 + RB
Route : 1T70 throughout
| | | |
| --- | --- | --- |
| Loco | Stock | Route |
| 60019 | [1] | Manchester Piccadilly - Crewe |
| 47521 | [2] | Crewe - near south shed |
| 47521 | [2] | Crewe - Crewe Works |
| 47521 | [2] | Crewe Works - Crewe |
| 60019 | [3] | Crewe - Stenson Jn - Derby |
| 60019 | [1]? | Derby - Stenson Jn - (?reverse of outward route?) - Manchester Piccadilly |
Notes :
(1) Route confirmation required - for works visits at Crewe & Derby. Leonard Rogers comments: The loco had been brought down from Scotland specially and remained in Manchester on show for a couple of days after the tour before heading back north of the Border.
(2) Dave Groves describes the train movements at Crewe as: The train stopped in platform and 60019 + RB detached and ran forward; 47521 attached to rear and propelled train to near South Shed. 47521 (bunker first) + load 10 then went direct into the Works via the Goods Line outside plat 1 (old numbering). We descended via ladders carried on the train. At 1258 (48 late) 47521 hauled the train out of the Works direct into platform no.? (the only one giving access from the Works to the Kidsgrove line?) and detached. Another shunter attached the RB to the rear whilst 60019 resumed at front end leaving as 60019 + load 10 + RB.
(3) Dave Groves describes the train movements at Derby as: We arrived 44 late at 1449. I have vague memory that somehow we crossed to the Up Goods Line on the east of the station where we descended via the ladders. I have no specific info other than 60019 was serviced and turned during the Works visit. We departed at 1630, 15 late.
Sources : Gary Thornton, David Happs, Leonard Rogers, Bob Mitchell & Dave Groves



Photo Review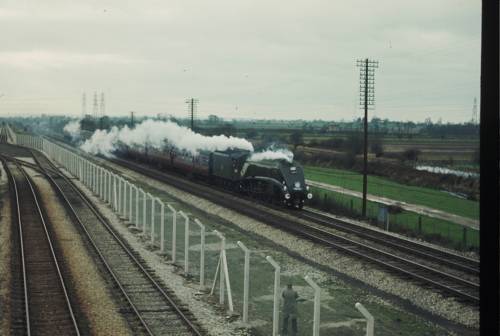 60019 passing Stenson Jn (photo: David Happs)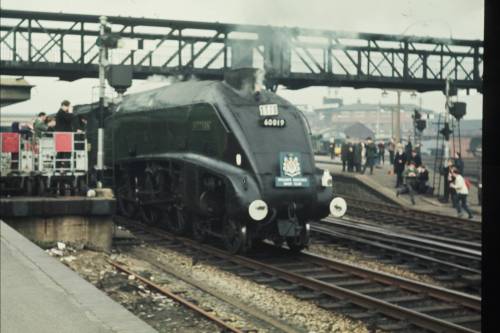 Two photos of 60019 at Derby (photos: David Happs)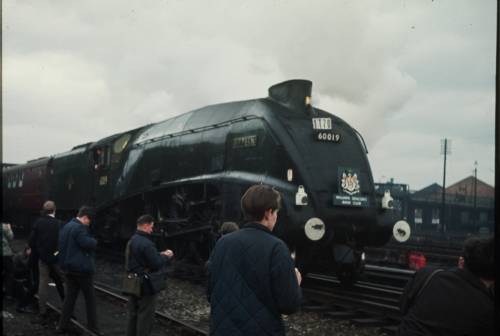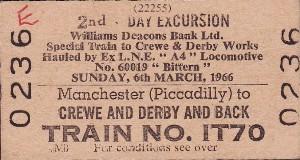 From Bob Mitchell's ticket collection.


Timings (Booked & Actual)
(from Dave Groves)
| | | |
| --- | --- | --- |
| Location | Booked | Actual |
| Manchester Piccadilly | ? | ? |
| Crewe | | |
| Crewe Works | ??.??a ~ 12.10d | ??.?? ~ 12.58 |
| Crewe | ? | ? |
| Derby | 14.05a ~ 16.15d | 14.49 ~ 16.30 |
| Manchester Piccadilly | ? | ? |