8th May 1965
Liverpool University Public Transport Society
The Mersey Docks Rail Tour
| | |
| --- | --- |
| Loco Used | MDHB 1904 built Avonside 0-6-0ST No 1 |
| Stock Used | a rake of open wagons |
Route :
| | |
| --- | --- |
| Loco | Route |
| No. 1 | see note (1) |
Notes :
(1) Route confirmation required. The following is taken from the itinerary produced for the day:
9.00 a.m. Assemble Princes Locomotive Shed (situated at the eastern approaches to the bridge separating Princes Half Tide and Princes Dock: about ½ mile north of Pier Head) for a brief introduction by the Dock Railway Manager and an opportunity of comparing steam locomotive No 1 with the latest diesel engine No 42. The locomotive foreman will be present to answer any questions.
9.30 a.m. Depart on a northerly course accompanied by a Railway Inspector, following the main dock lines to East Huskisson No 1, where a brief look at North No 1 and South No 3 Huskisson Branch Dock Sheds may be possible. Thence via South No 1 Canada to West Canada Dock and a view of West Brocklebank Shed and Langton River Entrance.
10.15 a.m. Continue via North No 3 Canada Branch and the main dock lines to the Gladstone System.
10.45 a.m. Return via North No 3 Alexandra Branch, West Alexandra (if time permits, a short look at West Langton Dock), South No 1 Alexandra Branch, following the main dock lines to Princes Locomotive Shed (arriving at approximately 11.45 a.m.)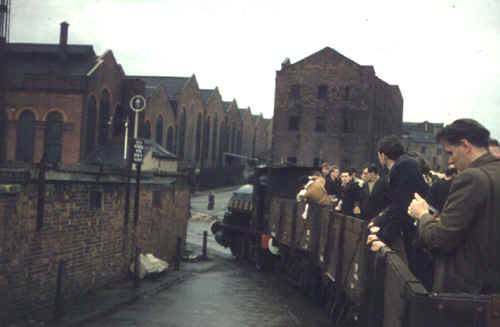 MDHB Avonside 0-6-0ST No 1 is seen at the head of its rake
of open wagons propelling onto the Canada Dock branch.
(Photo : John Ryan courtesy of Charles Roberts/LUPTS Website).
Source : Charles Roberts (LUPTS)



Back to "The Railtour Files - 1965"