22nd November 1964
3rd January 1965
17th January 1965
Stephenson Locomotive Society (Midland Area)
Farewell to the Cambrian Railways
| | |
| --- | --- |
| Locos Used | 7802 'Bradley Manor', 44863 & 46512 |
| Stock Used | 8 Mk 1's (7 on the Llanfyllyn branch) |
Route:
Loco
Route

7802 (2)

Shrewsbury - Sutton Bridge Jn - Buttington - Welshpool

7802

Welshpool - Llanymynech - Llanymynech - Oswestry - Ellesmere - Whitchurch

46512

Oswestry - Llynclys - Llanymynech - Llanfyllyn

46512

Llanfyllyn - Llanymynech -Llynclys - Oswestry - Gobowen

7802

Gobowen - Shrewsbury
Notes :
(1) The SLS originally planned to run run a tour routed: Shrewsbury - Welshpool - Whitchurch - Oswestry - Ruabon - Morfa Mawddach - Shrewsbury on 22nd November 1964 but this was put back to 3rd January 1965 and subsequently to this date due to the postponement of the date of withdrawal of services however it was then abandoned due to flood damage that had occurred on 12th December 1964 between Ruabon and Morfa Mawddach and rendered the line impassable. This tour covering the Llanfyllyn branch was organised as the alternative.
(2) Running tender first.
(3) Originally uploaded as having started and finished at Birmingham Snow Hill, however Rob Tibbets has since confirmed those legs were actually a service train. Uploaded originally as 44863 out and back, Rob Tibbets also confirms it was 44863 from Leamington Spa, where he got on, to Wolverhampton LL for D1730 to Shrewsbury (service train went on to Birkhenhead). The return service train was 45395 from Shrewsbury to Wolverhampton LL for D1588 forward.
Sources : Brian Basterfield, Rob Tibbets & Ian Clark (SLS)/Robert Darlaston



Photo Review

Two shots of 46512 at Llanfyllin (photos: Robert Darlaston)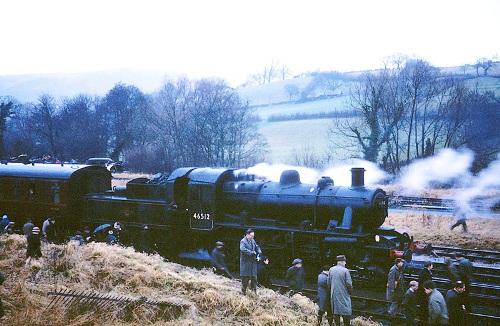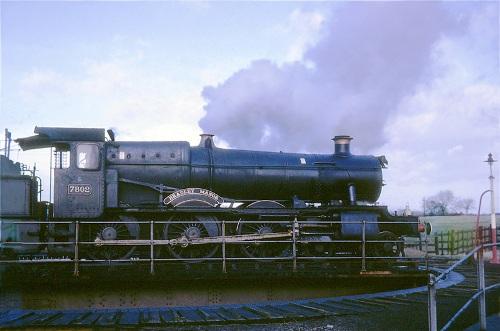 7802 being turned on Whitchurch turntable (photos: Robert Darlaston)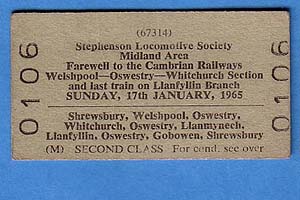 From Andrew Fairholm's ticket collection.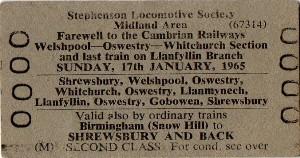 From The John Debens Ticket Collection.


Timings (Booked & Actual)
(From Ian Clark (SLS)/Robert Darlaston & Brian Basterfield)
| | | |
| --- | --- | --- |
| Location | Booked | Actual |
| Shrewsbury | 11.10d | 11.24 |
| Westbury | 11/31 | ? |
| Welshpool | 11.47 ~ 11.57 | 12.02 ~ 12.23 |
| Buttington Crossing | 12/00 | ? |
| Llanymynech | ? | 12/40 |
| Oswestry | 12w30 ~ 12w38 | 12.50 ~ 12.58 |
| Ellesmere | 12.55 ~ 13.05 | 13.08 ~ 13.13 |
| Whitchurch | 13.30 ~ 13.40 | 13.30 ~ 13.45 |
| Ellesmere | ? | 14/03 |
| Oswestry | 14L20 ~ 14L35 | 14.16 ~ 14.30 |
| Llanymynech | 14.45 ~ 15.00 | 14.41 ~ 14.51 |
| Llanfyllyn | 15.25 ~ 15.55 | 15.20 ~ 15.46 |
| Llanymynech | 16/20 | ? |
| Oswestry | 16.35 ~ 17.00 | 16.22 ~ 16.42 |
| Gobowen | 17L10 ~ 17L25 | 16.50 ~ 16.59 |
| Shrewsbury | 17.50a | 17.26 |