6th December 1964
Home Counties Railway Society
Eastleigh & Southampton Special
| | |
| --- | --- |
| Locos Used | D5009, 30069, 30073, 34079 '141 Squadron' & 70020 'Mercury' |
Route : 1X75 throughout
| | |
| --- | --- |
| Loco(s) | Route |
| D5009 | (2) London Broad Street - Dalston Jn - Camden Road - Gospel Oak - Willesden Junction HL |
| 70020 | Willesden Junction HL - Mitre Bridge Jn - Kensington (Olympia) - Latchmere Jn - Clapham Junction - Point Pleasant Jn - Wimbledon - Hampton Court Jn - Effingham Junction - Guildford - Haslemere - Havant - Cosham - Fareham |
| 34079 (3) | Fareham - Netley - St. Denys - Northam Jn - Southampton Eastern Docks |
| 30069 + 30073 (4) | Southampton Eastern Docks - Northam Jn - Eastleigh |
| 30069 + 30073 | Eastleigh - Eastleigh Works Yard |
| 70020 | Eastleigh Works Yard - Eastleigh - Winchester City - Basingstoke - Woking - Surbiton - Wimbledon - Earlsfield - Clapham Junction - London Waterloo |
Notes :
(1) For Eastleigh Works & shed visits, tour of Southampton Docks and visit to Ocean Terminal.
(2) The tour was advertised as having a 'Britannia' from Broad Street (70004 'William Shakespeare' to be precise). Participants were told that the reason for having the type 2 diesel instead was that the engine had come off Willesden shed facing the wrong way and the tour left 15mins late as a result. The loco change at Willesden lost a further 10mins. Booked 70004 was however failed due to an injector problem and 70020 was substituted at the last minute.
(3) This leg was booked to have been a West Country class.
(4) It is understood the locos booked should have been 30064 & 30073 (in green).
(5) Formed in 1955 and originally known as the 'Middlesex Loco Spotters Club', their name was changed in the late 1950's to the 'Home Counties Railway Club' then in January 1963 it changed again, to the 'Home Counties Railway Society'.
Sources : John Clifford (on the train throughout), Ron Walker & David Whittaker



Photo Review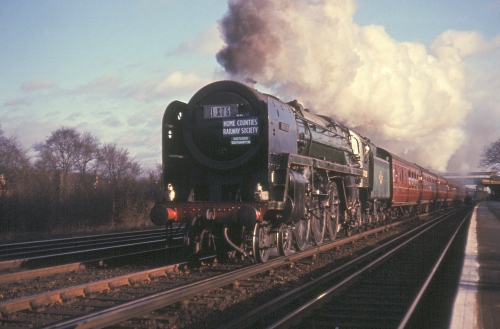 70020 "Mercury" storms through Raynes Park (Photo : Mike Morant)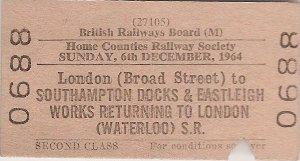 From The John Debens Ticket Collection.


Timings (Booked & Actual)
(from Terry Jackson, John Clifford & Ron Walker)
| | | | |
| --- | --- | --- | --- |
| Miles | Location | Booked | Actual |
| 0 | Broad Street | 09.05d | 09.20 |
| 2 | Dalston Jn | 09/12 | 09/26½ |
| 3½ | Caledonian Road | 09/18 | 09/31½ |
| 5 | Kentish Town West | 09/22 | 09/36 |
| 6 | Hampstead Heath | 09/26 | 09/42½ |
| 7½ | Brondesbury | 09/31 | 09/47 |
| 10½ | Willesden Junction HL | 09/39 | 09.54a ~ 10.04d |
| 13 | Kensington Olympia | 09c48 ~ 09c50 | 10.12½ ~ 10.15 |
| ? | Clapham Junction 'A' Box | 10.00 ~ 10.04 | 10.23 ~ 10.24½ |
| 18¼ | Clapham Junction | 10c06 ~ 10c08 | 10.26½ ~ 10.29 |
| 20 | East Putney | 10/15 | 10/37 |
| 22¾ | Wimbledon | 10/24 | 10/45½ |
| 27½ | Surbiton | 10/30 | ? |
| ? | Hampton Court Jn | 10/32 | 10/54½ |
| 40 | Effingham Junction | 10/44 | 11/06½ |
| 45¾ | Guildford | 10w57a ~ 11w01d | 11.23½ ~ 11.29½ |
| 51¾ | Milford | 11/11 | ? |
| 58½ | Haslemere | 11/21 | 11/51 |
| 67 | Liss | 11/30 | ? |
| 70½ | Petersfield | 11/35 | 12/02 |
| 81 | Havant | 11/49 | 12/13 |
| 84 | Cosham | 11/55 | 12/20 |
| 90 | Fareham | 12L04a ~ 12L12d | 12.29 ~ 12.38½ |
| | Swanwick | 12/18 | ? |
| | Netley | 12/27 | ? |
| 102½ | St Denys | 12/25 | ? |
| ? | Northam Jn | 12/37 | 13/04½ |
| ? | Southampton Dock Gates | 12/42 | ? |
| 104½ | Southampton Old Docks | 12L47a ~ 14L25d | 13.12 ~ 14.23 |
| ? | Southampton Dock Gates | 14/32 | ? |
| ? | Northam Jn | 14/37 | 14/30½ |
| 106½ | St Denys | 14/39 | ? |
| 110 | Eastleigh | 14L45a ~ 14L55d | 14.47 ~ ??.?? |
| 110¾ | Eastleigh Works Yard | 15L00a ~ 16L59d | 15.?? ~ 16.51 |
| 111¼ | Eastleigh | 17/02 | 16/58½ |
| 118¼ | Winchester City | 17/12 | 17/10 |
| 126¾ | Micheldever | 17/21 | ? |
| 135½ | Basingtsoke | 17/30 | 17/35½ |
| 156¾ | Fleet | 17/47 | ? |
| 169 | Woking | 17/53 | 17/59½ |
| 180¼ | Surbiton | 18/03 | 18/08½ |
| 189¼ | Clapham Junction | 18/13 | 18/19½ |
| 193¼ | Waterloo | 18.20a | 18.28 |