21st November 1964
Swansea Railway Circle / Swansea District Model Railway Society
Y Ddraig Goch
(The Red Dragon)
| | |
| --- | --- |
| Loco Used | 9678 |
| Stock Used | 3x mark 1 coaches |
Route :
Loco
Route
9678

Swansea High Street - Morriston - Felin Fran West Jn - Lonlas Jn - Jersey Marine North Jn - Jersey Marine South Jn

9678

Jersey Marine South Jn - Neath Abbey - Neath Low Level - Crynant - Colbren Jn

9678

Colbren Jn - Crynant - Neath Low Level

9678

Neath Low Level - Neath Jn

9678

Neath Jn - Neath General - Margam Moors - Cefn Jn - Tondu - Nantyfyllon - Caerau - Cymmer Afan - Abergwynfi

9678

Abergwynfi - Cymmer Afan

9678

Cymmer Afan - Cymmer Corrwg - Glyncorrwg

9678 (1)
Glyncorrwg - North Rhondda Halt
9678

North Rhondda Halt - Tondu

9678
Tondu - Brynmenyn Jn - Pontycymer
9678 (1)
Pontycymer - Victoria - Blaengarw
9678
Blaengarw - Pontcymmer - Brynmenyn Jn
9678
Brynmenyn Jn - Blackmill - Ogmore Vale North 'Box
9678 (1)
Ogmore Vale North 'Box - Nantymoel
9678
Nantymoel - Brynmenyn - Tondu- Cefn Jn - Kenfig Hill - Pyle - Margam Moors - Neath - Skewen East Jn - Felin Fran - Lonlas

Jn - Swansea High Street
Notes :
(1) Loco propelling.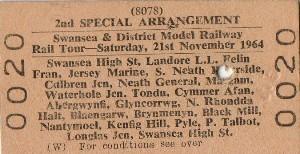 From The John Debens Ticket Collection.
Sources : Terry Jackson & David Pearson



Tour Comments
Terry Jackson comments : I have one abiding memory of this excellent tour which relates to a shunting move which was necessary at one point. The railway authorities in the sixties were not as paranoid as the current generation in decanting passengers for the slightest irregular train movement. However they decreed that everyone had to leave the train for one particular shunt. Needless to say no one wanted to miss the relevant piece of track and the toilets on the train were subsequently filled to overflowing. Fortunately no one bothered to check what was happening; if you couldn't SEE anyone on the train, that was alright. If there was ever an entry in the Guinness book of records for the number of bodies in a train toilet, it was surely broken many times that day.
David Pearson comments: In the late nineteen fifties BR rationalised the two routes east of Cymmer Afan. The Rhondda & Swansea Bay Line was abandoned between Cymmer Afan and Blaengwynfi (exclusive) and two new connections were laid connecting this to and from the GWR Abergwynfi branch. So, on returning to Cymmer Afan the train arrived at the RSB station where the passengers were detrained and the loco ran round and propelled the stock to Cymmer West Jn. From there it hauled it across the viaduct over the river to Cymmer Corrwg where the passengers were allowed to re-board. (Hope this is clear, RCH Junction Diagram No. 65 may help). A note in the itinerary explained: 'BR cannot allow a loaded passenger train to cross the connecting viaduct as a workmen's train was involved in an accident here, with considerable loss of life, many years ago.' An unadvertised workman's service once ran between Glyncorrwg and North Rhondda Halt. Up to 1964 it still ran as far as South Pit Halt, (between Glyncorrwg and North Rhondda Halt) but had been withdrawn earlier that month. According to the itinerary the gradients between Glyncorrwg and North Rhondda Halt were the steepest on BR used by passenger trains. On the approach to South Pit Halt it was 1 in 28 and the section thence to North Rhondda Halt was an amazing 1 in 22. For this reason the trains were always propelled from Glyncorrwg. For the return journey the timetable in the itinerary simply shows North Rhondda Halt depart 14:23, Tondu arrive 15:03. But of course, the train had to empty out at Cymmer Corrwg then proceed over the viaduct to Cymmer West Jn and propel back to Cymmer Afan station to pick up the passengers again. A number of passengers, myself included, thought it would be 'worth the risk' to remain on the train during this move - hence the multiple occupation of the toilets!


Photo Review
(all photos: David Pearson)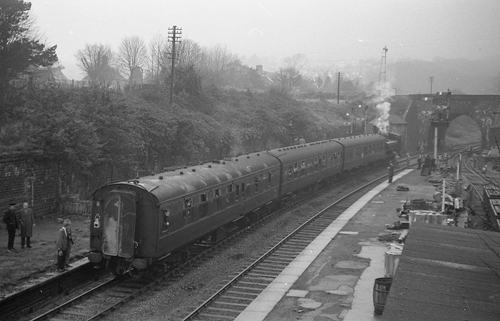 Neath Riverside station before leaving for Colbren Junction.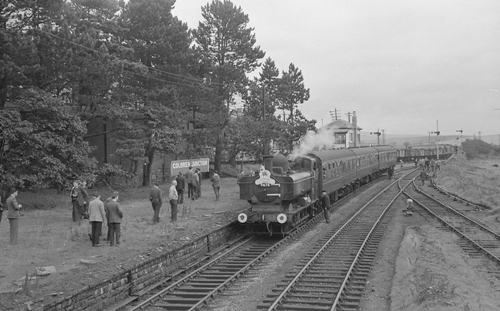 Colbren Junction after running round.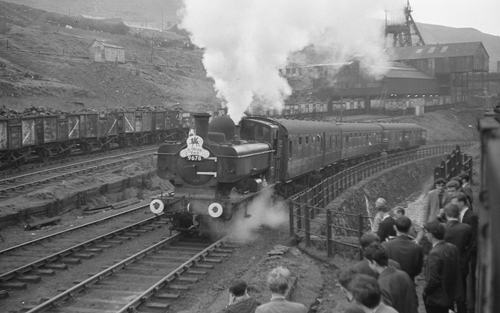 Abergwynfi Colliery.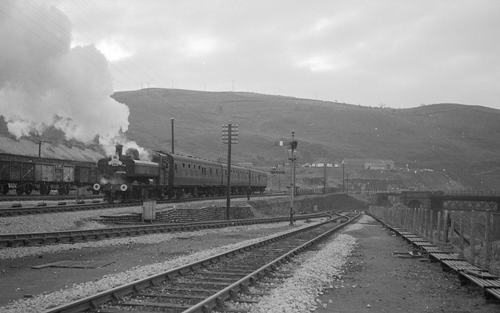 9678 propelling the stock from Cymmer Afan station towards Cymmer West Jn.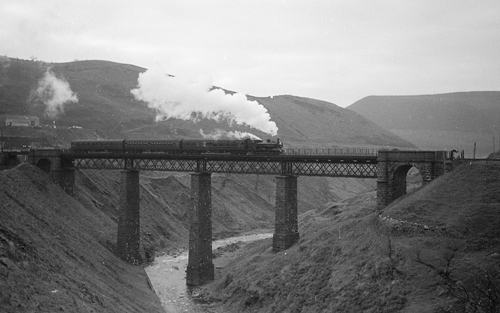 The empty train crossing the viaduct whilst running from Cymmer West Jn to Cymmer Corrwg.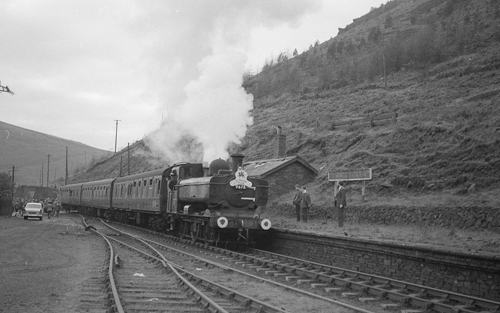 The ECS entering Cymmer Corrwg where the passengers rejoined the train.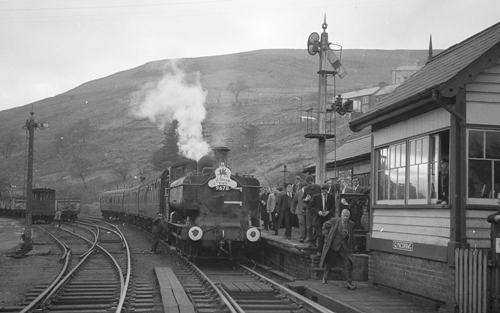 Train at Glyncorrwg. Here the loco ran round the train in order to propel it
the last 1 mile & 10 chains to North Rhondda Halt.

The train at North Rhondda Halt.


Timings (Booked Only)
(from Terry Jackson & John Debens)
| | | |
| --- | --- | --- |
| M.C | Location | Booked |
| 0.00 | Swansea | 09.40d |
| 4.11 | Felin Fran West Jn | ? |
| 6.00 | Lonlas Jn | ? |
| 8.16 | Jersey Marine South Jn | 10.08a ~ 10.20d |
| 11.10 | Neath & Brecon Jn (Riverside) | 10.25a ~ 10.35d |
| 22.23 | Colbren Jn | 11.17a ~ 11.27d |
| 33.35 | Neath & Brecon Jn (Riverside) | 11.50a ~ 11.55d |
| 33.72 | Neath Jn | 11.58a ~ 12.00d |
| 34.41 | Neath General | ? |
| 43.60 | Margam Moors | ? |
| 53.19 | Cefn Jn | ? |
| 55.64 | Tondu | 12.35a ~ 12.40d |
| 64.31 | Cymmer Afan | 13.05a ~ 13.10d |
| 67.29 | Abergwynfi | 13.17a ~ 13.30d |
| 70.27 | Cymmer Afan | 13.35a ~ 13.45d |
| 70.46 | Cymmer Corrwg | ? |
| 72.58 | Glyncorrwg | 13.55a ~ 14.05d |
| 73.68 | North Rhondda Halt | 14.13a ~ 14.23d |
| 85.76 | Tondu | 15.03a ~ 15.13d |
| 90.41 | Pontycymer | 15.32a ~ 15.42d |
| 90.54 | Victoria | ? |
| 91.05 | Blaengarw | 15.47a ~ 15.57d |
| 95.46 | Brynmenyn | 16.17a ~ 16.27d |
| 97.52 | Blackmill | 16.37a ~ 16.42d |
| 100.41 | Ogmore Vale North Box | 16.52a ~ 17.02d |
| 102.03 | Nantymoel | 17.10a ~ 17.20d |
| 115.04 | Pyle | 18/05 |
| 129.55 | Skewen East Jn | ? |
| 130.50 | Lonlas Jn | ? |
| 136.49 | Swansea High Street | 18.54a |