11th October 1964
Warwickshire Railway Society
York and Doncaster Tour
Route : at least 1X20
| | |
| --- | --- |
| Loco | Route |
| 35007 | Birmingham New Street - Water Orton - Burton-on-Trent - Derby - Ambergate South Jn - Crich Jn - Butterley - Codnor Park Jn - Clay Cross - Tapton Jn - Beighton Jn - Rotherham - Wath Road Jn - Pontefract - Church Fenton - York |
| 35007 | York - Selby - Doncaster - Mexborough - Swinton - Rotherham - (reverse of outward route) - Birmingham New Street |
Notes :
(1) There were visits to York (50A) shed, The Old Railway Museum at York, Doncaster (36A) Shed, and Doncaster Works (which had ceased work on steam, the only steam locos in the works were the Works service locos).
(1) 35007 was photographed on York MPD carrying a 1X20 headcode - was this used throughout?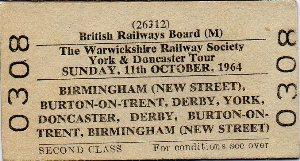 From The John Debens Ticket Collection.
Sources : John Clifford, Brian Basterfield (Locomotive Performance) & Steve Armitage



Timings (Booked & Actual)
(from Jeremy Hartill & Brian Basterfield)
| | | |
| --- | --- | --- |
| Location | Booked | Actual |
| Birmingham New Street | 08.10d | 08.13 |
| Water Orton | 08/28 | ? |
| Tamworth | 08/39 | |
| Burton-on-Trent | 09.03a ~ 09.05d | 09.11 ~ 09.13 |
| Derby Midland | 09.23a ~ 09.30d | 09.30 ~ 09.37 |
| Ambergate | 09/45 | ? |
| Crich Jn | ? | 09/54 |
| Butterley | 09/55 | ? |
| Codnor Park Jn | ? | 10/05 |
| Pye Bridge | 10/00 | ? |
| Clay Cross Jn | 10/18 | 10/24 |
| Chesterfield | 10/25 | ? |
| Tapton Jn | ? | 10/32 |
| Beighton Jn | 10/39 | |
| Rotherham Masborough | 10.53a ~ 10.59d | 11.01 ~ 11.07 |
| Wath Road Jn | ? | 11/18 |
| Moorthorpe | 11/25 | ? |
| Pontefract | 11/32 | 11/40 |
| Burton Salmon | 11/40 | ? |
| Church Fenton | 11/48 | 11/54 |
| York | 12.05a ~ 15.17d | 12.08 ~ 15.39 |
| Selby | 15/35 | 16/02 |
| Shaftholme Jn | 15/55 | ? |
| Doncaster | 16.02a ~ 19.10d | 16.23 ~ 19.15 |
| Swinton | ? | 19/37 |
| Rotherham Masborough | 19.38a ~ 19.44d | 19.47 ~ 19.53 |
| Tapton Jn | ? | 20/24 |
| Chesterfield | 20/16 | ? |
| Clay Cross Jn | 20/22 | 20/29 |
| Ambergate South Jn | 20/40 | 20/41 |
| Derby | 20.52a ~ 20.57d | 20.53 ~ 20.58 |
| Burton-on-Trent | 21.13a ~ 21.15d | 21.12 ~ 21.14 |
| Water Orton | 21/43 | 21/40 |
| Birmingham New Street | 21.58a | 22.03 |