3rd October 1964
Ian Allan
The Darlington Marquess Railtour
| | |
| --- | --- |
| Locos Used | 3442 (61994), 4472 (60103) & 62041 |
| Stock Used | 8 coaches |
Route : 1Z10 throughout
| | | |
| --- | --- | --- |
| Train | Loco(s) | Route |
| Main tour | 4472 | London Kings Cross - (via ECML) - Doncaster - Hare Park Jn - Crofton Jn - Goose Hill Jn - Whitehall Jn - Wortley Jn - Harrogate Line Jn - Harrogate |
| Portion | 3442 | Leeds City - Harrogate |
| Combined | 3442 + 4472 | Harrogate - Northallerton - Darlington Bank Top |
| Combined | 3442 (1) | Darlington Bank Top - Darlington North Road |
| Combined | 3442 | Darlington North Road - Darlington Bank Top - York |
| Portion | 3442 | York - Church Fenton - Leeds |
| Main train | 4472 | York - Selby - Doncaster - (via ECML) - London Kings Cross |
Notes :
(1) 62041 on rear.
David Whittaker comments: the train left Peterborough almost 20 minutes late on an 81 minute booking to King's Cross. Actual time taken was 68 minutes 12 seconds unchecked, with 68mph minimum on the climb to Stevenage and a quoted maximum for the run of 84mph through New Barnet, so regaining almost 13 minutes of lost time.
Sources : Terry Jackson & David Whittaker



Photo Review
(all photos: Paul Barrett)

3442 at Leeds City on the portion that was to join at Harrogate (photo: Paul Barrett)

4472 approaches Engine Shed Jn (Leeds) at noon (photo: Paul Barrett)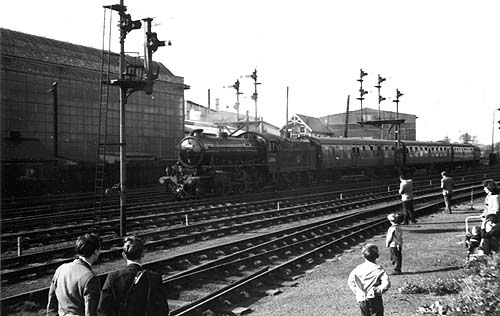 62041 seen here coming off the Barnard Castle (Stainmore) line at North
Road, having released 3442 for turning on the triangle (photo: Roy Lambeth)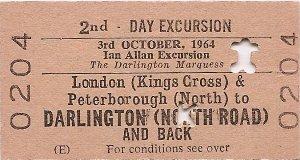 From The John Debens Ticket Collection.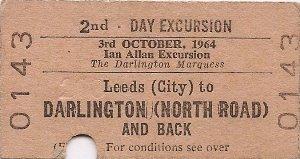 Timings (Booked & Actual)
(booked from Terry Jackson, actual from John Broderick)
| | | |
| --- | --- | --- |
| Location | Booked | Actual |
| Kings Cross | 08.00d | 08.01 |
| Potters Bar | ? | 08/21 |
| Huntingdon | ? | 09/09 |
| Peterborough North | 09.18a ~ 09.33d | 09.27½ ~ 09.41½ |
| Grantham | ? | 10/13 |
| Retford | ? | 10/26 |
| Newark | ? | 10/43½ |
| Doncaster | 11.00a ~ 11.02d | 11.03 ~ 11.10½ |
| Harrogate | 12.36 ~ 12.58d | 12.41 ~ 13.07 |
| Darlington Bank Top | 13.56a ~ 14.04d | 14.08 ~ 14.09 |
| Darlington North Road | 14.09a ~ 16.55d | 14.25 ~ 16.56 |
| Darlington Bank Top | ? | ??.??a ~ 17.04d |
| York | 18.03a ~ 18.17d | 18.07 ~ 18.22½ |
| Doncaster | ? | 19/01 |
| Retford | ? | 19/23 |
| Newark | ? | 19/41 |
| Grantham | ? | 20/06 |
| Peterborough North | 20.10a ~ 20.20d | 20.31 ~ ??.?? |
| Potters Bar | ? | 21/35 |
| Kings Cross | 21.41a | 21.49½ |