12th September 1964
Railway Correspondence and Travel Society (East Midlands Branch)
The Notts. & Lincs. Rail Tour
| | |
| --- | --- |
| Locos Used | D3619 or D3620 (2) & 44918 |
| Stock Used | booked for load 7 |
Route : 1X28 throughout
Loco(s)
Route
44918 (2)

Nottingham Midland - London Road Jn - (via goods lines) - Sneinton Jn - Carlton - Rolleston Jn - Newark Castle - Main Line Jn

D36xx (3)

Main Line Jn - Newark Northgate

44918

Newark Northgate - Claypole - Barkston North Jn - Barkston East Jn - Leadenham - Lincoln Central - West Holmes Jn - Boultham Jn - Greetwell Jn - Bardney - Woodhall Jn

44918
?(2)?

Woodhall Jn - Horncastle

44918

Horncastle - Woodhall Jn - Stickney - Bellwater Jn - Little Steeping - Firsby

44918
?(2)?

Firsby - Skegness

44918

Skegness - Firsby South Jn - Woodhall Jn - Greetwell Jn - Boultham Jn - Pyewipe Jn - Saxilby - Gainsborough Lea Road - Trent Jn - Sturton - Retford Flat Crossing - Worksop - Elmton & Cresswell - Shirebrook West - Mansfield Town - Hucknall Byron - Nottingham Midland
Notes :
(1) Many of the lines visited on this trip were on the Beeching 'hit list' with several already having closure notices posted.
(2) Running tender-first.
(3) The reversal at Newark involved the local diesel shunter. Originally uploaded as D3619, a document produced by the RCTS railtour committee after the tour listed the loco as D3620 - confirmation of the shunter identity is therefore now required. Max Birchenough adds: An instalment of Mystery Photos on the RCTS website ends with a sequence from this railtour. It is clear that the Black Five was detached from the train at Newark, and the 08 drew the train past it on the ECML.
Sources : David Hills, John Debens & Max Birchenough



Photo Review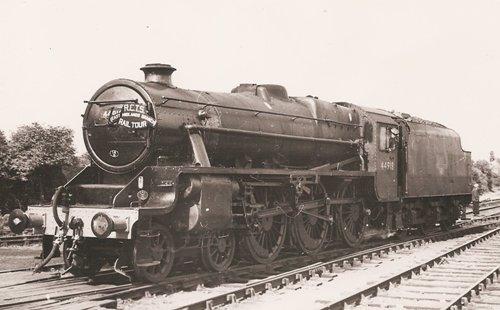 44918 at an unknown location (photo: The John Debens Collection)
Max Birchenough suggests this may be Woodhall Jn.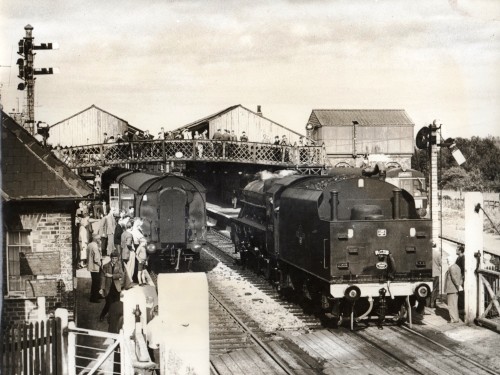 44918 running round at Firsby, prior to the run to Skegness
(photo: DB Swale/The John Debens Collection)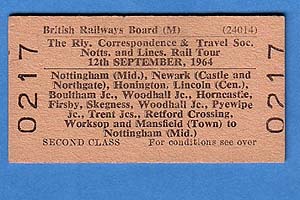 From Andrew Fairholm's ticket collection.


Timings (Booked & Actual)
(from Terry Jackson & John Debens)
| | | | |
| --- | --- | --- | --- |
| M.C | Location | Booked | Actual |
| 0.00 | Nottingham Midland | 11.25d | 11.25 |
| 0.20 | London Road Jn | 11/26 [GL] | 11/28 |
| 0.49 | Sneiton Jn | 11/30 [ML] | 11/31 |
| 3.12 | Carlton & Netherfield | 11/34 | 11/36 |
| 17.17 | Newark Castle | 11.54 ~ 11.56 | 11.58 ~ 12.02 |
| 18.00 | Newark Northgate | 12.04 ~ 12.14 | 12.25 ~ 12.27 |
| 27.77 | Barkston North Jn | 12/28 | 12/41 |
| 28.37 | Barkston East Jn | 12/31 | 12/43½ |
| 30.14 | Honington | 12/34 | 12/47 |
| 48.33 | Lincoln Central | 12w59~ 13w05 | 13.20 ~ 13.31½ |
| 49.13 | West Holmes | 13/07 | 13/35 |
| 49.43 | Boultham Jn | 13/10 | 13/36 |
| 51.77 | Greetwell Jn | 13/17 | 13/42 |
| 60.03 | Bardney | 13/29 | 13/56 |
| 66.23 | Woodhall Jn | 13.40 ~ 13.55 | 14.07½ ~ 14.17 |
| 73.53 | Horncastle | 14.15a ~ 14.35d | 14.38½ ~ 14.51 |
| 81.03 | Woodhall Jn | 14.55 ~ 14.57 | 15.08½ ~ 15.10 |
| 97.47 | Bellwater Jn | 15/22 | 15/32 |
| 101.30 | Firsby | 15.28 ~ 15.38 | 15.38½ ~ 15.48 |
| 110.54 | Skegness | 15.53a ~ 16.40d | 16.06 ~ 16.51½ |
| 119.78 | Firsby South Jn | 16/57 | 17/13 |
| 123.25 | Bellwater Jn | 17/03 | 17/18½ |
| 139.69 | Woodhall Jn | 17/25 | 17/40½ |
| 146.09 | Bardney | 17/35 | 17.54 ~ 17.54½ |
| 154.15 | Greetwell Jn | 17/52 | 18/13½ |
| 156.49 | Boultham Jn | 17/59 | 18/18½ |
| 156.78 | Pyewipe Jn | 18w01 ~ 18w08 | 18.20 ~ 18.31½ |
| 162.75 | Sykes Jn | 18/19 | 18/41 |
| 170.79 | Gainsborough Lea Road | 18/29 | 18.51 ~ 18.51½ |
| 171.43 | Trent Jn | 18/32 | 18/53½ |
| 176.31 | Clarborough Jn | 18/40 | 19/02½ |
| 180.38 | Retford | 18/52 | 19/08½ |
| 187.76 | Worksop | 19.13 ~ 19.20 | 19.21½ ~ 19.22½ |
| 188.76 | Shireoaks East Jn | 19/23 | 19/25 |
| 194.01 | Elmton & Cresswell | 19/35 | 19/34½ |
| 198.19 | Shirebrook West | 19.45 ~ 19.47 | 19.42 ~ 19.43½ |
| 202.59 | Mansfield Town | 19/55 | 19/54 |
| 205.07 | Sutton Jn | 19/59 | 19/59½ |
| 206.45 | Kirkby-in-Ashfield East | 20/01 | 20/05 |
| 211.40 | Hucknall Byron | 20/07 | 20/13½ |
| 217.51 | Radford | 20/18 | 20/25 |
| 219.06 | Mansfield Jn | 20/20 | 20/28 |
| 219.66 | Nottingham Midland | 20.22a | 20.30½ |