6th September 1964
R.C.T.S. (West Riding Branch)
West Riding Rail Tour
| | |
| --- | --- |
| DMU's Used | 51429+51499 & 51828+ (?) 59712 (?) + 51848 |
Route : 1F52 throughout
| | |
| --- | --- |
| DMU | Route |
| as listed | Bradford Exchange - Mill Lane Jn - St Dunstan's West Jn - Horton Park Jn - Great Horton - Queensbury - Thornton |
| as listed | Thornton - Horton Park Jn |
| as listed | Horton Park Jn - Bradford City Goods station |
| as listed | Bradford City Goods station - Horton Park Jn - St Dunstan's West Jn - St Dunstan's East Jn - Laisterdyke - Broad Lane Jn - Dudley Hill - Adwalton Jn - Batley |
| as listed | double reversal to get from Batley GN to Batley LNW station |
| as listed | Batley LNW - Thornhill LNW Jn - Mirfield - Heaton Lodge Jn - Deighton Jn - Red Doles Jn |
| as listed | Red Doles Jn - Newtown Yard |
| as listed | Newtown Yard - Red Doles Jn |
| as listed | Red Doles Jn - Huddersfield |
| as listed | Huddersfield - Red Doles Jn - Deighton Jn - Kirkburton |
| as listed | Kirkburton - Deighton Jn - Red Doles Jn - Huddersfield - Lockwood - Meltham Branch Jn - Meltham |
| as listed | Meltham - Meltham Branch Jn - Lockwood |
| as listed | Lockwood - Meltham Branch Jn - Brockholes - Holmfirth |
| as listed | Holmfirth - Brockholes |
| as listed | Brockholes - Shepley - Clayton West Jn - Clayton West |
| as listed | Clayton West - Clayton West Jn - Shepley (2) |
| as listed | Shepley - Clayton West Jn - Penistone - Barnsley Exchange Jn - Barnsley |
| as listed | Barnsley - Darton - Crigglestone West Jn - Horbury - Healey Mills - Thornhill Jn - Heckmondwike Jn - Low Moor - Bowling Jn -Laisterdyke - Idle - Shipley - Bradford Forster Square |
Notes :
(1) The DMU involved was a two car Metro Cammell & a three car BRCW set as detailed above (confirmation of centre car of the three car set is required). The original choice for the organisers had been a pair of Class 3F 'Jinties' and a Crab 2-6-0, in light of all the reversals the DMU was probably the better choice operationally.
(2) Clarification as to the precise reversal point is required - Shepley or, per the timing sheet, Clayton West Jn?
The Laisterdyke to Batley line had lost its passenger service the previous day.
Sources : David Hills (compiled from contemporary reports) & Robin Lush



Photo Review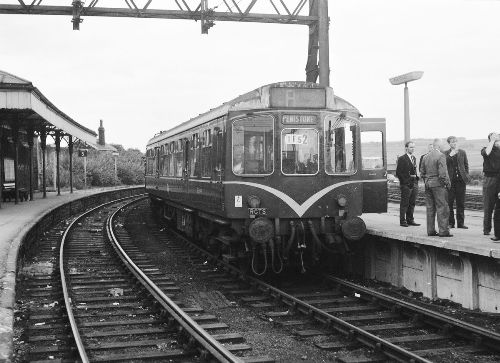 The tour, at Penistone with 51848 leading (photo: The Nigel Petre collection)

From Andrew Fairholms ticket collection.


Timings (Booked Only)
(from Robin Lush)
| | | |
| --- | --- | --- |
| M.C | Location | Booked |
| 0.00 | Bradford Exchange | 10.25d |
| 0.54 | St Dunstans West | 10/26 |
| 4.60 | Queensbury | 10.41a ~ 11.01d |
| 6.12 | Thornton | 11.06 ~ 11.15 |
| 10.64 | Horton Jn | 11.30 ~ 11.36 |
| 12.11 | Bradford City Road | 11.44 ~ 11.56 |
| 13.38 | Horton Jn | 12/04 |
| 14.35 | St Dunstans East | 12/09 |
| 15.64 | Laisterdyke | 12/14 |
| 20.51 | Adwalton Jn | 12/23 |
| 23.33 | Batley | 12.30 ~ 12.50 |
| 26.23 | Thornhill LNW Jn | 12/58 [SL] |
| 27.66 | Mirfield | 13.01 ~ 13.07 |
| 29.03 | Heaton Lodge Jn | 13/10 |
| 31.32 | Red Doles Jn | 13.15 ~ 13.23 |
| 32.52 | Newton Goods | 13.30 ~ 13.40 |
| 33.72 | Red Doles Jn | 13.47 ~ 13.53 [SL] |
| 34.16 | Hillhouse No.2 | 13.58 ~ 14.00 [FL] |
| 35.10 | Kirkburton Jn | 14/05 |
| 39.37 | Kirkburton | 14.27 ~ 14.40 |
| 43.64 | Kirkburton Jn | 15/02 [FL] |
| 45.63 | Huddersfield | 15.07 ~ 15.12 |
| 46.24 | Springwood Jn | 15/14 |
| 47.01 | Lockwood | 15.18 ~ 15.35 |
| 50.65 | Meltham | 15.42 ~ 15.55 |
| 54.49 | Lockwood | 16.02 ~ 16.10 |
| 57.62 | Brockholes | 16.17 ~ 16.30 |
| 59.47 | Holmfirth | 16.37 ~ 17.00 |
| 61.32 | Brockholes | 17/07 |
| 64.67 | Clayton West Jn | 17/23 |
| 68.24 | Clayton West | 17.31 ~ 17.55 |
| 71.61 | Clayton West Jn | 18.04 ~ 18.14 |
| 77.30 | Penistone | 18.26 ~ 18.36 |
| 84.55 | Barnsley | 18.50 ~ 19.00 |
| 91.51 | Crigglestone West | 19/17 |
| 93.53 | Horbury | 19/22 [SL] |
| 95.52 | Thornhill Middle Jn | 19/27 |
| 96.61 | Thornhill Jn | 19/32 |
| 99.23 | Heckmondwike Jn | 19/37 |
| 103.78 | Low Moor | 19/51 |
| 105.53 | Bowling Junction | 19/55 |
| 107.19 | Laisterdyke | 19/59 |
| 107.58 | Quarry Gap | 20/03 |
| 114.24 | Shipley | 20.23a ~ 20.25d |
| 117.09 | Bradford Forster Square | 20.32a |