30th August 1964
Lyons Maid
Zoom Specials - 4 trains
Locos Used
4472 'Flying Scotsman', 34042 'Dorchester', 60009 'Union of South Africa' & 92220 'Evening Star'
Stock Used
Set 1 : Maroon mark 1 rake
Set 2 : Maroon rake
Set 3 : Maroon mark 1's plus Gresley Buffet Car
Set 4 : ?????
Route :
| | | |
| --- | --- | --- |
| Loco | Stock | Route |
| 92220 | set 1 | London Paddington - Swindon |
| 92220 | set 1 | Swindon - London Paddington |
Route :
| | | |
| --- | --- | --- |
| Loco | Stock | Route |
| 4472 | set 2 | London Kings Cross - (via ECML) - York |
| 4472 | set 2 | York - (via ECML) - London Kings Cross |
Route :
| | | |
| --- | --- | --- |
| Loco | Stock | Route |
| 60009 | set 3 | Edinburgh Waverley - (via ECML) - York |
| 60009 | set 3 | York - (via ECML) - Edinburgh Waverley |
Route :
| | | |
| --- | --- | --- |
| Loco | Stock | Route |
| 34042 | set 4 | Bournemouth Central - Southampton - Eastleigh - Winchester - Basingstoke - Woking - Wimbledon - Clapham Junction - London Waterloo (2) |
| 34042 | set 4 | London Waterloo - (reverse of outward route) - Bournemouth Central |
Notes :
(1) These were four of a number of specials run by Lyons Maid Ice Cream to promote the 'Zoom' ice lolly. Route confirmation required.
(2) For visit to Clapham Railway Museum.
(3) Basil Hancock comments: I was a prize winner in the Lyons Maid Zoom ice lolly competition and was 11 years old at the time. 'Evening Star' hauled the train to and from Swindon, where we had a tour of the Railway Museum and then the Works. Highlights included a King on the scrap line, a visiting LNER V2, seeing Class 14 locos under construction (D9508 was almost complete at the time), diesel-hydraulics under overhaul, and seeing my first railbus (an AC Cars example).
(4) Kester Eddy comments: As I remember it, Lyons Maid originally advertised trips on seven specials they planned to run. You had to paint a lined picture of an A4 coming towards you to win - I did mine from copies put into the Eagle and Look and Learn. They were published in May/June 1964 in two consecutive issues of both magazines. Presumably in other kiddie's magazines too. Kester believes the other trains that may have run were;
| | | |
| --- | --- | --- |
| Date | Loco(s) | From - to (rtn) |
| ??/?? | ????? | South Wales or West Country to Swindon |
| ?06/09? | ????? | Liverpool/Manchester - York |
| ??/?? | ????? | ??? - ??? |
Sources : Mark Harrington, David Whittaker, Kester Eddy, Roger Aves, Richard Barber, Malcolm Best & Basil Hancock



Photo Review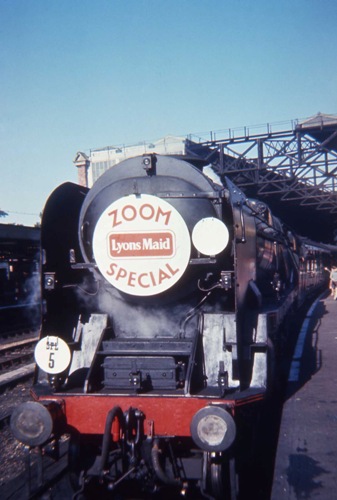 34042 at Bournemouth Central prior to the run to
London Waterloo (photo: Malcolm Best)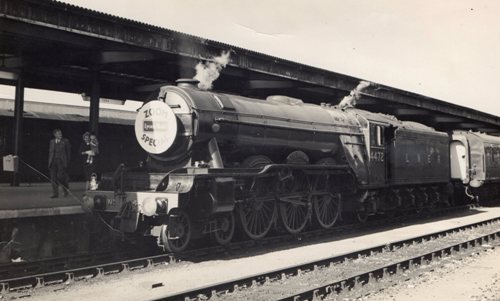 4472 'Flying Scotsman' on arrival at York (photo: The John Debens Collection)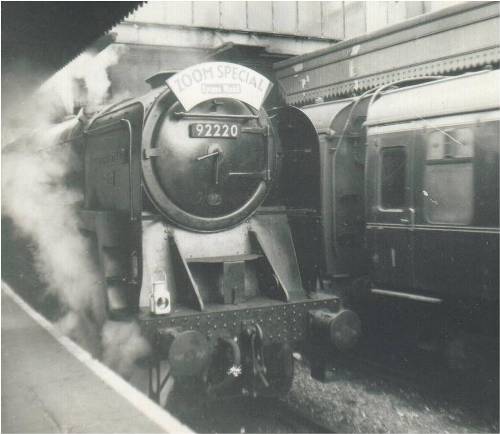 92220 'Evening Star' at London Paddington (photo: Basil Hancock)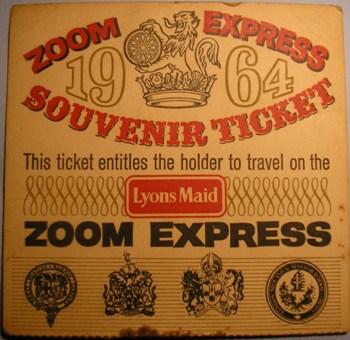 Dave Collins' train ticket.


Some memories of the day
by Richard Barber:
I was a lucky winner and was on the Edinburgh train from Darlington. Unfortunately I don't have the timings, but it was late morning from Darlington and return late afternoon. We where all taken as a group to the Railway museum followed by a walk round the city walls. I can remember being given my packed lunch by a Lyons Maid rep in the buffet car.
by Roger Aves:
I knew it was about 1963/4 (I was born in 1957) and Lyons Maid Zoom ice lolly did a competition to paint an A4 loco and I won a ticket to go from KX to York! I went on the train on my own (on the train were a whole load of kids with 'minders') and the loco was 4472! I am sure it had 2 tenders because I thought that was odd...it was in LNER green. We went to York railway museum for the day and back to London...it was a long day and my mum and dad dropped me off then collected me...can you imagine a few hundred seven year-olds now being allowed on a train by themselves? The stock was a maroon rake...don't know if they were mk1's but maybe...they were open coaches and they served us picnic boxes which were nice...lol! Many of the kids got rides on the footplate including me which was great...
by Kester Eddy:
The train left KX at around 09.00 - I remember having to get an early departure DMU from Bedford Midland. Going down, I am fairly sure we were shadowed by a light aeroplane for filming purposes. Somewhere north of Sandy on the down run, a steward (probably a railway enthusiast) announced we were doing 92mph, and he said something like; "Well, that is the fastest you will ever go," - which was rather myopic, given that Deltics were already doing 100mph in everyday service on the line. But never mind. When we got to York, c 13.00, we were taken around the (then) railway museum. It was a sunny day, and as I remember it, we got out at about 14.30. The stewards were a bit at a loss as to what to do, but at least two-three of us said; hey folks, we're off to bunk the shed. Which we promptly did. I remember it was the only time I saw any B16s. The train departed York at 16.00-16.30 time, arriving in KX sort of 19.15ish. Footnote; thinking about this many years later, I wondered, from a commercial/professional point of view, what Lyons Maid were up to. You had to paint the painting and send it in with two wrappers from Lyons Maid Zoom lollies which cost, at the time, I think 9d. You also do "cigarette" cards showing trains with the lolly. I think there were 50 cards, and I still have some (spares) stuck in my 1964 combined volume. They show, for example, the Midland Pullman, and A4 at Waverley, and 92220 Evening Star. But how on earth Lyons Maid could justify the huge outlay - seven special trains!!!!! - and other costs (such as judging the paintings, plus consolation prizes - I got some of those too) I do not know. Finally, from a marketing point of view - what on earth had steam trains to do with Zoom (i.e. rocket age!!) lollies. Anyway, if anyone from Lyons Maid ever gets to read this, thanks very much for wonderful trips!
Nick Pigott comments: I can answer the query about why Lyons Maid would run steam specials for a lolly associated with the space age. The answer was that inside the double-skinned wrapping of each rocket-shaped lolly at that time was a collectable Railway Locomotive card (exactly the same size as a cigarette card) with a description on the back. I think there were 50 in the series, ranging from the Rocket itself right up to modern forms of traction, and Lyons obviously thought the outlay on the trains would help promote the series and get kids buying the product. (It certainly worked in our house, for my brother and I were forever pestering mum to stop and buy us Zooms for just that reason! I think certain cards must have been distributed in certain areas of the country to make them rarer, as we had a holiday in Kent and got loads of cards we'd never seen before in our native Lincolnshire!!
by Dave Collins;
I was a winner of the colouring competition (at the ABC cinema, Beckenham, Kent) and my prize was a trip to Swindon from Paddington on, (I believe from studying your site) Sunday August 30 1964. I knew it was a Sunday, because we'd returned from a (steam hauled, Bulleids) holiday in Weymouth the day before, a Saturday. The loco was 92220 "Evening Star", maroon stock as far as I remember, we had a morning departure, my Dad took me and collected me from Paddington, I was 11 years old! We visited the Swindon Railway Museum, were taken from the station to the museum by coach, I remember passing lines of GW locos near the museum, can't remember much of the museum trip, or the steam hauled journey there and back, as my holiday trip home the day before shows, we thought nothing of a steam hauled mainline trip, and didn't realise the end of steam was only a few years away. I had the souvenir ticket for years afterwards, displayed on a mirror in my bedroom, wish I still had it.
by Malcolm Best;
This win provided my first steam run to Waterloo at age of 11.
The train was met at Waterloo by 'Mr Pastry' (Late Richard Hearne) who arrived in a Rolls Royce Silver Ghost.
Passengers went to Clapham Museum.