30th August 1964
British Rail (N.E.R.) / R. & E.R.P.S.
Cumbrian Scenic Tour
| | |
| --- | --- |
| DMU Used | 51961+51968+51971+59766+59775+59768+51980+51967 |
| Loco Used | on R&ER: 7 'River Esk' |
Route : 1X07 throughout (except on R&ER)
| | |
| --- | --- |
| Traction | Route |
| DMU as listed | Leeds City - Bradford Forster Square |
| DMU as listed | Bradford Forster Square - Shipley - Bingley - Keighley - Skipton - Colne - Burnley Central - Rose Grove - Accrington - Blackburn - Bamber Bridge - Preston - Lancaster - Carnforth - Ulverston - Barrow-in-Furness - Millom - Ravenglass |
| 7 | Ravenglass - Dalegarth |
| 7 | Dalegarth - Ravenglass |
| DMU as listed | Ravenglass - Sellafield - Whitehaven - Workington - Cockermouth - Keswick - Troutbeck - Penrith (3) |
| DMU as listed | Penrith - Shap - Tebay - Low Gill Jn - Kirkby Lonsdale - Ingleton - Clapham - Hellifield - Skipton - Keighley - Bingley - Shipley - Bradford Forster Square |
| DMU as listed | Bradford Forster Square - Leeds City |
Notes :
(1) The main train was an 8-car Trans-Pennine set specially augmented for the tour. With regards to actual timings Martin Weeks recorded that 'the booked times were kept throughout'.
(2) Martin Weeks also comments; there was time for a return trip on the Ravenglass and Eskdale Railway. On the return the DMU stopped at Cockermouth where a Jazz Festival was taking place. They had come on a special train from Carlisle double headed by two Ivatt 2-6-0s (46458 and 46434). After a short serenade we continued along the Workington to Keswick section which closed a couple of years later and also travelled on the Low Gill to Clapham line which had closed to passenger traffic in 1954 but accommodated occasional trains until 1966. Speed on that line was kept to about 30mph.
(3) It is unclear why the timing sheet showed Penrith as a passing time as a reversal was required and definitely took place there. however Martin Weeks suspects it may have been to indicate it was not a location for intended participants to join/leave the train.
Sources : Martin Weeks (travelled on the train, John Debens & Peter Robinson



Photo Review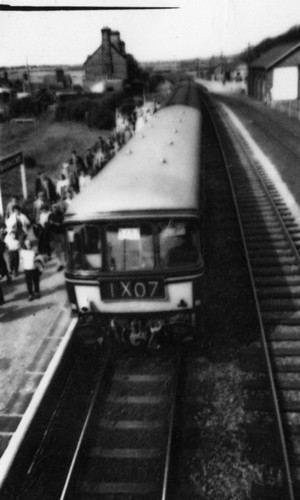 The DMU, during the break at Ravenglass
(photo: Martin Weeks)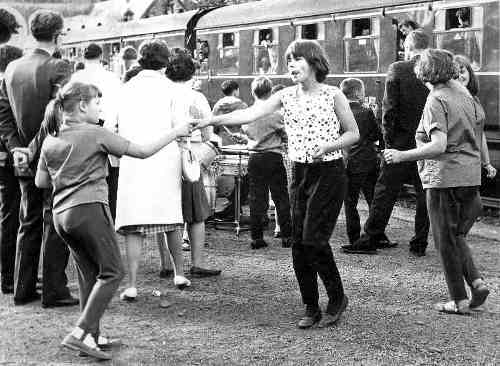 Al-fresco entertainment at Cockermouth; the train forming the backdrop
(photo: The Cumbrian Railways Association)


Timings (Booked Only)
(from Martin Weeks)
| | |
| --- | --- |
| Location | Booked |
| Leeds City | 09.20d |
| Bradford Forster Square | ??.??a ~ 09.45d |
| Shipley | ??.??a ~ 09.55d |
| Bingley | ??.??a ~ 10.00d |
| Keighley | ??.??a ~ 10.10d |
| Accrington | 11/00 |
| Preston | 11/30 |
| Carnforth | 12/05 |
| Ulverston | 12/35 |
| Barrow | 12/51 |
| Ravenglass | 13.33a ~ 13.40d |
| Dalegarth | 14.15a ~ 14.40d |
| Ravenglass | 15.25a ~ 16.05d |
| Workington | 16/50 |
| Cockermouth | 17/11 |
| Keswick | 17.31a ~ 19.05d |
| Penrith | 19/41 |
| Low Gill Jn | 20/09 |
| Ingleton | 20/46 |
| Hellifield | 21/07 |
| Keighley | 21.37a ~ ??.??d |
| Bingley | 21.46a ~ ??.??d |
| Shipley | 21.54a ~ ??.??d |
| Bradford Forster Square | 22.02a ~ ??.??d |
| Leeds City | 22.35a |