21st June 1964
The Locomotive Club of Great Britain
The North & West Limited Rail Tour
Locos Used
7029, 7808 & 46251
Stock Used (1)
Booked to be load 8, formed as;
BSK+SO+SO+SO+SO+RKB+SO+BSK
Route : 1X93 throughout
| | |
| --- | --- |
| Loco | Route |
| 7808 | London Paddington - (via GWML) - Swindon - Rodbourne Lane |
| 7808 | Rodbourne Lane - Swindon Works Yard (2) |
| 7029 | Swindon Works Yard - Severn Tunnel - Maindee East Jn - Maindee North Jn - Pontypool - Abergavenny - Hereford - Craven Arms - Coleham Jn |
| 46251 | Coleham Jn - Abbey Foregate Jn - Market Drayton Jn - Wellington - Birmingham Snow Hill - Tyseley - Hatton - Banbury - Aynho Jn - Princes Risborough - Greenford - London Paddington |
Notes:
(1) Originally advertised to be formed of 10 'mainly BR standard open type stock, with a restaurant buffet car' it was reduced to 8 coaches 'to reduce operating costs'. the covering letter sent out with the tickets explains that the tour did not in fact reach the required numbers but the LCGB committee decided still to run it, despite that being at a loss of over £250. it was further stated there would be a collection on the train and it was hoped tour participants, whilst giving was voluntary, would do so generously. Many tickets remained available as of the letter date (15th June) and it woudl also have been possible to buy tickets at the barrier on the day of the tour.
(2) For visit to works.
(3) Terry Jackson comments : At the time we were told that the driver on the Duchess was Johnson of Crewe North. Many years later I believe that he was Peter Johnson who wrote of his footplate career in his books Through The Links At Crewe. Anyone who has read those books will not be surprised to hear that the running of the Duchess on this tour was excellent although we had to make an unexpected stop at Banbury to offload a passenger who has been hit by a 'lump' of coal whilst hanging out of a window. I later met this passenger, John, who became one of the many good railway friends I made in the sixties and I was able to thank him for his spectacular exit from the train as the running got even better with a max of 93 below Bicester.
Sources : Terry Jackson, Adrian Vaughan, John Debens & Brian Halford



Photo Review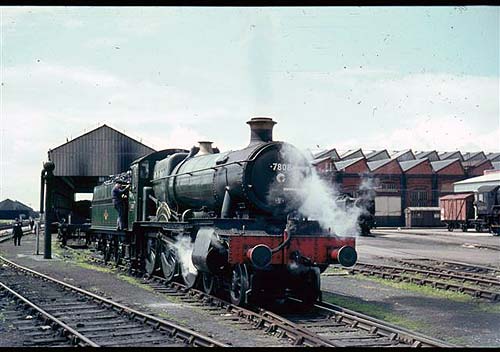 7808 at Swindon during the works visit (photo: Alan Sainty Collection)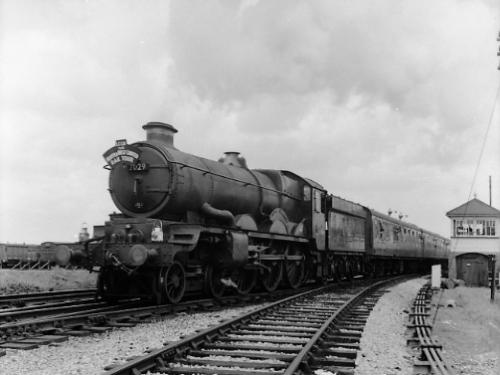 7029 passes Rushley Platt Jn at Swindon (photo: Adrian Vaughan collection)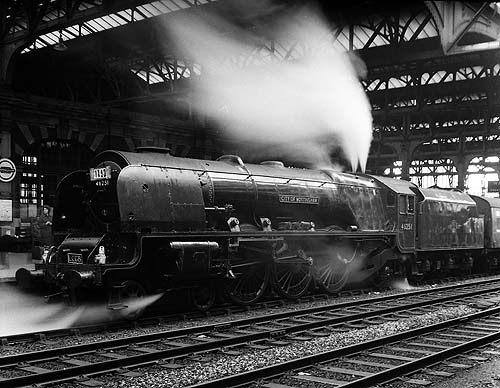 46251 at Birmingham Snow Hill (photo: Adrian Vaughan collection)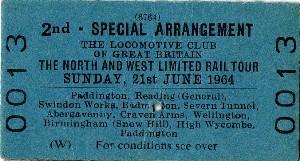 From The John Debens Ticket Collection.


Timings (Booked Only)
(from Terry Jackson)
| | | |
| --- | --- | --- |
| M.C | Location | Booked |
| 0.00 | Paddington | 09.15d |
| 0.75 | Subway Jn | [ML] |
| 1.20 | Westbourne Park | 09/19½ |
| 3.53 | Friars Jn | [RL] |
| 8.58 | Southall East Jn | [ML] |
| 9.06 | Southall | 09/32 |
| 18.36 | Slough | 09/42 |
| 18.68 | Slough West | RL |
| 24.19 | Maidenhead | 09/51 |
| 31.01 | Twyford | 09/59 |
| 31.54 | Twyford West | [ML] |
| 35.78 | Reading General | 10.06a ~ 10.08d |
| 53.10 | Didcot | 10/29 |
| 56.42 | Steventon | 10/32 |
| 66.43 | Uffington | 10/41 |
| 77.24 | Swindon | 10*55 ~ 10*57 |
| 78.44 | Rodbourne Lane | 11/02 |
| ??.?? | Swindon Works Yard | 11.12a ~ 12.45d |
| 78.44 | Rodbourne Lane | 12L53 ~ 13L00 |
| 84.10 | Wootton Bassett | 13/09 |
| 95.41 | Hullavington | 13.22 ~ 13.25 |
| 101.21 | Badminton | 13/37 |
| 112.76 | Stoke Gifford | 13/50 |
| 114.25 | Patchway | 13/52 |
| 123.78 | Severn Tunnel West | 14/05 |
| 124.67 | Severn Tunnel Junction | 14/07 |
| 133.72 | Maindee East Jn | 14/19 |
| 134.32 | Maindee North Jn | 14/21 |
| 139.12 | Llantarnam Jn | 14/29 |
| 143.23 | Pontypool Road | 14w37a ~ 14w42d |
| 152.59 | Abergavenny (Monmouth Road) | 14p55a ~ 15p10d |
| 156.60 | Llanvihangel | 15/22 |
| 164.18 | Pontrilas | 15/30 |
| 173.32 | Red Hill Jn | 15/40 |
| 176.57 | Hereford (Barton) | 15/50 |
| 178.34 | Shelwick Jn | 15/57½ |
| 189.24 | Leominster | 16/10 |
| 195.49 | Woofferton | 16/18 |
| 200.17 | Ludlow | 16/24 |
| 207.64 | Craven Arms | 16p35a ~ 16p45d |
| 208.20 | Craven Arms Crossing | 16/48 |
| 214.76 | Church Stretton | 17/04 |
| 227.07 | Coleham Jn | 17L29 ~ 17L39 |
| 227.64 | Abbey Foregate Jn | 17/42 |
| 237.42 | Wellington | 17/53 |
| 247.78 | Cosford | 18p06a ~ 18p16d |
| 257.09 | Wolverhampton Low Level | 18w30a ~ 18w37d |
| 266.23 | Handsworth Jn | 18/53 |
| 269.39 | Birmingham Snow Hill | 18/59 |
| 272.65 | Tyseley | 19/04 |
| 279.75 | Knowle & Dorridge | 19/11 |
| 286.56 | Hatton | 19/17 |
| 292.64 | Leamington Spa | 19/22 |
| 312.54 | Banbury | 19/43 |
| 317.59 | Aynho Jn | 19/59 |
| 322.76 | Ardley Halt | 20/05 |
| 336.08 | Ashendon Jn | 20/17 |
| 345.38 | Princes Risborough | 20/28 |
| 253.48 | High Wycombe | 20/39 |
| 370.07 | Northolt Jn | 20/57 |
| 372.28 | Greenford | 20/59 |
| 376.70 | Old Oak Common West | 21/04 [RL] |
| 378.72 | Westbourne Park | 21/07 |
| 380.12 | Paddington | 21.14a |