7th June 1964
Home Counties Railway Society
Somerset & Dorset
| | |
| --- | --- |
| Locos Used | 7023 'Penrice Castle', 7025 'Sudeley Castle' (1), 35005 'Canadian Pacific' (2), 53807 & 44558 |
Route : 1X05 throughout
| | |
| --- | --- |
| Loco(s) | Route |
| 35005 (2) | London Waterloo - Clapham Junction - Hampton Court Jn - Woking - Basingstoke - Winchester - Eastleigh - St Denys - Southampton - Brockenhurst - Bournemouth Central |
| 44558 + 53807 | Bournemouth Central - Broadstone - Bailey Gate - Blandford Forum - Evercreech Junction - Shapwick - Highbridge |
| 44558 + 53807 | Highbridge - Shapwick - Evercreech Junction |
| 44558 + 53807 | Evercreech Junction - Radstock North - Bath Green Park |
| 7023 | Bath Green Park - Bitton - Mangotsfield Park - Yate - Charfield - Standish Jn - Gloucester Eastgate |
| 7023 | Gloucester Eastgate - Engine Shed Jn |
| 7025 (1) | Engine Shed Jn - Gloucester Eastgate - Standish Jn - Stroud - Swindon - (via GWML) - London Paddington |
Notes :
(1) Was booked for 4079 'Pendennis Castle' but this had been condemned a month before the tour.
(2) Was originally uploaded as 35001 in error.
(3) Formed in 1955 and originally known as the 'Middlesex Loco Spotters Club', their name was changed in the late 1950's to the 'Home Counties Railway Club' then in January 1963 it changed again, to the 'Home Counties Railway Society'.
Sources : Tony Wray (Semaphore Online), John Clifford, Keith Mapley,
Ron Walker, Terry Dorrity & John Debens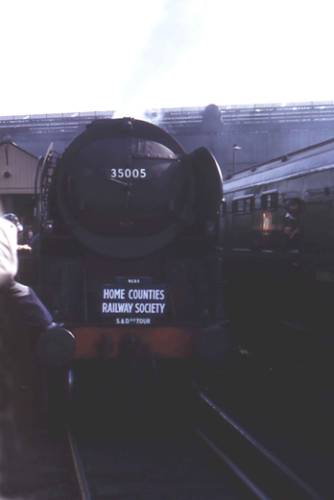 35005 waits to leave London Waterloo
(photo: Terry Dorrity)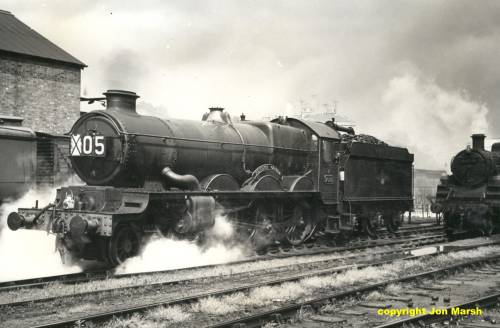 7023 captured before going on the train at Bath Green Park (photo: Jon Marsh)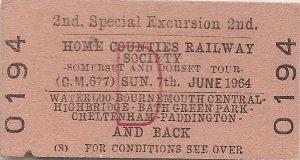 From The John Debens Ticket Collection.


Timings (Booked & Actual)
(from John Debens & Ron Walker)
Miles
Location
Booked
Actual
0
Waterloo
08.54d
08.54
4
Clapham Junction
09/01
09/01
6¾
Wimbledon
Hampton Court Jn
09/14
09/11
24¼
Woking
09/22
09/21
47¾
Basingstoke
09/45
09/42
66½
Winchester
09/59
09/58½
73½
Eastleigh
10/06
10/04
79¼
Southampton Central
10w15 ~ 10w19
10.13 ~ 10.18
92¾
Brockenhurst
10/36
10/38
108
Bournemouth Central
10L54a ~ 11L04d
10.53 ~ 11.06
113¾
Poole
11/16
11/18
117¼
Broadstone
11/23
11/23
?
Corfe Mullen
11/29
11/33
128¼
Blandford Forum
11/38
11/42
133¾
Shillingstone
11/47
11/49
136¾
Sturminster
11/52
11/53
140¾
Stalbridge
11/58
11/58
144
Templecombe Junction
12p06a ~ 12p20d
12.07 ~ 12.09
147½
Wincanton
12/27
12/14
151¾
Cole
12/36
12/22
154½
Evercreech Junction
12w40a ~ 12w50d
12.27 ~ 12.51
159½
West Pennard
13/07
13/05
164¾
Glastonbury & Street
13/15
13/14
167½
Ashcott
13/21
13/20
169½
Shapwick
13/25
13/25
171¾
Edington Burtle
13/29
13/28
175½
Bason Bridge
13/37
13/36
176¾
Highbridge
13p40a ~ 13p55d
13.38 ~ 14.05
178
Bason Bridge
13/58
14/09
180¾
Edington Burtle
14/05
14/16
184
Shapwick
14/11
14/21
186
Ashcott
14/15
14/24
188¾
Glastonbury & Street
14/22
14/30
193½
West Pennard
14/30
14/40
198½
Evercreech Junction
14p45a ~ 15p00d
14.54 ~ 15.09
208
Binegar
15/23
15/37
214¼
Radstock North
13/31
15/48
220¾
Midford
13/40
15/55
225
Bath Green Park
15L45a ~ 16L05d
16/02 ~ 16.15
235
Mangotsfield
16/22
16/34
240¼
Yate
16/28
16/48
246¾
Charfield
16/34
16/49
254
Berkeley Road
16/39
16/50
?
Standish Jn
16/46
16/53
269
Gloucester Eastgate
16p55a ~ 17p10d
17.04 ~ 17.13
270
Engine Shed Jn
17L13 ~ 17L20
17.15 ~ 17.27
271
Gloucester Eastgate
17/23
15/30
283¼
Stroud
17/36
17/48
294½
Kemble
18/01
18/16
?
Loco Yard
18/17
18/27
308½
Swindon
18w19 ~ 18w34
18.34 ~ 18.47
320
Uffington
18/47
19/03
330
Steventon
18/57
19/12
?
Foxhall Jn
[ML]
19/14
333¼
Didcot
19/00
19/15
345
Pangbourne
19/10
19/24
350½
Reading General
19/18
19/28
355½
Twyford
19/24
19/35
361¼
Maidenhead
19/31
19/43
367
Slough
19/36
19/50
376½
Southall
19/45
20/03
384¼
Westbourne Park
19/54
20/12
385½
Paddington
19.59a
20.15