6th June 1964
L.C.G.B.
The North Countryman Rail Tour
| | |
| --- | --- |
| Locos Used | 45721 'Impregnable', 60051 & 60923 |
Route : at least 1X46
| | |
| --- | --- |
| Loco | Route |
| 45721 | London St Pancras - (MML, via Bedford station avoiding line) - Leicester - Trent - Trowell - Chesterfield - Sheffield Midland - Chapeltown - Cudworth - Normanton - Altofts Jn - Whitehall Jn |
| 60923 | Whitehall Jn - Skipton - Ais Gill - London Road Jn - Upperby New Jn (No.13 Box) - Shap - Low Gill - Settle Jn - Skipton - Leeds City |
| 60051 | Leeds City - Engine Shed Jn - Normanton - Goose Hill Jn - Turners Lane Jn - Crofton - West Jn - Hare Park Jn - Doncaster - London Kings Cross |
Notes :
(1) Headcode believed to have been 1X46 throughout (taken from published, un-dated, photograph of 45721 at St Pancras believed to have been of this tour and also a photo of 60923 passing through Long Preston carrying the same 1X46 headcode).
Sources : Terry Jackson, Gary Thornton & Steve Armitage



Photo Review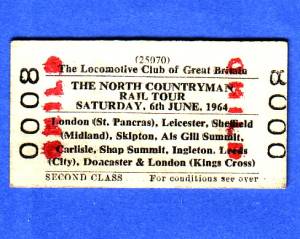 From Andrew Fairholms ticket collection.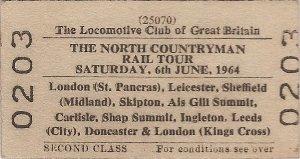 From The John Debens Ticket Collection.


Timings (Booked Only)
(from Terry Jackson)
| | | |
| --- | --- | --- |
| M.C | Location | Booked |
| 0.00 | St Pancras | 08.10d |
| 3.44 | Finchley Road | 08/17½ |
| 6.78 | Hendon | 08/22 |
| 19.71 | St Albans City | 08/35 |
| 30.20 | Luton Midland Road | 08/44½ |
| 49.65 | Bedford Midland Road | 09/00½ |
| 59.51 | Sharnbrook Summit | 09/10 |
| 65.05 | Wellingborough Midland Road | 09/18½ |
| 72.02 | Kettering | 09/25 |
| 78.39 | Desborough North | 09/33½ |
| 82.75 | Market Harborough | 09/38 |
| 89.60 | Kibworth North | 09/44½ |
| 95.72 | Wigston North Jn | 09/50½ |
| 99.06 | Leicester London Road | 09.55a ~ 09.57d |
| 103.63 | Syston | 10/04 |
| 111.46 | Loughborough Midland | 10/11 |
| 119.65 | Trent | 10/23 |
| 125.14 | Trowell | 10/33 |
| 133.38 | Pye Bridge | 10/51 |
| 139.04 | Morton Sidings | 11/02 |
| 142.19 | Clay Cross | 11/07 |
| 146.20 | Chesterfield Midland | 11/12 |
| 151.44 | Dronfield | 11/21 |
| 154.20 | Dore & Totley | 11/25 |
| 158.41 | Sheffield Midland | 11w32a ~ 11w38d |
| 161.60 | Wincobank Station Jn | 11/44 |
| 165.77 | Chapeltown South | 11/52 |
| 172.27 | Monk Spring Jn | 12/03 |
| 175.08 | Cudworth | 12/10 |
| 185.11 | Normanton | 12/27 |
| 186.00 | Altofts Jn | 12/29 |
| 195.25 | Engine Shed Jn | 12/42 |
| 195.55 | Whitehall Jn | 12L44a ~ 12L54d |
| 205.63 | Shipley Leeds Jn | 13/09 |
| 212.06 | Keighley | 13/17 |
| 220.07 | Skipton Snaygill SB | 13/27 |
| 222.21 | Skipton | 13/29 |
| 231.22 | Hellifield | 13/43 |
| 234.42 | Settle Jn | 13/47 |
| 248.42 | Blea Moor | 14/09 |
| 259.57 | Ais Gill | 14/22 |
| 277.22 | Appleby West | 14/39 |
| 306.54 | Durran Hill Jn | 15/09 |
| 307.15 | Petteril Bridge Jn | 15/10 |
| 307.38 | Carlisle No.7 | 15/13 |
| 308.07 | Carlisle No.13 | 15w20a ~ 15w28d |
| 319.58 | Plumpton | 15/47 |
| 324.49 | Penrith | 15/52 |
| 338.24 | Shap Sumit | 16/12 |
| 343.60 | Tebay | 16/18 |
| 347.75 | Low Gill | 16/23 |
| 351.78 | Sedbergh | 16/30 |
| 358.20 | Barbon | 16/40 |
| 361.47 | Kirkby Lonsdale | 16/48 |
| 366.62 | Ingleton Midland | 16/58 |
| 370.79 | Clapham | 17/11 |
| 378.37 | Settle Jn | 17/22 |
| 381.57 | Hellifield | 17/26 |
| 391.58 | Skipton | 17w39a ~ 17w44d |
| 392.72 | Skipton Snaygill SB | 17/47 |
| 400.73 | Keighley | 17/55 |
| 407.16 | Shipley Leeds Jn | 18/02 |
| 417.24 | Whitehall Jn | 18/15 |
| 417.72 | Leeds City North | 18L17a ~ 18L30d |
| 427.73 | Altofts Jn | 18/45 |
| 428.62 | Normanton | 18/47 |
| 431.24 | Turners Lane | 18/53 |
| 431.76 | Whithams Sidings | 18*56a ~ 18*57d |
| 433.38 | Crofton West Jn | 19/00 |
| 434.69 | Hare Park Jn | 19/04 |
| 442.13 | South Elmsall | 19/17 |
| 446.04 | Adwick Jn | 19/21 |
| 449.09 | Bentley Crossing | 19/24 |
| 450.48 | Doncaster | 19/26 |
| 467.76 | Retford | 19/49 |
| 486.37 | Newark North Gate | 20/05 |
| 496.69 | Barkston South Jn | 20/14 |
| 501.07 | Grantham | 20/18 |
| 506.37 | Stoke | 20/23 |
| 517.73 | Essendine | 20/32 |
| 527.05 | Werrington Jn | 20/42 |
| 530.16 | Peterborough North | 20w47a ~ 20w52d |
| 547.55 | Huntingdon North | 21/14 |
| 562.35 | Sandy | 21/27 |
| 574.51 | Hitchin | 21/39 |
| 581.42 | Knebworth | 21/46 |
| 588.71 | Hatfield | 21/52 |
| 593.68 | Potters Bar | 21/57 |
| 604.04 | Finsbury Park | 22/07 |
| 606.45 | Kings Cross | 22.12a |