30th May 1964
R.C.T.S.
The North Staffordshire Rail Tour
| | |
| --- | --- |
| Loco Used | 45020 |
| Stock Used | 6 coaches all ex-LMS |
Route : 1X24 throughout
Loco
Route
45020

Birmingham Snow Hill - Wolverhampton Low Level - Wellington - Market Drayton - Keele - Silverdale - Stoke-on-Trent - Cresswell - Uttoxeter West Jn - Uttoxeter North Jn - Rocester - Oakamoor - Leek Brook South Jn - Bradnop - Caldon Quarry (1)

45020

Caldon Quarry -

Bradnop - Leek Brook

Jn - Milton Jn -

Stoke-on-Trent

- Etruria - Etruria Jn - Hanley - Tunstall - Kidsgrove Liverpool Road -

Kidsgrove Jn - Kidsgrove Liverpool Road

45020

Kidsgrove

Liverpool

Road -

Longport -

Stoke-on-Trent

- Milton Jn - Biddulph -

Congleton Lower Jn

45020

Congleton Lower Jn -

Milton Jn - Stoke-on-Trent

45020

Stoke-on-Trent -

Stone - Hixon - Colwich - Rugeley Trent Valley - Cannock - Ryecroft Jn - Walsall - Pleck Jn - Bescot - Great Barr - Perry Barr

North Jn - Handsworth - Soho Road - Soho East Jn - Monument Lane - Birmingham New

Street
Note :
(1) Tour itinerary suggests the train was to stop 'just short of' Caldon Quarry with a comment 'we reverse at Caldon Low (we have no choice) and retrace our steps'. David Wignall comments: I am unable, especially after all this time to say how far short of the end of the line the tour train went at Caldon Quarry. It must have been yards or at least hundreds of yards and certainly not miles. I have a photograph of the train at (or nearly at?) the quarry and the background looks 'quarryish' so I am unable to help further on this.
(2) Reported as carrying heacode 1Z24 throughout however photographic evidence (below) suggests it may actually have been 1Z24?
Sources : David Hills (compiled from contemporary reports) & David Pearson



Photo Review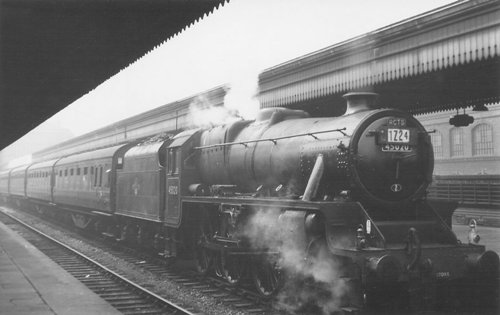 45020 at Birmingham Snow Hill at the start of the day, showing headcode 1Z24
(photo: J.F.Henton/The John Debens Collection)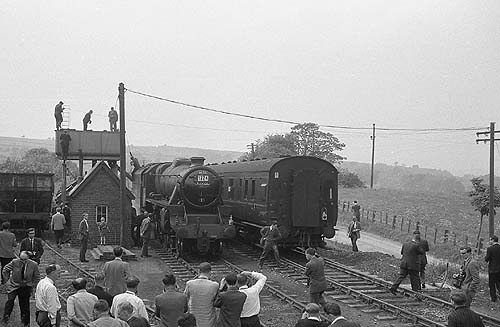 45020 taking water before running round at Caldon Quarry (photo: David Pearson)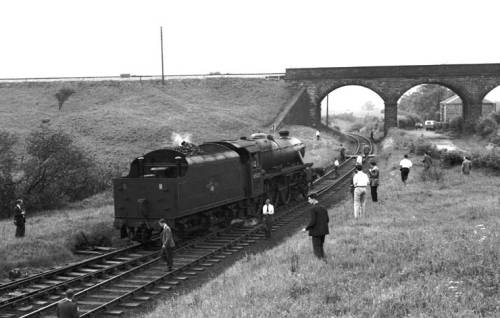 45020 at Congleton Lower Jn, (photo: late Bernard Holland courtesy of Mark
Smith, ref BH4/19 - courtesy of www.black5photos.co.uk)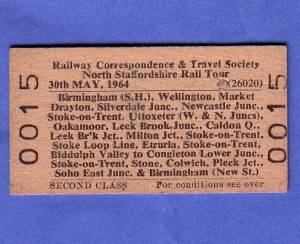 From Andrew Fairholms ticket collection.


Timings (Booked & Actual)
(from Terry Jackson, John Debens & David Wignall)
| | | | |
| --- | --- | --- | --- |
| M.C | Location | Booked | Actual |
| 0.00 | Birmingham Snow Hill | 10.30d | 10.30 |
| 3.24 | Handsworth Jn | 10/36 | 10/37 |
| 12.38 | Wolverhampton Low Level | 10/50 | 10/51 |
| ? | Cosford | 11/02 | 11/03 |
| ? | Wellington | 11/14 | 11.16 ~ 11.17 |
| ? | Wellington No.4 SB | 11/15 | 11/19 |
| 49.29 | Market Drayton | 11/40 | 11/41 |
| ? | Silverdale Jn | 11/42 | 11/43 |
| ? | Pipe Gate | 11/54 | 11/53 |
| 62.14 | Silverdale | 12/09 | 12/10 |
| 64.42 | Newcastle | 12/14 | 12/16 |
| ? | Hartshill | 12/16 | ? |
| ? | Newcastle Jn | 12/19 | 12/19 |
| 66.11 | Stoke-on-Trent | 12.21a ~ 12.26d | 12.23 ~ 12.29 |
| 73.36 | Cresswell | 12/42 | 12/44 |
| ? | Uttoxeter West Jn | 12/57 | 12/59 |
| ? | Uttoxeter North Jn | 12/59 | 13/01 |
| 86.48 | Rocester | 13/07 | 13/11 |
| ? | Alton Towers | 13/14 | 13/18 |
| 92.30 | Oakamoor | 13/17 | 13/21 |
| 94.73 | Kingsley & Froghall | 13/22 | 13/25 |
| ? | Cheddleton | 13/29 | 13/32 |
| 100.27 | Leek Brook Jn | 13/32 | 13/35 |
| ? | Ipstones | 13/43 | 13/53 |
| 107.67 | Caldon Quarry | 13.55a ~ 14.10d | 14.02 ~ 14.18 |
| ? | Ipstones | 14/19 | 14/33 |
| 115.07 | Leek Brook Jn | 14/25 | 14/45 |
| 121.48 | Milton Jn | 14/40 | 15/00 |
| ? | Stoke-on-Trent | 14/48 | 15.25 ~ 15.30 |
| ? | Etruria | 14/51 | 15/32 |
| ? | Tunstall | 15/01 | 15/41 |
| 134.45 | Kidsgrove Liverpool Road | 15.10a ~ 15.20d | 15.55 ~ 16.04 |
| 134.72 | Kidsgrove Central | 15/23 | 16.07 ~ 16.11 |
| ? | Etruria | 15/31 | 16/20 |
| ? | Stoke-on-Trent | 15/34 | 16/22 |
| ? | Berry Hill | 15/38 | ? |
| ? | Botteslow | 15/55 | 16/26 |
| 145.13 | Milton Jn | 16/00 | 16/31 |
| ? | Biddulph | 16/14 | 16/47 |
| 153.58 | Congleton Lower Jn | 16.22a ~ 16.35d | 17.04 ~ 17.19 |
| ? | Biddulph | 16/43 | 17/33 |
| ? | Milton Jn | 16/57 | 17/47 |
| 166.35 | Stoke-on-Trent | 17.05a ~ 17.15d | 18.00 ~ 18.15 |
| 173.41 | Stone | 17/25 | 18/29 |
| 185.08 | Colwich | 17/51 | 18/42 |
| 187.77 | Rugeley Trent Valley | 17/55 | 18/50 |
| ? | Hednesford | 18/15 | 19/02 |
| 203.18 | Walsall | 18/39 | 19/20 |
| 204.01 | Pleck Jn | 18/41 | ? |
| ? | Bescot | 18/44 | ? |
| 209.18 | Perry Barr North Jn | 18/51 | ? |
| 209.48 | Handsworth Jn | 18/53 | 19/30 |
| 211.56 | Soho East Jn | 18/57 | 19/34 |
| 212.48 | Harborne Jn | 18/59 | 19/36 |
| 213.74 | Birmingham New Street | 19.04a | 19.41 |