30th May 1964
???
(Troop Train)
| | |
| --- | --- |
| Loco(s) Used | at least 46250 |
| Stock Used | 10 coaches |
Route : 1X68 (?throughout?)
| | |
| --- | --- |
| Loco(s) | Route |
| ????? | ??? - Preston - ??? |
Note :
(1) Loco & route confirmation required - seen entering Preston behind 46250. Originally uploaded as running from Euston via Preston to Weymss Bay, Arthur Haymes questions the direction as he photographed 46250 on this date passing south on the up fast line through Farington Curve Jn (just south of Preston). Was the train from Weymss Bay to Euston?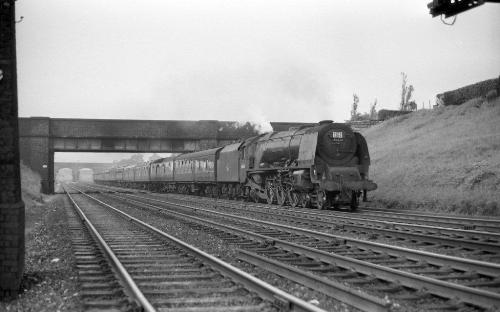 45250 heading south past Farington Curve Jn (photo: Arthur Haymes)
Sources : Kevin Driscoll (from contemporary reports) & Arthur Haymes



Back to "The Railtour Files"