23rd May 1964
Stephenson Locomotive Society (Teeside Branch)
The South Durham Limited
| | |
| --- | --- |
| Loco Used | 43129 |
| Stock Used | 6x fitted Brake Vans |
Route : at least 2Z20
| | |
| --- | --- |
| Loco | Route |
| 43129 | Darlington - North Road - Stooperdale Jn - Piercebridge - Forcett Jn - Eppleby - Forcett, Valley Jn (New Quarry Sidings) |
| 43129 | Forcett, Valley Jn (New Quarry Sidings) - Eppleby - Forcett Jn - Piercebridge - Stooperdale Jn - Charity Jn - Shildon - Shildon North - Fieldon Bridge Jn - Spring Gardens Jn - Randolph Colliery Sidings |
| 43129 (1) | Randolph Colliery Sidings - Spring Gardens Jn - Fieldon Bridge SB - Shildon North |
| 43129 | Shildon North - Bishop Auckland - Etherley - Wear Valley Junction - Crook - Tow Law |
| 43129 | Tow Law - Crook - Wear Valley Junction - Etherley - Bishop Auckland - Coundon - Spennymoor - Ferryhill No.1 |
| 43129 (1) | Ferryhill No.1 - Coxhoe West Hetton |
| 43129 | Coxhoe West Hetton - Ferryhill - Sedgefield - Stillington North Jn - Redmarshall South Jn - Bowesfield (Tees Bridge Sidings) |
| 43129 | Bowesfield (Tees Bridge Sidings) - Eaglescliffe - Oak Tree Jn - Fighting Cocks - Parkgate Jn - Darlington |
Note :
(1) Loco propelling.
(2) Tony Davies adds: Leaving Darlington 8 minutes late, the engine ran tender-first to Forcett, Valley Junction (run round), so as to, later, tackle the stiff climb to Tow Law boilerfirst. Water should have been taken at Wear Valley Junction, but, as none was available there, a quick top up was made at Bishop Auckland, outward. At Tow Law the engine ran round and, after traversing the Spennymoor line, the engine then propelled the vans to Coxhoe West Hetton. A disappointment on the run from Ferryhill to was the inability to enter the loop at Sedgefield so as to take water from the distinctive N.E. tank then at that location. At Tees Bridge sidings (at Bowesfield, between the former S&DR and the lines to Thornaby), the engine ran round, reversed to down passenger line and then forward to up goods line (Note the goods lines at Eaglescliffe were not realigned until the 1968/9 winter). About 16 minutes late away, 56mph was clocked after Urlay Nook before taking the former S&D line to Park Gate (East Curve) Junction, thence to Darlington Bank Top. We were home early anyway!
(3) 43129 was photographed at Forcett Jn carrying headcode 2Z20 - was this headcode used throughout?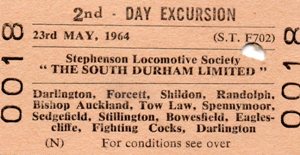 From The John Debens Ticket Collection.
Sources : David Whittaker, Tony Davies/Ian Clark (both: SLS) & Steve Armitage



Timings (Booked & Actual)
(from Tony Davies/Ian Clark (both: SLS))
| | | |
| --- | --- | --- |
| Location | Booked | Actual |
| Darlington | 09.52d [P5] | 10.00 |
| Piercebridge | 10/09 | ? |
| Forcett Jn | 10/12 | 10.20 ~ ??.?? |
| Eppleby Engine Shed | 10/26 | 10.32 ~ ??.?? |
| New Quarry Sidings | 10.36 ~ 10.42 | 10.43 ~ 10.52 |
| Forcett Jn | 11/03 | 11.09 ~ ??.?? |
| Piercebridge | 11/08 | ? |
| Stooperdale Jn | 11/18 | ? |
| Charity Jn | 11/22 | ? |
| Shildon | 11/40 | ? |
| Shildon North | 11/46 | ? |
| Spring Gardens Jn | 11/56 | ? |
| Randolph Colliery Sidings | 12.01 ~ 12.05 | 12.03 ~ 12.09 |
| Spring Gardens Jn | 12/10 | ? |
| Fieldon Bridge SB | 12/22 | ? |
| Shildon North | 12.30 ~ 12.34 | 12.33 ~ ??.?? |
| Bishop Auckland | 12/48 | 12/37½ |
| Etherley | 12/55 | ? |
| Wear Valley | 13w00 ~ 13w06 | ? |
| Crook | 13/16 | ? |
| Tow Law | 13.28a ~ 13.40d | 13.08½ ~ ??.?? |
| Crook | 13/56 | ? |
| Bishop Auckland | 14/14 | ? |
| Spennymoor | 13/30 | ? |
| Ferryhill No.1 | 14.48 ~ 14.49 | 14/43½ |
| Coxhoe West Hetton | 15.07 ~ 15.19 | 15.12½ ~ 15.24½ |
| Ferryhill | 15/32 | ? |
| Sedgefield | 15w42 ~ 15w48 | 15.52 ~ ??.?? |
| Stillington North Jn | 15/58 | ? |
| Redmarshall South Jn | 16/12 | ? |
| Bowesfield (Tees Bridge Sidings) | 16.26 ~ 16.38 | 14.28½ ~ 14.54½ |
| Eaglescliffe | 16/47 | ? |
| Oak Tree Jn | 17/02 | ? |
| Fighting Cocks | 17/05 | ? |
| Lingfield Lane | 17/11 | ? |
| Parkgate Jn (East Curve) | 17/20 | ? |
| Darlington North | 17/33 | ? |
| Darlington | 17.36a [P1] | 17.22 |