16th May 1964
Stephenson Locomotive Society
West Wales Rail Tour
Locos Used
1655 & 1665
DMU Used
3-car Swindon Cross-Country set
Stock Used
[1] brake van + 3x open wagons + brake van
[2] 2x brake vans + 3x open wagons + brake van
Route : (1)
| | | |
| --- | --- | --- |
| Loco | Stock | Route |
| 1655 | [1] | Sandy Jn - Cynheidre - Tumble - Cross Hands |
| 1655 | [1] | Cross Hands - Tumble (1) |
| 1665 | [2] | Cwmmawr - Kidwelly Jn - Burry Port |
Route : (1)
| | | |
| --- | --- | --- |
| Loco | Stock | Route |
| 1665 | [2] | Burry Port - Kidwelly Jn - Cwmmawr (1) |
| 1655 | [1] | Tumble - Cross Hands |
| 1655 | [1] | Cross Hands - Tumble - Cynheidre - Sandy Jn |
Route : all passengers
| | |
| --- | --- |
| DMU | Route |
| as listed | Llanelly - Pembrey & Burry Port - Carmarthen - Abergwili Jn - Pencader Jn - Newcastle Emlyn |
| as listed | Newcastle Emlyn - Pencader |
| as listed | Pencader - Lampeter - Aberayron |
| as listed | Aberayon - Lampeter - Pencader - Abergwili Jn - Carmarthen (2) |
Notes :
(1) Half the tour party started from Sandy Jn (Llanelli) for a tour of the Llanelly & Mynydd Mawr line to Cross Hands and back to Tumble, while the other half boarded their train at Burry Port for a trip on the Burry Port & Gwendraeth Valleys line to Cwmmawr. Passengers walked between the locations at Cwmmawr and Tumble to swap trains as they were only about half a mile apart. On arriving back at each terminating point for the loco-hauled trains, passengers transferred to a DMU for the remainder of the days travel.
(2) Tour terminated at Carmarthen, onward travel to Llanelly and Swansea was included in the tour fare, using either the 20.30 express or 20.45 local service train.
Sources : David Pearson & Andrew Fairholm



Photo Review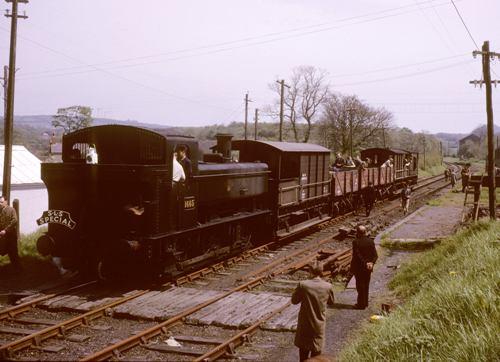 1665 on the BPGV at Pontyberem (photo: David Pearson)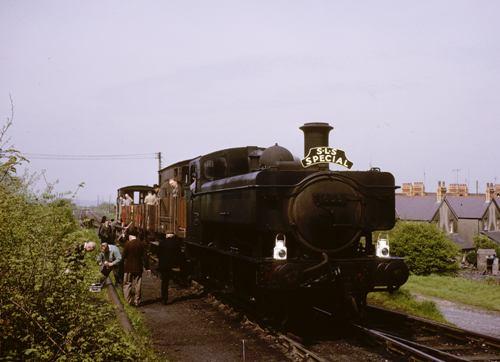 1655 paused at Cross Hands (photo: David Pearson)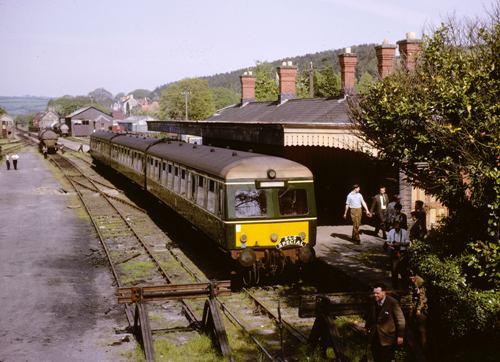 The DMU set, at Newcastle Emlyn (photo: David Pearson)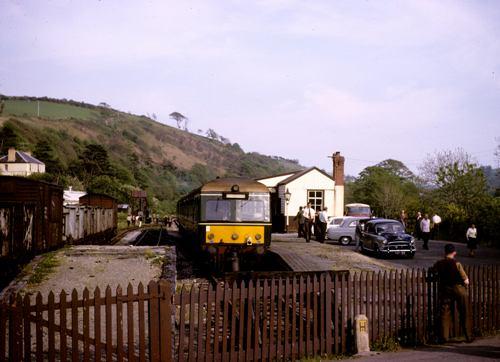 The DMU again, here at Aberayron (photo: David Pearson)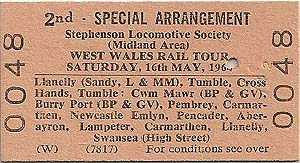 David Pearson's ticket.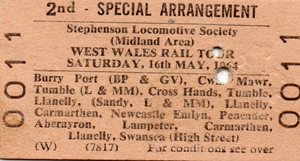 From The John Debens Ticket Collection.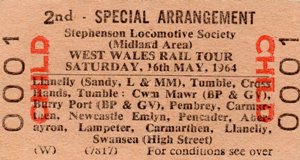 Timings (Booked & Actual)
(from David Pearson)
| | |
| --- | --- |
| Location | Booked |
| Sandy Jn | 10.00d |
| Magpie Grove | 10/15 |
| Cynheidre | 10/25 |
| Tumble | 10/45 |
| Cross Hands | 10.55 ~ 11.15 |
| Tumble | 11.25a |
| Cwmmawr | 12.10d |
| Pontyberem | 12.20 ~ 12.30 |
| Pontyates | 12.50 ~ 13.00 |
| Burry Port | 13.30a |
| | |
| --- | --- |
| Location | Booked |
| Burry Port | 10.00d |
| Cwmmawr | 11.00a |
| Tumble | 12.10d |
| Cross Hands | 12.20 ~ 12.35 |
| Tumble | 12/40 |
| Cynheidre | 13/05 |
| Magpie Grove | 13/15 |
| Sandy Jn | 13.30a |
| | |
| --- | --- |
| Location | Booked |
| Llanelli | 14.15d |
| Pembrey & Burry Port | ??.??a ~ 14.20d |
| Carmarthen | 14.45 ~ 14.50 |
| Pencader | 15.25 ~ 15.35 |
| Newcastle Emlyn | 16.05 ~ 16.20 |
| Pencader | 16.50 ~ 16.55 |
| Lampeter | 17.20 ~ 17.30 |
| Aberayon | 18.20 ~ 18.30 |
| Lampeter | 19.15 ~ 19.20 |
| Carmarthen | 20.20a |