25th April 1964
R.C.T.S. (West Riding Branch)
The North Yorkshireman Rail Tour
| | |
| --- | --- |
| Locos Used | 61435, 44790, 67646, 42639, 60855 |
Route : 1Z02 throughout
| | |
| --- | --- |
| Loco(s) | Route |
| 61435 | Leeds City - Horsforth - Arthington - Weeton - Pannal - Harrogate |
| 44790 | Harrogate - Starbeck - Knaresborough - Copgrove - Boroughbridge - Boroughbridge Goods (3) |
| 44790 (4) | Boroughbridge Goods - Boroughbridge |
| 44790 | Boroughbridge - Copgrove - Knaresborough - Starbeck |
| 61435 | Starbeck - Ripley - Ripon - Pickhill - Northallerton (5) - Castle Hills Inner Jn - Ainderby - Bedale - Redmire - Aysgarth - Hawes (6) |
| 61435 | Hawes - (reverse of outward route) - Castle Hills Inner Jn |
| 67646 + 42639 | Castle Hills Inner Jn - Castle Hills Jn - Eryholme - Darlington - Darlington North Road - Winston - Barnard Castle - Tees Valley Jn - Middleton-in-Teesdale |
| 67646 + 42639 | Middleton-in-Teesdale - (reverse of outward route) - Darlington |
| 60855 | Darlington - (via ECML) - York - Church Fenton - Micklefield - Leeds City |
Notes:
(1) This was a most adventurous tour to a number of far flung ex-North Eastern branch lines. Passenger services had been gone from Boroughbridge since September 1950, the service from Northallerton to Hawes had last run in April 1954 and Darlington would send its last passenger service to Middleton-in-Teesdale on November 30th 1964. This would be the last passenger train to visit Hawes. This tour suffered from a multitude of minor problems, including unrealistic scheduling, leading to pathing problems, slow running due to indifferent track condition and plenty of Yorkshire rain.
(2) Dave Groves comments : Many of the problems seem to have arisen from the late strengthening of the train (from 5 to 6 coaches?) without adequate thought. Whilst the engine changes may have been on the tight side, there was adequate timing on the dubious sections.
(3) Engine unable to run round at the Goods and had difficulty in reversing train back to Boroughbridge to do so (poor rail conditions, sharp curve adverse gradient).
(4) Loco propelling.
(5) Dave Groves comments : I recall we had to shunt to bay for engine change to clear Main Line.
(6) Train was too long for the loop and had to be split for run-round.
Sources : David Hills (compiled from contemporary reports) & Dave Groves



Photo Review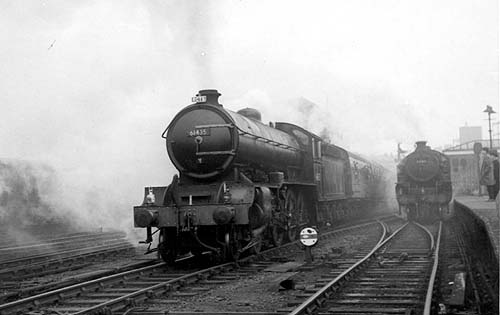 61435 leaving Leeds City (believed old platform 4) (photo: Paul Barrett)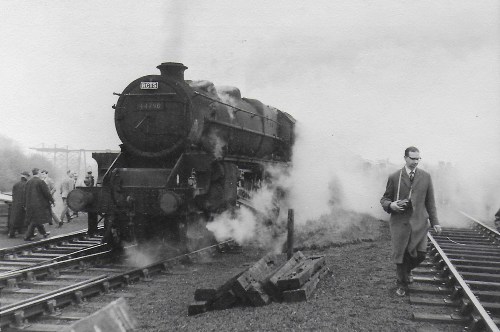 44790 at Boroughbridge (photo: The Bob Mitchell Collection)

67646 & 42639 at Middleton-in-Teesdale (photo: Mike Morant Collection)
From The John Debens Ticket Collection.


Timings (Booked Only)
(from Dave Groves, Roy Lambeth & John Debens)
| | | |
| --- | --- | --- |
| M.C | Location | Booked |
| 0.00 | Leeds City South | 08.38d |
| 9.22 | Arthington | 08/55 |
| 18.21 | Harrogate | 09L06a ~ 09L16d |
| 22.09 | Knaresborough | 09/26 |
| 25.55 | Copgrove | 09/44 |
| 29.26 | Boroughbridge Goods | 10.02a ~ 10.17d |
| 36.43 | Knaresborough | 10/56 |
| 38.20 | Starbeck | 11L01a ~ 11L09d |
| 49.25 | Ripon | 11/28 |
| 63.07 | Northallerton | 11L45a ~ 11L53d |
| 66.03 | Anderley | 12/05 |
| 80.51 | Leyburn | 12/47 |
| 88.02 | Aysgarth | 13.06a ~ 13.16d |
| 97.00 | Hawes | 13.40a ~ 14.06d |
| 113.29 | Leyburn | 14.40a ~ 14.48d |
| 125.03 | Leeming Bar | 15/18 |
| 130.48 | Castle Hill Jn | 15L33a ~ 15L43d |
| 143.79 | Darlington | 16/00 |
| 155.04 | Winston | 16/26 |
| 160.56 | Barnard Castle | 16.38a ~ 16.48d |
| 169.40 | Middleton-in-Teesdale | 17.06a ~ 18.38d |
| 178.24 | Barnard Castle | 18/58 |
| 183.76 | Winston | 19/09 |
| 195.01 | Darlington | 19L32a ~ 19L40d |
| 209.16 | Northallerton | 19/57 |
| 239.11 | York | 20.33a ~ 20.35d |
| 249.70 | Church Fenton | 20/50 |
| 264.55 | Leeds City South | 21.09a |