25th April 1964
British Railways
(England Schools FA Specials)
| | |
| --- | --- |
| Locos Used | at least 35018, 44932, 45660, 73128, 73138, D1501, D1526 & D1550 |
Route : 1X51 throughout
| | |
| --- | --- |
| Loco | Route (2) |
| 73138 (2) | Warsop - Clipstone West Jn - Clipstone South Jn - Rufford Jn - Mansfield Central - Sutton Central - Kitkby-in-Ashfield Central - Annesley North Jn - Hucknall Central - Nottingham Victoria - Ruddington - Loughborough Central - Leicester Central - Rugby Central - Woodford Halse - Brackley Central - Calvert Jn - Grendon Underwood Jn - Akeman Street - Ashendon Jn - Princes Risborough - High Wycombe - Gerrards Cross - South Ruislip - Wembley Hill |
| 73138 (2) | 17.00d Wembley Hill - (Reverse of outward route) - Warsop |
Route : 1X52 throughout
| | |
| --- | --- |
| Loco | Route |
| D1550 | Barnsley - ??? - Wembley Hill |
| D1550 | Wembley Hill - (Reverse of outward route) - Barnsley |
Route : 1X56 throughout
| | |
| --- | --- |
| Loco | Route |
| D1501 | Chesterfield - ??? - Wembley Hill |
| D1501 | Wembley Hill - (Reverse of outward route) - Chesterfield |
Route : 1X59 throughout
| | |
| --- | --- |
| Loco | Route |
| D1526 | Sheffield - ??? - Wembley Hill |
| D1526 | Wembley Hill - (Reverse of outward route) - Sheffield |
Route : ???? throughout
| | |
| --- | --- |
| Loco | Route |
| 73128 (3) | Sutton-in-Ashfield - ??? - Wembley Hill |
| 73128 (3) | Wembley Hill - (Reverse of outward route) - Sutton-in-Ashfield |
Route : ???? throughout
| | |
| --- | --- |
| Loco | Route |
| 73128 (3) | Sutton-in-Ashfield - ??? - Wembley Hill |
| 73128 (3) | Wembley Hill - (Reverse of outward route) - Sutton-in-Ashfield |
Route : ???? throughout
| | |
| --- | --- |
| Loco | Route |
| 44932 | Nottingham - ??? - Wembley Hill |
| 44932 | Wembley Hill - (Reverse of outward route) - Nottingham |
Route : ???? throughout
| | |
| --- | --- |
| Loco | Route |
| 45660 | Shrewsbury - ??? - Wembley Hill |
| 45660 | Wembley Hill - (Reverse of outward route) - Shrewsbury |
Notes :
(1) For England Schools F.A. international (England v. Germany).
(2) Route confirmation required although above is believed to be correct. Some published sources give the loco ID as 73128 however this incorrect (as confirmed by Chris Ward, a fireman at Annesley at the time). Chris comments about 73138 'Departing at 07.15, she arrived back on shed at 22.45'. LCGB records suggested 1X51 was worked by 73128 and that 73138 worked the special ex-Sutton-in-Ashfield.
(3) LCGB records suggest this train was worked by 73138 however, per note 2, that loco is stated as having worked the ex-Warsop special thus confirmation is required that this special was worked by 73128.
(4) MrC comments: LCGB also lists locos on 10 specials coming up the WCML to Wembley Central, and mentions 5 trains ex WR and 3 trains ex ER to Wembley Stadium, all diesel hauled, plus 35018 and a Hastings DEMU ex SR via Kensington Olympia. Details of all these workings is required.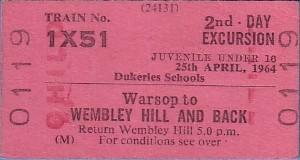 From the ticket collection of Andrew Fairholm.
Sources : Andrew Fairholm, Tony Saville & MrC



Back to "The Railtour Files"