8th June 1963
Stephenson Locomotive Society (Tees-Side Centre)
The Cleveland Limited
| | |
| --- | --- |
| Loco Used | 63431 |
| Stock Used | 4 BR standard brake vans |
Route : Z01 throughout (5)
| | |
| --- | --- |
| Loco | Route |
| 63431 | Middlesborough - Guisborough Jn - Cargo Fleet - Inner Jn (6) - Eston |
| 63431 | Eston - Inner Jn - Cargo Fleet - Guisborough Jn (6) |
| 63431 (1) | Guisborough Jn - Nunthorpe - Hutton Gate - Slapewath Jn - Boosbeck |
| 63431 | Boosbeck - Slapewath Jn - Hutton Gate - Nunthorpe - Guisborough Jn |
| 63431 | Guisborough Jn - Redcar Central - Saltburn West Jn - North Skelton Jn - Brotton |
| 63431 (1) | Brotton - Kiltonthorpe Jn - Kiltonthorpe Mine |
| 63431 | Kiltonthorpe Mine - Kiltonthorpe Jn - Brotton - Skinningrove (3) |
| 63431 (1) | Skinningrove - Loftus |
| 63431 | Loftus - Skinningrove - Brotton - North Skelton Jn - Saltburn West Jn - Redcar Central - Grangetown SB |
| 63431 (1) | Grangetown SB - Wilton ICI |
| 63431 | Wilton ICI - Middlesborough |
Note :
(1) Loco propelling. The tour timing sheet showed the second leg from Eston to Guisborough Jn and fourth leg from Boosbeck to Guisborough Jn to be loco propelling but a covering letter explained British Rail had revised the arrangements after the timing sheets had been printed; to run round at Eston and Guisborough Jn (after return from Brotton at 12.41/12.47).
(2) Originally uploaded as loco 63641 in error.
(3) Loco ran-round and took water.
(4) Route confirmation required - above is from booked timings. Robin Coulthard comments: It runs in my mind that the itinerary for this trip was not 100% accomplished. I rather thought that the driver of the Q6 got cold feet re: the state of the track on the Kilton Branch and refused to progress all the way. Ian Clark (SLS) adds: The original advertising notice stated the routing to Brotton was via Guisborough (booked only as far as Boosbeck & return due to line being severed). Tees Dock (completely new branch) was also on the notice but did not appear in the tour itinerary. Ian also adds: On the day the driver of the tour would not take the train all the way up to Kilton Mine due to the state of the track, Tony Davies reported that: 'my log shows that we only reached 'Kilton Mine/Lingdale Mine Junction' (MP 0-3/4), terminated here some 7min before time and, despite a 4¼min photo stop, this gave time for an extra photo stop on Huntcliff'.
(5) Headcode as carried by 63431 was Z01 however the timing sheet listed the headcode as 1X1.
(6) Tony Davies comments that there was a reversal required to gain the Eston branch at Inner Jn and also a Guisborough Jn to gain the up line.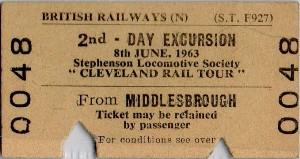 From The John Debens Ticket Collection.
Sources : Mark Harrington, David Whittaker, John Debens, Robin Coulthard (NERA) & Steve Armitage



Timings (Booked & Actual)
(from Robin Coulthard (NERA) & Tony Davies/Ian Clark (both: SLS))
| | | | |
| --- | --- | --- | --- |
| M.C | Location | Booked | Actual |
| 0.00 | Middlesborough | 10.15d | ? |
| 0.31 | Guisborough Jn | 10/18 | ? |
| 1.07 | Cargo Fleet | 10/21 | ? |
| 1.41 | Inner Jn | 10/25 | ? |
| 4.65 | Eston | 10.35 ~ 10.45 | 10.40½ ~ ??.?? |
| 8.09 | Inner Jn | 10/55 | ? |
| 8.43 | Cargo Fleet | 10/58 | ? |
| 9.19 | Guisborough Jn | 11.01 ~ 11.04 | 11.14 ~ ??.?? |
| 13.34 | Nunthorpe | 11/18 | ? |
| 18.16 | Guisborough SB | 11.30 ~ 11.34 | 11.38½ ~ ??.?? |
| 20.10 | Slapewath Viaduct | 11p46a ~ 11p52d | 11.47 ~ ??.?? |
| 21.30 | Boosbeck (End of Line) | 12.00 ~ 12.08 | 12.10 ~ 12.13½ |
| 24.44 | Guisborough SB | 12/20 | ? |
| 29.26 | Nunthorpe | 12/31 | ? |
| 33.41 | Guisborough Jn | 12.41 ~ 12.47 | 12.45 ~ 13.00½ |
| 40.74 | Redcar Central | 13/10 | ? |
| 45.24 | Saltburn West Jn | 13/22 | ? |
| 48.70 | Brotton | 13.40 ~ 13.43 | 13.44 ~ ??.?? |
| 50.38 | Kiltonthorpe Mine | 14.00 ~ 14.05 | 13.53½ ~ ??.?? |
| 56.04 | Skinningrove | 14w32a ~ 14w47d | 14.39½ ~ ??.?? |
| 56.69 | Loftus | 14.53 ~ 15.00 | 15.14 ~ 15.16 |
| 58.38 | Crag Hall SB | 15/10 | ? |
| 61.52 | Brotton | 15/16 | ? |
| 65.18 | Saltburn West Jn | 15/31 | ? |
| 69.48 | Redcar Central | 15/44 | ? |
| 72.71 | Grangetown SB | 15.56 ~ 15.59 | 15.59 ~ ??.?? |
| 74.39 | Wilton ICI | 16.11 ~ 16.20 | 16.13 ~ 16.54½ |
| 76.09 | Grangetown SB | 16/30 | ? |
| 80.48 | Middlesborough | 16.40a | 17.11 |


Associated Light Loco and Stock Movements
Light Engine and guard : leave Thornaby for Middlesborough at 09.35
Empty Stock :
| | |
| --- | --- |
| Location | Booked |
| Middlesborough | 16.45d |
| Tees Yard | 17.00a |