9th November 1963
R.C.T.S. & Stephenson Locomotive Society
The Wansbeck Wanderer
| | |
| --- | --- |
| Locos Used | 43129 & 67691 |
| Stock Used | load 6, at least 4x BR mark 1 corridor coaches |
Route : 1Z02 throughout
| | |
| --- | --- |
| Loco | Route |
| 43129 | Newcastle Central - (via ECML) - Morpeth |
| 43129 | Morpeth - Meldon - Scotsgap - Woodburn - Reedsmouth |
| 43129 | Reedsmouth - Bellingham |
| 43129 | Bellingham - Reedsmouth |
| 43129 | Reedsmouth - Scotsgap |
| 43129 | Scotsgap - Rothbury |
| 43129 | Rothbury - Scotsgap - Morpeth |
| 67691 | Morpeth - (via ECML) - Newcastle Central |
Note :
(1) This tour would be the final passenger train to visit the ex North British lines to Bellingham & Rothbury. Regular passenger service over the Morpeth - Reedsmouth - Rothbury lines had finished in September 1952, whilst the Bellingham line (part of the Riccarton Junction - Hexham route) saw service discontinued in October 1956. The departure from Rothbury was to the accompaniment of the local pipe band.
(2) Although named as the 'N.E.R. Rail Tour' on the ticket and some other sources, the tour brochure clearly and without doubt gave the tour name as 'The Wansbeck Wanderer'.
Sources : David Hills, Peter Darke, John Debens, Vic Smith & Ian Clark (SLS)



Photo Review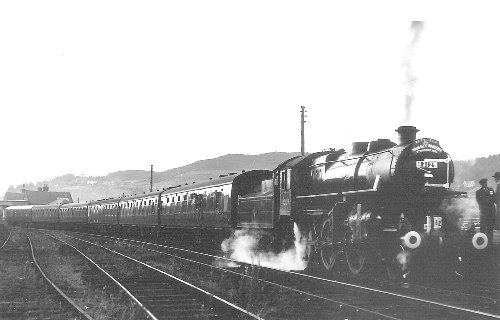 43129 seen here at Rothbury (photo: The John Debens Collection)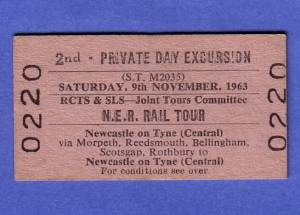 From Andrew Fairholms ticket collection.


Timings (Booked & Actual)
(from John Debens & Ian Clark (SLS))
| | | | |
| --- | --- | --- | --- |
| M.C | Location | Booked | Actual |
| 0.00 | Newcastle Central | 09.12d | 09.12 |
| 16.50 | Morpeth | 09.40 ~ 09.55 | ? |
| 27.64 | Scotsgap | 10/27 | ? |
| 38.02 | Woodburn | 11/00 | ? |
| 41.66 | Reedsmouth | 11.17 ~ 11.35 | ? |
| 43.45 | Bellingham | 11.45 ~ 11.57 | ? |
| 45.24 | Reedsmouth | 12.07 ~ 12.20 | ? |
| 49.08 | Woodburn | 12/37 | ? |
| 59.26 | Scotsgap | 13.10 ~ 13.30 | ? |
| 72.32 | Rothbury | 14.05 ~ 14.50 | ??.?? ~ 15.15 |
| 85.38 | Scotsgap | 15/35 | ? |
| 96.52 | Morpeth | 16.00 ~ 16.16 | ? |
| 113.22 | Newcastle Central | 16.45a | 17.04 |