2nd November 1963
Stephenson Locomotive Society (Midland Area)
Last Train on the Harborne Branch and Farewell to the Halesowen Branch
| | |
| --- | --- |
| Locos Used | 46421, 46429 & 46522 |
| Stock Used | 6x ex-LMS coaches |
Route : 1Z80 throughout
| | |
| --- | --- |
| Loco(s) | Route |
| 46429 (1) | Birmingham New Street - Harborne Jn - Harborne |
| 46522 (2) | Harborne - Harborne Jn - Birmingham New Street (3) |
| 46522 | Birmingham New Street - Grand Jn - St Andrews Jn - Camp Hill - Kings Norton - Halesowen Jn - Longbridge (3) |
| 46522 (4) | Longbridge - Rubery - Halesowen - Old Hill Crossing Loop |
| 46421 (1) (5) | Old Hill Crossing Loop - Halesowen - Rubery - Longbridge (3) |
| 46421 (5) | (3) Longbridge - Halesowen Jn - Kings Norton - Selly Oak - Birmingham New Street (3) |
Note :
(1) 46522 on rear.
(2) 46429 on rear.
(3) The first trailing loco was booked to have been removed at Birmingham New Street on the return from Harborne and another attached/removed at Longbridge before the run to Old Hill. As originally uploaded there was the suggestion that 46429 remained on to a point thought to be adjacent to Longbridge Motor Works where a swap to 46421 took place, but confirmation is required if this is what took place, or if it happened 'as booked'. As originally uploaded the tour was also shown to be top-n-tail through to terminating at Birmingham New Street (which was given as 'on time'), but again this is not 'as booked' as the assist loco was due to be removed at Longbridge on the return from Old Hill.
(4) 46421 on rear.
(5) Some reports suggest 46522 was top-n-tail with 46429 between Old Hill to Longbridge however David Pearson (who left the train at Old Hill) is certain the train arrived at Old Hill with 46522 leading and 46421 already on the rear, suggesting the return leg would logically have been 46421 leading with 46522 on the rear...but confirmation of this is required.
Sources : Colin Mytton, Bob Taylor, David Pearson & Ian Clark (SLS)



Photo Review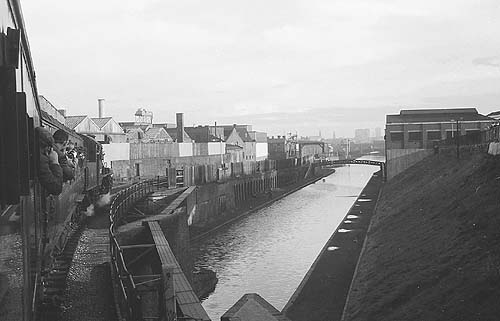 46522 approaches Harborne Jn on the way back to Birmingham New Street
(photo: David Pearson)

David Pearson believes this location to have been between Halesowen Jn
& Longbridge station (which was at this time located on the Halesowen line)
& shows 46421 light engine, presumably about to go on the rear of the train?
(photo: David Pearson)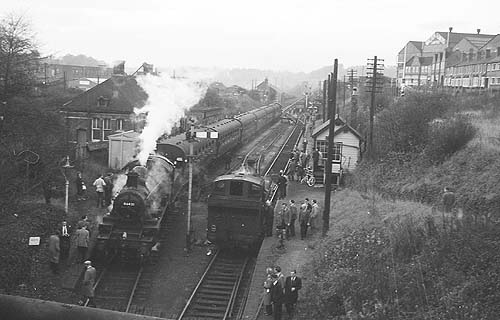 46421 on the rear of the train at Halesowen, this view looking towards Old
Hill (photo: David Pearson)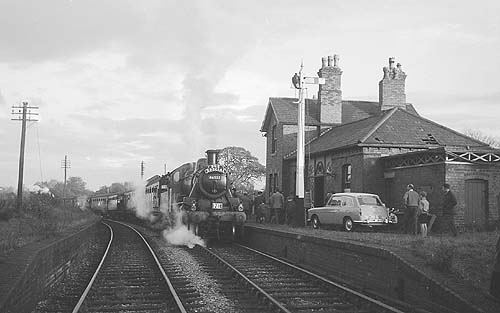 46522 pauses at Hunnington on the way to Old Hill (photo: David Pearson)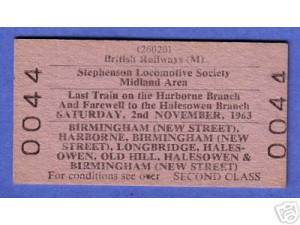 From Andrew Fairholms ticket collection.


Timings (Booked & Actual)
(from Ian Clark (SLS)/Stephen Bragg/Robert Darlaston)
| | | |
| --- | --- | --- |
| Location | Booked | Actual |
| Birmingham New Street | 13.25d | 13.25 |
| Harborne Jn | 13/30 | ? |
| Harborne | 14.02a ~ 14.12d | 13.50 ~ 14.12 |
| Harborne Jn | 14/45 | 14/26 |
| Birmingham New Street | 14L50 ~ 14L55 | 14.31 ~ 14.58 |
| Grand Jn | 14/58 | ? |
| St Andrews Jn | 15/00 | ? |
| Camp Hill | 15w04 ~ 15w09 | 15.07 ~ ??.?? |
| Kings Norton | 15/17 | ? |
| Halesowen Jn | 15/22 | ? |
| Longbridge | 15Lp24a ~ 15Lp34d | 15.27 ~ 15.37 |
| Rubery | 15p40a ~ 15p50d | 15.43 ~ 15.53 |
| Halesowen | 16p08a ~ 16p18d | 16.08 ~ 16.18 |
| Old Hill Crossing Loop | 16.28 ~ 16.45 | 16.24 ~ 16.32 |
| Halesowen | 16/55 | 16.40 ~ 16.50 |
| Rubery | 17/15 | 17/13 |
| Longbridge | 17L18 ~ 17L23 | ??.?? ~ 17.22 |
| Halesowen Jn | 17/25 | ? |
| Kings Norton | 17/30 | ? |
| Church Road Jn | 17/36 | ? |
| Birmingham New Street | 17.39a | ? |