6th October 1963
Home Counties Railway Society
Mendip Railtour
| | |
| --- | --- |
| Locos Used | 4103, 6148, 45552 'Silver Jubilee', 73110 'The Red Knight' & D7014 |
Route : 1X05 (?throughout?)
| | |
| --- | --- |
| Loco(s) | Route |
| 45552 | London Paddington - (via GWML) - Wootton Bassett - Chippenham - Bath Spa - St Annes Park Jn - St Phillips Marsh - Pylle Hill Jn |
| D7014 (1) | Pylle Hill Jn - Bristol Temple Meads |
| 4103 + 6148 | Bristol Temple Meads - Yatton - Cheddar - Cranmore - Witham - Frome - Westbury |
| 73110 | Westbury - Salisbury - London Waterloo |
Notes :
(1) Terry Jackson comments : The 'booked' timings are as detailed in the HCRS programme for the tour. However quite where they obtained the timings is open to question as many of the 'timing points' were never used by BR as such for through services and some of the timings themselves are a complete nonsense. I leave you to guess the answers for yourself. In addition the train was shown as running direct into Bristol Temple Meads but in fact performed the diversion shown above. I can't recall the reason now but the track was very welcome.
(2) 45552 on rear (see photo below of 45552 at Bristol Temple Meads)?
(3) Formed in 1955 and originally known as the 'Middlesex Loco Spotters Club', their name was changed in the late 1950's to the 'Home Counties Railway Club' then in January 1963 it changed again, to the 'Home Counties Railway Society'.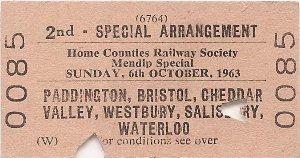 From The John Debens Ticket Collection.
Sources : Terry Jackson & Ron Walker



Photo Review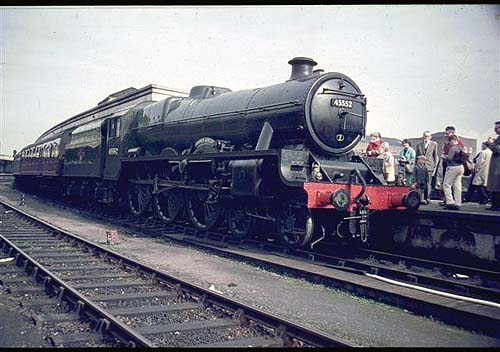 45552 at Bristol Temple Meads (photo: The Alan Sainty Collection)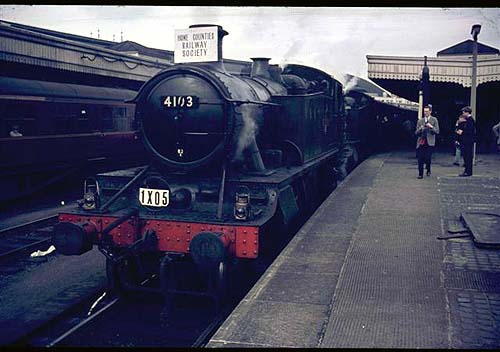 4103 leads 6148 at Bristol Temple Meads (photo: The Alan Sainty Collection)


Timings (Booked & Actual)
(from Terry Jackson & Ron Walker)
| | | | |
| --- | --- | --- | --- |
| Miles | Location | Booked | Actual |
| 0 | Paddington | 09.05d [ML] | 09.05 |
| ? | Subway Jn | ? | 09/09 |
| 5¾ | Ealing Broadway | 09/18 | 09/15 |
| 18½ | Slough | 09/28 | 09/37 |
| 24¼ | Maidenhead | 09/34 | 09/46 |
| 36 | Reading General | 09/46 | 09/57 |
| 53¼ | Didcot | 10/06 | 10/25 |
| 56½ | Steventon | 10/10 | 10/30 |
| 66½ | Uffington | 10/20 | 10/44 |
| 77¼ | Swindon | 10/34 | 10/57 |
| 83 | Wootton Bassett | 10/40 | 11/10 |
| 94 | Chippenham | 10/51 | 11/19 |
| 107 | Bath Spa | 11/06 | 11/32 |
| 108¼ | Bristol Temple Meads | 11L23a ~ 13L40d | 12.00 ~ 13.40 |
| 130¼ | Yatton | 13w58 ~ 14w08 | 13.59 ~ 14.01 |
| 131¾ | Congresbury | 14/13 | 14/12 |
| 134¾ | Sandford & Banwell | 14/19 | 14/19 |
| 136 | Winscombe | 14/23 | 14/23 |
| 138¼ | Axbridge | 14/29 | 17/27 |
| 140 | Cheddar | 14p35a ~ 15p05d | 14.31 ~ 15.05 |
| 142¼ | Draycott | 15/12 | ? |
| 144¼ | Lodge Hill | 15/19 | ? |
| 146¾ | Wookey | 15/30 | 15/17 |
| 147¾ | Wells | 15w37 ~ 15w47 | 15.20 ~ 15.47 |
| 153 | Shepton Mallet | 16/00 | 16/06 |
| 156¼ | Cranmore | 16/09 | 16/16 |
| 159¾ | Wanstrow | 16/17 | 16/21 |
| 162 | Witham | 16/24 | 16/26 |
| 167¼ | Frome | 16/33 | 16/34 |
| 172¾ | Westbury | 16L42a ~ 17L27d | 16.45 ~ 17.33 |
| 175½ | Dilton Marsh Halt | 17/30 | 17/35 |
| 178 | Warminster | 17/40 | 17/41 |
| ? | Hextesbury | ? | 17/44 |
| ? | Codford | ? | 17/45 |
| ? | Wylye | ? | 17/52 |
| ? | Wishford | ? | 17/57 |
| ? | Wilton | ? | 17/59 |
| 198 | Salisbury | 18.00a ~ 18.10d | 18.03 ~ 18.10 |
| ? | Porton | ? | ? |
| 203½ | Andover Jn | 18/30 | 18/30 |
| 215¼ | Overton | 18/38 | 18/38 |
| 233¾ | Basingstoke | 18/45 | 18/48 |
| 239¼ | Hook | 18/50 | 18/51 |
| 245 | Fleet | 18/55 | 18/58 |
| 248¼ | Farnborough | 19/00 | 19/01 |
| 247¼ | Woking | 19/08 | 19/06 |
| 252½ | Weybridge | 19/10 | 19/10 |
| 257 | Surbiton | 19/14 | 19/18 |
| 259½ | Wimbledon | 19/16 | 19/23 |
| ? | Hampton Court Jn | 19/18 | 19/25 |
| 267½ | Clapham Junction | 19/28 | 19/28 |
| 271½ | Waterloo | 19.35a | 19.38 |